Fans of the popular sitcom 'Party Down' were immensely excited when Starz announced that the show would return for a third season in February 2023. While the show was canceled in 2010, much to the disappointment of viewers, it introduced us to several memorable characters, including Henry Pollard, Kyle Bradway, and Casey Klein. Hence, most people were left shocked when Lizzy Caplan, the actress who plays Casey Klein, did not make an appearance in the third season. Well, with fans now wondering if Lizzy left the franchise for good, let's dive in and find out the truth, shall we?
What Happened to Casey Klein?
'Party Down' follows a group of enthusiastic yet unsuccessful Hollywood actors and writers who aspire to make it big in the entertainment industry. However, since opportunities are hard to come by, the group gets together and decides to run a catering company as they wait for their big break. Interestingly, the catering company picks up one unorthodox event after the other, which at times leads to a comedy of errors, while the underachieving entertainers refuse to give up on their dreams, as each failure increases their determination to move forward.
The show introduces Casey as a struggling actress who decides to take up comedy, hoping it might kickstart her career. However, the plan ultimately fails, and Casey ends up joining the catering group. Interestingly, she initially appears as a married woman, although her disregard for authority puts her at loggerheads with a few other members, especially Ron. Yet, as the show progresses, the aspiring comedian ends up getting a divorce before starting an on-again-off-again relationship with actor Henry Pollard.
In season 2, Casey takes on the massive challenge of making her mark on the competitive comedy scene. Moreover, since Casey and Henry's lust for each other and mutual hatred for the catering job drive their relationship, they often end up quarreling and breaking up just for the sake of it. On top of it, repeated failures make Casey pretty cranky, and at one point, it looks like the catering company will lose her for good. However, by the end of the season, all appears well as the aspiring comic gets back with Henry and seems well on her way toward a breakthrough in competitive comedy.
Why Did Lizzy Caplan Leave Party Down?
We are sorry to report that Lizzy Caplan did take the decision to leave 'Party Down' and will not be returning in season 3. However, fans need not be disappointed as it wasn't Lizzy's unwillingness that kept her away from the sitcom; instead, she was unable to make time due to scheduling conflicts. When talking about Lizzy's absence from season 3, sources stated that she is a part of the Hulu show 'Fleishman Is in Trouble,' which was filed at the same time as 'Party Down.'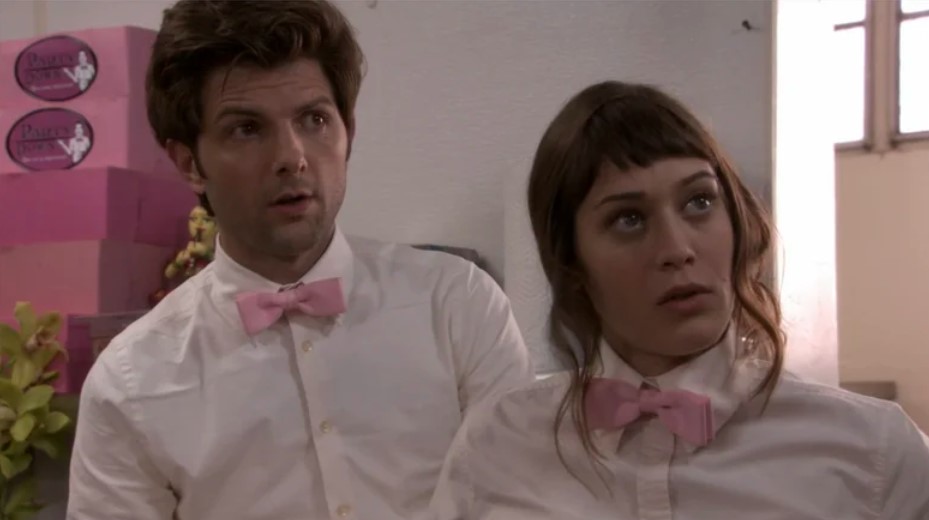 Additionally, Lizzy's association with the Paramount + adaptation of 'Fatal Attraction' also made it difficult for her to devote time to the sitcom. Interestingly, the sitcom's co-creator, John Enbom, claimed that they initially included Lizzy in their plans and were even planning a Casey-Henry reunion. However, after learning of the actress' unavailability, they were forced to take a different path and even introduce a new character. Besides, John explained the whole situation and said that the actors and actresses had become way more popular since they last appeared on 'Party Down' in 2010.
Consequently, getting everyone together without any scheduling conflicts in a short time was challenging. However, once the show was greenlit and the producers confirmed the filming dates, they knew they could not change it around for a single cast member. Hence, although Lizzy Caplan was "heartbroken" to be left out of the third season, she had to sit out due to prior commitments. Yet, we are excited to report that the producers haven't ruled out the possibility of a fourth season, where fans might get to witness a Casey Klein-Henry Pollard reunion.
Read More: Where is Party Down Filmed?