The fourth season of Netflix's 'Never Have I Ever' unravels the final chapter of Devi Vishwakumar's life in Sherman Oaks. It begins in the aftermath of Devi and Ben's night together. Instead of them ending up together, things get awkward between them, leading them further away from each other. Instead of pursuing Ben, Devi turns her attention towards getting herself into Princeton. With such an important thing ahead of her, she turns towards her friends and family for guidance.
In the previous season, her English teacher Manish Kulkarni had been one of the people she could rely on. This is why his absence resonates so much in the fourth season. If you are wondering why Manish is not in the final season of the show. Did he leave 'Never Have I Ever'? Let's find out.
What Happened to Manish?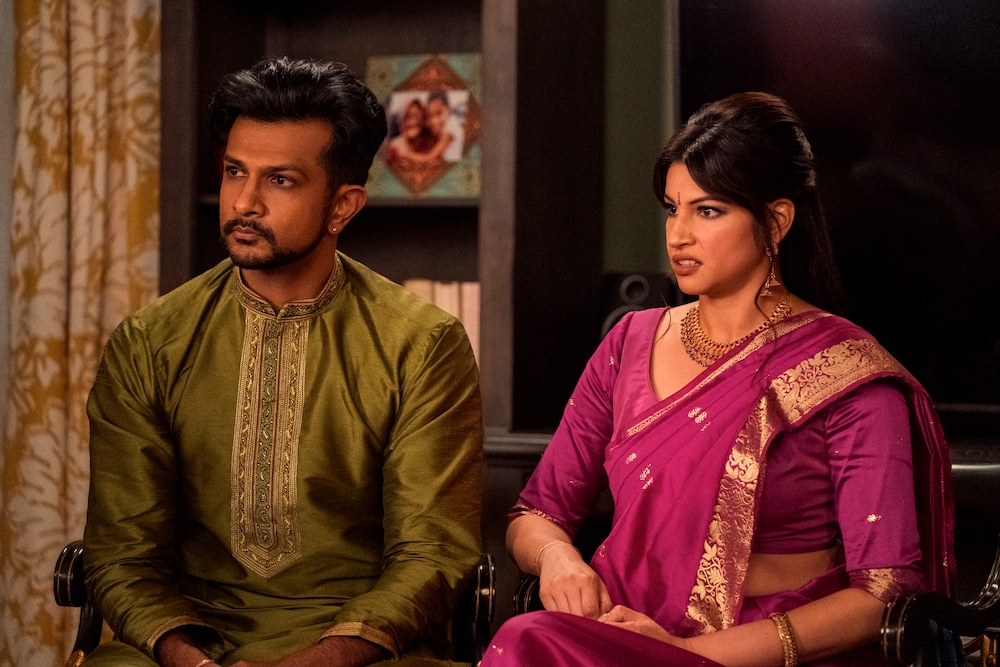 Manish Kulkarni was introduced to the audience as yet another teacher at Sherman Oaks High, but he became one of the most beloved characters on the show for his wit and humor. His romance arc with Kamala brings him into the spotlight in the third season, where we see him outside of school, bringing him closer to Devi's family and further into her inner circle.
Manish and Kamala meet in the second season. In the third season, she breaks up with Prashant and pursues a relationship with Manish. When she introduces him to her family, Nirmala Pati takes an instant dislike to him. Even though Manish is Indian, he is not in touch with his roots, which irks Pati. She is already disappointed about Kamala breaking up with Prashant, which makes her dislike Manish even more.
Initially, Manish feels utterly hopeless about impressing Pati, especially after the disaster at the Navratri celebration. However, things turn around when he helps Devi after she messes up in the debate competition. Instead of punishing her, he helps her understand where she went wrong and helps her grow. To Pati, this displays how sensible and responsible he is, which melts the ice between them. She becomes more open to his and Kamala's relationship, provided he learns more about his Indian roots.
Did Utkarsh Ambudkar Leave Never Have I Ever?
Utkarsh Ambudkar joined 'Never Have I Ever' in the second season as Manish Kulkarni, who quickly becomes an important character in Devi's life. He and Devi connect easily, and he becomes the voice of reason that guides Devi through some rough patches. His role as Kamala's love interest gave him more screen time in the third season, which is why it is a surprise not to see him in the fourth and final season of the show.
His absence could be because his arc, primarily romantic in nature, is tied up in the third season. The fourth season focuses on Devi's arc, where she is more focused on her future, dedicated to getting a spot in Princeton. She also figures out her romantic life, torn between wanting to be with Ben and moving on from him because he doesn't seem interested in her.
Apart from this, the show also focuses on Devi's mother, grandmother, and friends. This leaves little to no space for a character like Manish, who has already met a satisfying conclusion. Another reason behind Manish's absence could be the busy schedule of actor Utkarsh Ambudkar, who currently plays the lead role in CBS's sitcom, 'Ghosts.' He is also set to star in Netflix's live-action adaptation of 'Avatar: The Last Airbender.'
Even though Manish does not show up in the fourth season, he does appear in the final episode at the end. We see him and Kamala hanging out, eating ice cream together. She mentions him several times throughout the season, which shows that they are still in a relationship. This gives us enough to go on with about Manish's future after the ending of 'Never Have I Ever.'
Read More: Shows Like Like Never Have I Ever