Created by Heidi Klum and Tim Gunn, 'Making the Cut,' is a fascinating reality TV show which is a treat for every single fashion lover. Bringing together the most promising fashion designers from all around the globe, the show pits them against each other in an exciting contest of style and design. It is truly inspiring and breathtaking to see the gorgeous creations these talents come up with. With 'Making the Cut' season 3 now airing in all its glory, let's take a look at the competitors of season 1 and where they are now, shall we?
Where Is Jasmine Chong Now?
Although Jasmine was quite enthusiastic about competing for the top position alongside other equally promising designers, her efforts fell short, and she had to bow out after the first challenge. At present, the Parsons School of Design alumnus owns and operates her New York City-based eponymous fashion brand, where she holds the position of Creative Director. Although she exited 'Making The Cut' in the very first episode, the Malaysian designer mentioned that being on TV made her grow as a person and gave her a massive amount of exposure. Since then, she has put out several successful as well as critically acclaimed collections, featured some of her creations in the New York Fashion Week 2022 and even launched her fashion film, 'Paradiso.'
Where Is Martha Gottwald Now?
The second person to get eliminated from 'Making The Cut' season 1, Martha Gottwald did impress the judges during her short tenure on the show. Nevertheless, the Richmond, Virginia-based fashion designer presently holds the CEO position at her own fashion brand, Neubyrne LLC, which she launched during 2017's New York Fashion Week. Interestingly, Martha prefers to keep her personal life under wraps but has filled her social media accounts with pictures of her genuinely incredible creations. Besides, she is also a loving mother of two and is wholly focused on taking her business to further heights.
Where Is Joshua Hupper Now?
A native of Columbus, Ohio, fans would be surprised to know that Joshua decided to pursue a course on design in college just on a whim. However, the art form gradually grew on him, and after an internship with Diane VonFurstenberg, Joshua was ready to leave his mark on the industry. Although Joshua was eliminated from 'Making The Cut' season 1 in the 10th place, he presently resides in New York, from where he was running the fashion brand, Babyghost, alongside fellow-designer Qiaoran Huang.
Interestingly, his creations have been lauded by other designers and have been featured in fashion shows around the world, as well as prestigious publications like The Vogue. However, in July of 2022, Joshua revealed that he was shutting down Babyghost for good and hinted at something exciting being in the works.
Where Is Troy Arnold Now?
Troy Arnold wowed the judges with some of his creations while on 'Making The Cut' season 1 but had to bow out in the 9th position after falling short in a challenge. Once filming ended, Troy returned to New York City, from where he currently runs the fashion brand Hul Arnold Inc. Moreover, sources mentioned that Troy has also been working on a plethora of personal projects for varying clients and holds the position of an Adjunct Professor at the New York City-based Parsons School of Design.
Where Is Will Riddle Now?
Will Riddle created some wonderful designs while on the show, and although fans found him to be a pretty promising contestant, he had to bow out in eighth place. Once filming wrapped, the Kent State University Alumnus returned to Brooklyn, New York, where he was working as a head of product development with the fashion brand KITH. In December 2021, Will was handed a promotion and made the Head Of Product Development & Production for the entire Men's collection and accessories. However, the Brooklyn-based designer left KITH in July 2022, and sources claim he is ready to establish his own label.
Where Is Sabato Russo Now?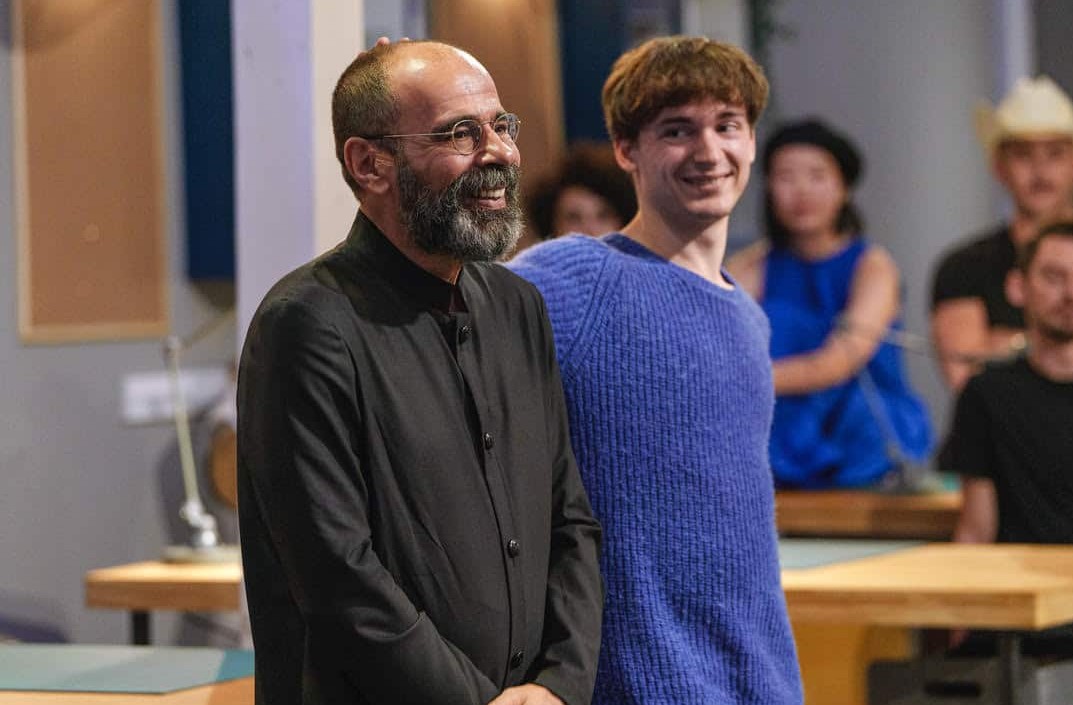 Born and brought up in Foggia, Italy, Sabato moved out of his hometown for education and ultimately ended up in Milan, where he met several designers and discovered his passion for the art. Unfortunately, his efforts eventually fell short in 'Making The Cut' season 1, and the Italian designer was eliminated in 7th place. At present, sources claim that Sabato shuttles between the Italian cities of Milan and Puglia, where he keeps himself busy by running his eponymous fashion brand. Besides, the Italian designer even takes pride in his brand's Eco-sustainable nature and from the looks of it, has been passing one milestone after the other on the way to further success.
Where Is Rinat Brodach Now?
Rinat Brodach showcased some unorthodox but outstanding ideas and creations during her time on the show. However, she couldn't make it into the top five and bowed out in the sixth position. Currently, the Israeli designer resides in New York City, where she works as the CEO and Creative Director of her own fashion brand, Rinat Brodach, LLC. While Rinat established her brand in 2013, she presently focuses on making accessible clothing for everyone irrespective of their gender or any other classification that might exist. Besides, from the looks of it, Rinat Brodach, LLC has flourished and expanded immensely under Rinat's leadership.
Where is Ji Won Choi Now?
Ji Won Choi came in fifth in season 1 of the show. This New York-based designer has her roots in Oklahoma and Seoul. Fashion has always been the language through which Choi expressed herself, and she proved it outright through her brilliant creations on the show. Ever since 'Making the Cut,' the designer has been busy furthering her brand. Some of her recent innovative designs even took the world by storm.
Finding considerable success in the New York and London fashion weeks, Choi has revealed how she wants to pay homage to her dual heritage by bringing them together through her designs. In 2019, she collaborated with Adidas and provided us with some of the most eccentric yet stunning apparel ever. In 2020, Choi took her designs to the Milan Fashion Week, where she received a massive amount of praise and recognition. At present, Choi shuttles between the cities of Milan, New York, and Seoul as she works towards new collections to fascinate us in the future.
Where is Megan Smith Now?
Megan Renee Smith, who ended season 1 in the 4th place, discovered her love for fashion while making dresses for her Barbie dolls. She then went on to work for several major brands before deciding to start her own label. With her design inspired by 1970s cocktail wear, Megan has been making waves in the fashion industry. Based in Los Angeles at present, Megan now runs her own line called 'Megan Renee.'
Through her designs, she hopes to put forward an intricate mixture of the modern and the vintage. Megan has mentioned that the show has helped her get her bearing, and through it, she got an exact image of her customer and what they might want. She praises 'Making the Cut' for giving her a proper vision, direction, and a whole lot of confidence to make it big.
Apart from designing, Megan has also gone on to be a part of several prestigious fashion shows and was selected in 2020 to be a part of the inaugural class of Resonance's New Accelerator Program. In 2021, Megan reached new heights as a senior thesis critic at FIT NY's Fashion Design Program. At present, the designer is based out of Los Angeles, California, and focused entirely on furthering her brand, making us wait in anticipation for her upcoming creations.
Where is Sander Bos Now?
The Belgian designer Sander Bos finished the season in 3rd place but won the hearts of numerous people worldwide through his elaborate designs. Having his own take on eccentric streetwear, he bases his ideas on modern art and artistic couture, which helps him achieve his futuristic yet contemporary design goals.
Just like a few other designers, Bos, too, holds 'Making the Cut' responsible for making quite a few positive changes in his designs and has mentioned how the show made him want to make something "accessible." He revealed how he and his designs felt alienated from the actual world around him, but the show helped him get over that worry. Putting everything he learned from 'Making the Cut' into his work, Sander Bos came up with his new line called Miss Bos, an extension to his eponymous brand.
Through Miss Bos, the talented fashion designer aimed to make accessible, affordable, and sustainable apparel for the modern women. He takes much pride in his new line as it holds a close mixture of accessibility and modern art. At present, Sander Bos is based in Belgium and is working on fresh new designs. He has mentioned that his upcoming collections will hold some unexpected turns, and we cannot wait to see what they turn out to be.
Where is Esther Perbandt Now?
The runner-up of season 1 by a 3-2 vote, Esther Perbandt is a Berlin-based designer who mesmerized millions worldwide through her masterly creations on the show. Holding personality, autonomy, and individuality at the heart of her designs, Esther claims that her style is an act of " gender-unspecific post-feminism." This, combined with her love for the color black, enables the designer to create some of the most striking, contemporary, and regal outfits.
Her popularity has increased tenfold since her appearance on 'Making the Cut.' Esther has been featured in several prestigious publications, TV channels, and podcasts. Moreover, she has participated as a speaker in the Adobe MAX Creativity Conference. Esther has not let up on her creativity and has appeared on numerous fashion shows, including the prestigious Art Week Berlin 2020 and the Mercedes Benz Fashion Week Berlin in 2021.
Esther has also collaborated with several well-known personalities and brands like Berlin-based Sven Marquardt as well as ITEM m6. Additionally, her recent Astro Noir exhibition at the Galerie Jochen Hempel in Leipzig, Germany, is awe-inspiring and breathtaking. We cannot wait to see what this exciting Berlin-based designer has to offer next.
Where is Jonny Cota Now?
Much before appearing on the show, Jonny Cota and his brother Christopher launched their label Skingraft in 2008, which has seen massive success with famous celebrities like Rhianna, Beyonce, Nicki Minaj, and Britney Spears. Already well established in the world of fashion, the circus performer turned costume designer turned fashion designer took the show by storm and won the hearts of the judges, participants, viewers in 'Making the Cut.'
His designs and ideas were applauded by all, which led to him being crowned the grand winner and take home $1 million. Becoming the show's winner enabled Jonny to be mentored by the Amazon Fashion team, which helped him with his ideas and designs. They pushed him in the right direction and guided him on the way to the launch of his eponymous line in 2020. Jonny is exceptionally proud of his new line as he claims that through it, he has broken out of the boundaries he had set for himself in the past.
The Jonny Cota line is based on progressive and contemporary streetwear, which can be easily distinguished from the performance-art fashion-inspired Skingraft. However, Jonny has mentioned that he will not let Skingraft die; both lines will co-exist side by side and will be sold in the same store. Additionally, the Jonny Cota line can also be found online on Amazon.
Jonny has been featured in numerous prestigious publications and has appeared on popular TV shows, including 'The Kelly Clarkson Show.' He also launched a line of unisex perfumes – The Jonny Cota Parfum, which met a great deal of success. In 2021, the Jonny Cota Studio passed a new milestone when it revealed its new headquarter in Bali. However, it seems that at present, Jonny is back in Los Angeles, and even though his relationship with Amazon survived some rough waters, especially with the way he pictured his creations, the designer is preparing to enthrall us with his future creations.
Read More: Is Making The Cut Scripted?