Adapted from the eponymous novel by Iain Reid, 'Foe' is a science fiction psychological thriller movie that stars Academy Award nominees Saoirse Ronan and Paul Mescal who portray a married couple — Hen and Junior, respectively. Set in the 2060s, the narrative focuses on the couple who farms and tends to a secluded piece of land that has been under the name of Junior's family for decades. Soon, their peaceful life is interrupted and turned upside down when an uninvited stranger knocks at their door with an unusual proposal.
The strange proposal involves Junior spending some time at a large space station while Hen is accompanied by a robot. Co-written and helmed by Garth Davis, the sci-fi film includes some mesmerizing visuals and imagery against several picturesque backdrops, including the secluded and calm farmhouse of Hen and Junior where most of the drama unfolds. Since the story takes us a few decades into the future, the seemingly dystopian terrains raise questions about where Foe was filmed.
Foe Filming Locations
'Foe' was filmed in its entirety in Australia, especially in the state of Victoria. As per reports, production on the thriller film got underway in January 2022 and continued for the following three months, before getting wrapped up in April of the same year.
Victoria, Australia
Almost the entirety of 'Foe' was taped in Victoria, a state situated in the southeastern part of Australia. In particular, the production team set up camp in Winton Wetlands at 652 Lake Mokoan Road in Chesney Vale. It is an outdoor area that blends nature, wildlife, art, and culture, which is evident in the backdrop of several scenes in the psychological thriller movie. Moreover, Docklands Studios at 476 Docklands Drive in the inner-city suburb of Docklands in Melbourne, Victoria, served as a prominent filming site.
Sprawling across more than 10,000 square meters, the film studio complex is home to six different stages, each of which consists of production offices, storage, dressing rooms, and makeup rooms. Besides that, Docklands Studios also houses mess halls, a large workshop area, and interior water facilities in Stage 1 and Stage 6. All these amenities make it an ideal filming site for different kinds of productions, including 'Foe.'
Furthermore, the port city of Geelong and the town of Lockwood are a couple of sites where several important sequences for the Garth Davis directorial were lensed. Before the production began, the director and his team came across a Canadian farmhouse that suited the story but due to some technical difficulties, they couldn't shoot there. In an early October 2023 interview with Above The Line, the director was asked if the production designer, Patrice Vermette, built the entire farmhouse on set.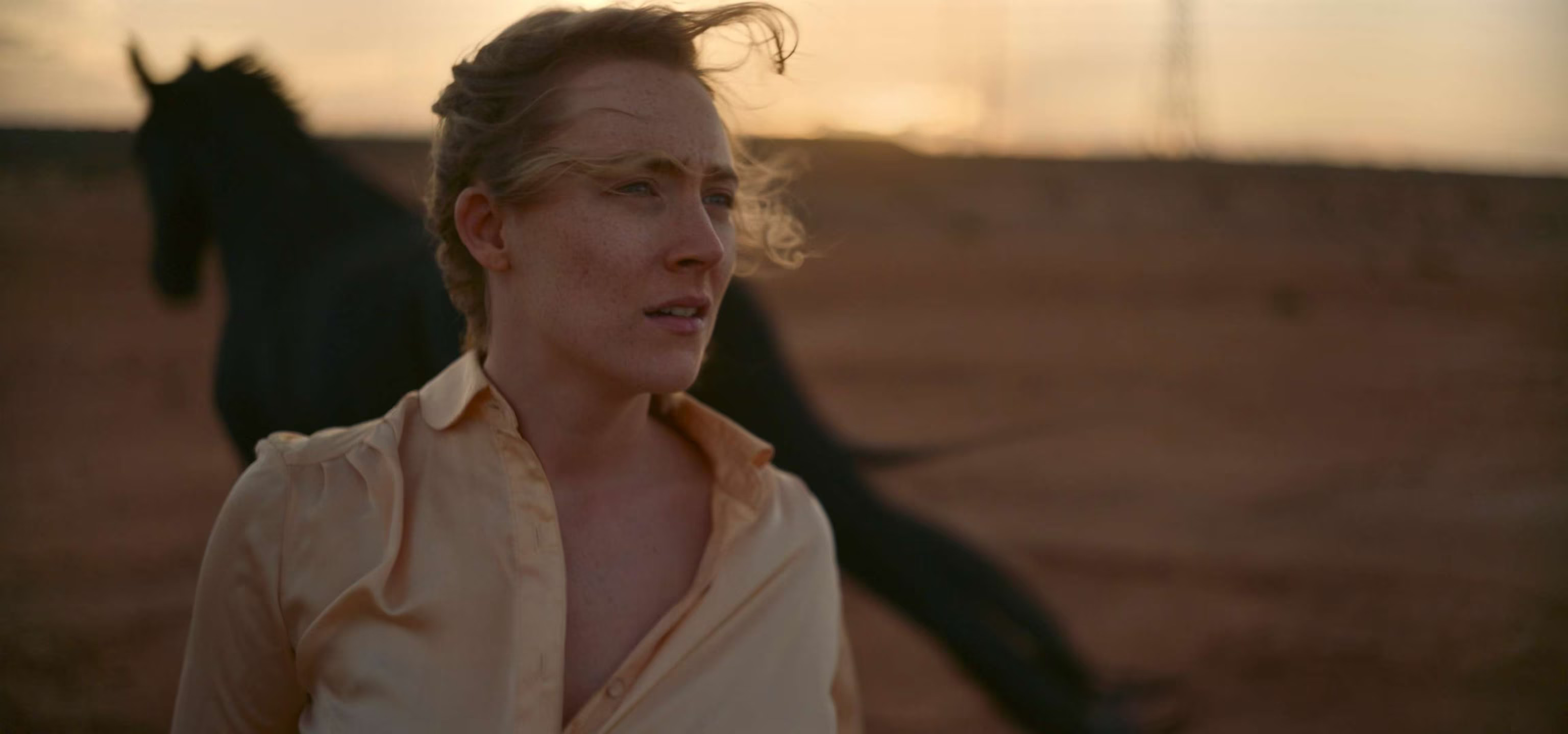 Davis revealed, "Patrice is incredible. He went to the house in Canada and literally forensically studied every bit of it, and then he came to Australia. We adjusted the floor plan, and we adjusted some of the design elements to serve the story (and) to bring the most mystery and tension to the scenes. Once that was done, we built the house on location, and then, we built maybe half the house on stage. We moved between real locations as much in-camera as possible."
Out of so many complicated sequences, there was one particular scene that posed a great challenge for the crew. Davis talked about it in length in a Screen Rant interview in early October 2023. He explained, "I mean, they're all challenging, but probably the one that was the most challenging and we went through rehearsals quite a bit was the opening scene when Terrance comes into the house and they sit in the lounge room, because there's so many things going on at that moment."
Davis expanded further, "There's so many secret rivers – the story you think you're watching, the story that's really happening. So all of the actors are doing a multitude of things, and there's a lot of, "How much do we reveal? How much do we conceal?" So I think trying to find the reality of that conceit was the greatest challenge. It was very complex, so that was probably – for all of us – the greatest challenge was that scene."
Read More: Best Psychological Thrillers on Netflix