'The Pharmacist' may initially seem like true-crime, but it is so much more. In reality, the four-part docuseries is about seeking answers to an epidemic that continues to erode our society. It tells a moving and inspiring story of a father's journey in his path to seek justice as he channels his grief into an almost obsessive investigation when he finds himself looking at the opioid epidemic at its infancy.
Dan Schneider may be a pharmacist by profession, but he is a true hero by his actions and the sheer diligence with which he fights all odds. Not only for the loss of his son's life, but for the numerous young lives around him that he sees being destroyed by a single pill. 'The Pharmacist' is both revealing and surprising with the ways it sheds light to a side to America's drug crisis that we largely turn a blind eye to. It centres around Schneider, an ordinary middle-aged family man, who we see transform into a vigilant private-eye in order to save his community. But where is Dan Schneider now? Here's everything you need to know.
Who is Dan Schneider?
We know Dan Schneider as the vigilant civilian hero, but how much do we really know about him? Dan was born in 1950, and was the second youngest of the four children. Though born in Upper 9th Ward, his family moved to St. Bernard soon after his birth because of racial divisions in the area. The 1950s turned St. Bernard exclusively white, while the black largely lived in the 9th Ward.
Schneider grew up in St. Bernard, and went to Chalmette High School, where he played football, and met Annie. The two got married when they were 21, and he went on to study at Xavier University of Pharmacy. The two started their own family, and had two kids, Dan Jr. and Kristi. During the time of the incident that changed his life forever, Dan worked at Bradley's Pharmacy as a head pharmacist.
It was in April 1999 that Dan Jr. was shot dead buying drugs in the 9th Ward. The police weren't much of a help in finding the person responsible. Overcome by grief and seeking answers, Schneider decided to take matters in his own hands. He went door to door looking for witnesses, called up each person around the area, and recorded conversations. His actions were borderline obsessive but he did find a witness, who after some persuasion, decided to testify against the murderer.
Dan Jr's death made him realize that if drugs could kill his son, they could kill anyone. When he returned to work, he began to notice young, healthy people coming in with OxyContin prescriptions. The drug was a time-release opioid for chronic pain relief but worked as heroin if crushed or injected. Shocked and disturbed by what was happening, Dan decided to go back to his investigative ways. Well, the rest is history. By collaborating with the authorities, he was able to shut down the pill mill run by Dr. Cleggett. But he soon realized this was only the beginning.
Tunnel of Hope
The opioid epidemic continues to evolve. When measures were taken to ensure safety with the use of OxyContin, it was already too late. The pills had already made addicts out of thousands of innocent people, who shifted to less safer options like heroin. Soon after, the epidemic evolved to a more gruesome state with individuals getting addicted to a synthetic drug like fentanyl that was easily accessible and fatal. Though Schneider was able to put an end to the most notorious drug pill in New Orleans' history, the big fish was still out there, and free. The big fish in this case was Purdue Pharma, that introduced Oxytocin to the masses without informing them of the harm it caused.
Moving away from his investigative ways, Schneider continued to work towards making his community drug-free. In 2013, he founded St. Bernard Anti-Drug Coalition, a non-profit that works to reduce illegal drug use in the parish. It works at raising awareness, making treatment programs accessible, and developing rehabilitation programs. Several government and school officials are members of the coalition board, including narcotic agents, pastors and educators. They distribute their resolutions and hold lectures through schools and churches, and across the community.
Despite the hardships he met with, with his son's untimely death, his investigations, and ultimately, the catastrophic Katrina, his "Tunnel of Hope" remained. He continues to work on ways to save lives in his community.
Where is Dan Schneider Now?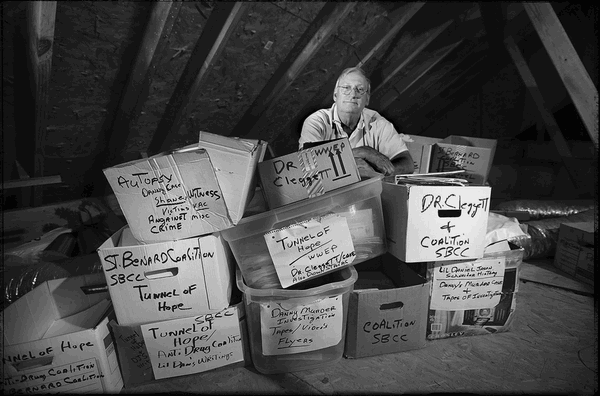 Schneider continues to give back to the community where he spent most of his life. But the catastrophic effects of Hurricane Katrina uprooted them from the parish . The hurricane completely destroyed their house, submerging it with 10 ft. of water. This was the same house that Dan had built for his family, where his son was born and where he grew up. It was an immeasurable loss. But the Schneiders had to move on with their lives. They shifted to the North Shore suburb in Mandeville and rebuilt their life there.
Schneider's attic still holds a huge stack of boxes filled with his investigative work from the 2 year-period in his life that makes most of 'The Pharmacist'. The boxes are labeled, "Tunnel of Hope", "Dr. Cleggett WWEP", and "Danny Murder Investigation". Dan hardly opens these anymore, and his wife wishes he threw them away. But for Schneider, they hold a crucial reminder for what he has fought for and how far he has come. Schneider is currently semi-retired, and still works at Bradley's from time to time. He spends most of his time gardening or with his two grandchildren.
Read More: The Pharmacist Review