Netflix's 'The Pharmacist' portrays an ordinary man's journey to seek justice for his son, and for the numerous young lives that are being destroyed around him. All at the hand of a pill in guise of a painkiller. As Dan Schneider digs deeper he begins to notice a pattern. Almost all the prescriptions come from a particular Dr. Cleggett who operates on the shadier side of the town. Schneider soon begins to realize the emergence of a devastating opioid epidemic that will eventually engulf the American society with immeasurable grief. More than half a million Americans died from drug overdoses in the past decade. More than 60% of these deaths were a result of opioid consumption.
Schneider's investigation brings him to the most notorious "pill mill" in New Orleans' history, all led by a single doctor who was prescribing harmful doses to hundreds of individuals. Collaborating with the authorities, he is eventually able to put an end to Cleggett's medical practice. But how much do we even know about Dr. Cleggett? And what happened to her? Here's everything you need to know.
Who is Dr. Cleggett?
Jacqueline Cleggett was born to George and Nadine Cleggett in the 1960s, and grew up in Moss Point, a small town in southern Mississippi. She earned her medical degree from the Morehouse School of Medicine, in Atlanta, and later completed her residency program in New Orleans' LSU Health Sciences Center. She specialized in internal medicine and pediatrics. It is during her time in New Orleans that she divorced her husband, who was an emergency room physician. She also gained custody of her three children, Erica, Marlon and Kelli.
In the 1990s, she worked for Gulf South Medical Consultants, and was known to be a competent doctor who pursued an ambitious medical career. By the late '90s, she began a small private practice in New Orleans East, which she pursued alongside her work at Gulf South. She worked during the day, and saw her patients during the evening at the clinic.
But around early 2000, Cleggett quit Gulf South and decided to focus on her private practice full-time. She relocated her clinic to a large two-story building on Chef Menteur Highway, an area with a reputation for its crimes. She also earned a certificate from the American Academy of Pain Medicine. Due to the high-crime rate, she hired New Orleans police officers to work shifts. The officer that is mentioned in 'The Pharmacist' was actually her live-in boyfriend. He was a member of the Civil Sheriff's Office.
Cleggett's Pill Mill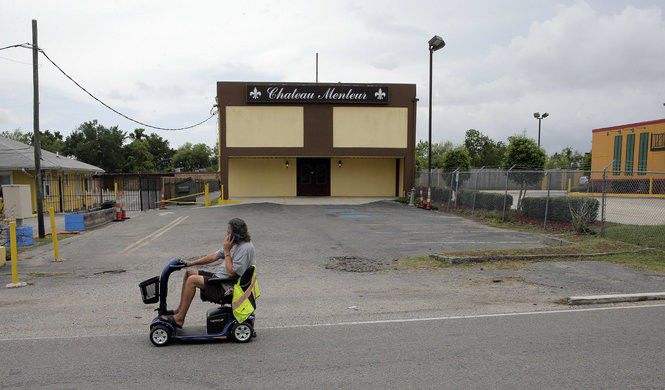 As shown in detail in 'The Pharmacist', Dr. Cleggett's clinic soon transformed into a full-fledged pill mill. Her office hours lasted till 4-5 in the morning, and was filled with patients who sometimes waited for over 12 hours for their prescription. She took cash only from her "patients" and charged a $150 "stat fee" for faster service, with the total cost of a single visit going up to $400. It was even reported that someone else used to write prescriptions in her absence. However, this was never proven.
Almost all her prescriptions were identical as she prescribed her patients a strong of dose of OxyContin pills in combination with Soma and Xanax, which was infamously known as the "holy trinity" meant to give a long high when used together. Several of her so-called patients included drug smugglers, along with certain innocent individuals who were suffering from chronic pain but became addicts in the process. There were cases of people overdosing on OxyContin all across St. Bernard, including several individuals who died. Schneider's investigation, and his collaboration with the Medical Board, DEA and the FBI, ultimately resulted in Cleggett's medical license being revoked.
Where is Jacqueline Cleggett Now?
After her licence got suspended, things went downhill for Cleggett. According to DEA reports, she filed for bankruptcy in 2004 despite having earned millions through clinic. She even had to sell her house in Lake Willow Drive, began homeschooling her children. She also gave up her health-insurance to make ends meet. It is also believed that briefly took up a job at Taco Bell as an assistant manager.
Cleggett was simultaneously studying at the time as she wished to reapply for her medical license and get her life back together. Unfortunately, in 2006, she was involved in a serious car accident that left her permanently impaired. She even spent a month in coma, and suffered from partial paralysis. Due to her condition, the medical evaluator at the time deemed her unfit to practice medicine again. It was even suggested that she may never be able to function independently.
Due to this, despite facing up to 20 years in jail initially along with a $1 million fine based on 37-count indictment in 2007, she was not given a prison sentence. In 2009, after an agreement with the prosecutors, Cleggett pleaded guilty to just one count for which the court imposed three years of probation instead of jail-time. But apart from her, around 17 others were arrested for dealing in drugs that she prescribed. At the time, she was living in an assisted living facility in Plaquemines Parish.
Not much is known about what happened to Cleggett after this, as she pretty much disappeared from the media's eyes. But according to the public records available, it can be said that Cleggett, who is now 57, lives in a small apartment complex in East Baton Rouge, Louisiana.
Read More: The Pharmacist Review