Created by Matt Laesch, Fox's 'Snake Oil' is a game show where several convincing and seemingly real entrepreneurs pitch some extremely unique and bizarre products to contestants. Now, based on the visuals, a custom-made infomercial exclusively produced for the show, the contestants must figure out which ones are real businessmen with real products and which ones are "Snake Oil Salesmen" with fake products. To provide some assistance to the contestants, they are accompanied by guest celebrity advisors who help them determine the authenticity of a business venture.
Apart from the unique format of the reality TV series, what keeps the viewers hooked and entertained through each episode is the lively presence of the actor and comedian David Spade, who serves as the host. Some of the celebrities who feature in the show are Lana McKissack, Caitlyn Knisely, Rob Riggle, Michelle Williams, Eileen Galindo, and LaNisa Renee Frederick. Since the entirety of the show is shot indoors, possibly on a sound stage, many are left wondering where exactly was 'Snake Oil' filmed. If you are in the same boat, allow us to get rid of your curiosity!
Snake Oil Filming Locations
'Snake Oil' is shot extensively in Georgia, especially in Metro Atlanta. The production of the inaugural iteration of the reality television series reportedly took less than two weeks to complete. Filming of season 1 began on July 19, 2023, and carried on for a few days before ultimately wrapping up on July 28. Without further ado, let's dive in and find out where exactly the intriguing game show is shot!
Metro Atlanta, Georgia
Filming of 'Snake Oil' takes place in Metro Atlanta, the principal urban area of Georgia. Since the gameplay of the show primarily involves entrepreneurs pitching their ventures to the contestants in a compact setting involving well-lit screens, four mini-podiums, and space for the product presentations, it is evident that the entire show is shot in an enclosed facility, likely a production studio. Well, there isn't a dearth of studio complexes in Metro Atlanta. Thus, from what we can tell, ATL Film Studios in the metropolitan area has been chosen as the shooting site of this unique show.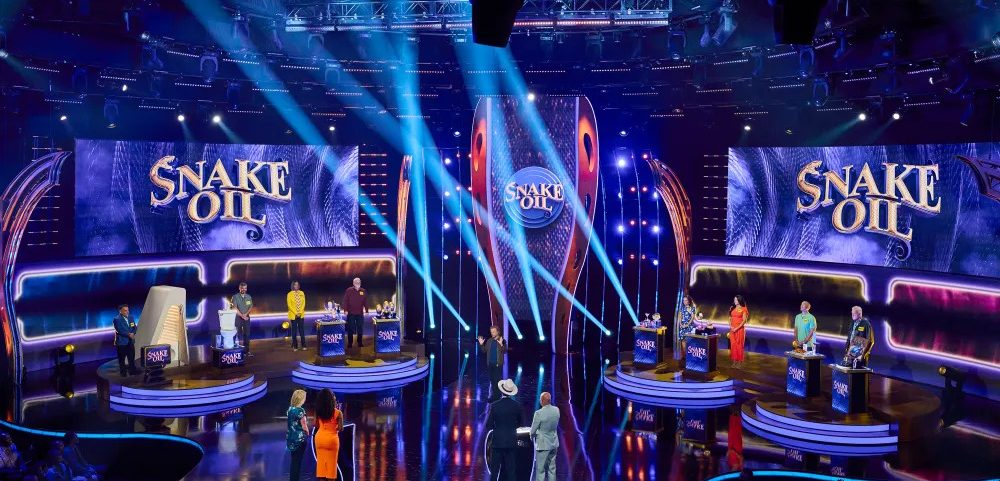 Located at 110 Thompson Road in the city of Hiram in Paulding County, the video production service boasts two production stages spanning 20,000 sq ft. The premier purpose-built sound stage complexes are equipped with full construction power, Camlock shoot power, and a secure site of 11 acres. It also provides multiple standing sets that can double up for schools, offices, basements, apartments, and saloons. Aside from various LED walls, the studio has one small interactive wall and a blue screen. Considering the services it offers, it is evident why the production department of 'Snake Oil' settled on ATL Film Studios as a filming site.
Read More: Best Game Shows on Netflix