'Tiger King: Murder, Mayhem and Madness' is undoubtedly Netflix's wildest, and perhaps also its most twisted true-crime docuseries yet. The seven-part documentary looks at the life and times of big cat owners in America, and follows the rise and fall of Joe Exotic, the self-fashioned "Tiger King"; the eccentric owner of G.W. Exotic Animal Park in Oklahoma.
The docuseries stands out for its expansive portrayal of private ownership of big cats as it brings to us explosive and thought-provoking first-hand information from each person involved. We're introduced to some of the biggest, wackiest names in the business, all whom play some part in the rise, and the ultimate dethroning of the Tiger King. Joe Exotic's rivalry with Carole and Howard Baskin forms a focal point of the series.
After all, Carole is Joe's fiercest and most vocal critic and rival. With her husband Howard's help, that the duo eventually lead Joe to bankruptcy as he finds different ways to harass them. If Joe is the blonde mullet-sporting, gun-toting, eccentric zookeeper from Oklahoma, Howard Baskin seems to be his complete antithesis with his glasses, buttoned up shirt and dad-style khaki pants.
While 'Tiger King' reveals that Howard is Carole's third husband, and that he helps her realize her vision for Big Cat Rescue (which the two run together), not much about him is revealed. So, who is Howard Baskin really? And where is he now?
Who is Howard Baskin?
Howard Baskin was born and raised in Poughkeepsie, New York, and went to school at Poughkeepsie High School. Not much about his family background or personal life is revealed, but there is plenty of information about his professional life. Baskin studied in Union College, New York, from where he graduated in 1972. He then studied in Miami School of Law, and eventually received his MBA from Harvard Business School in 1980.
Baskin is currently a retired management consultant who has a history of working with finance, and strategic planning. He worked at Citicorp for 11 years, where he was the Director of Strategic Planning for the Commercial Real-Estate Division. He left the corporation in 1991, he worked for three other companies, one of which he co-founded.
When Howard Met Carole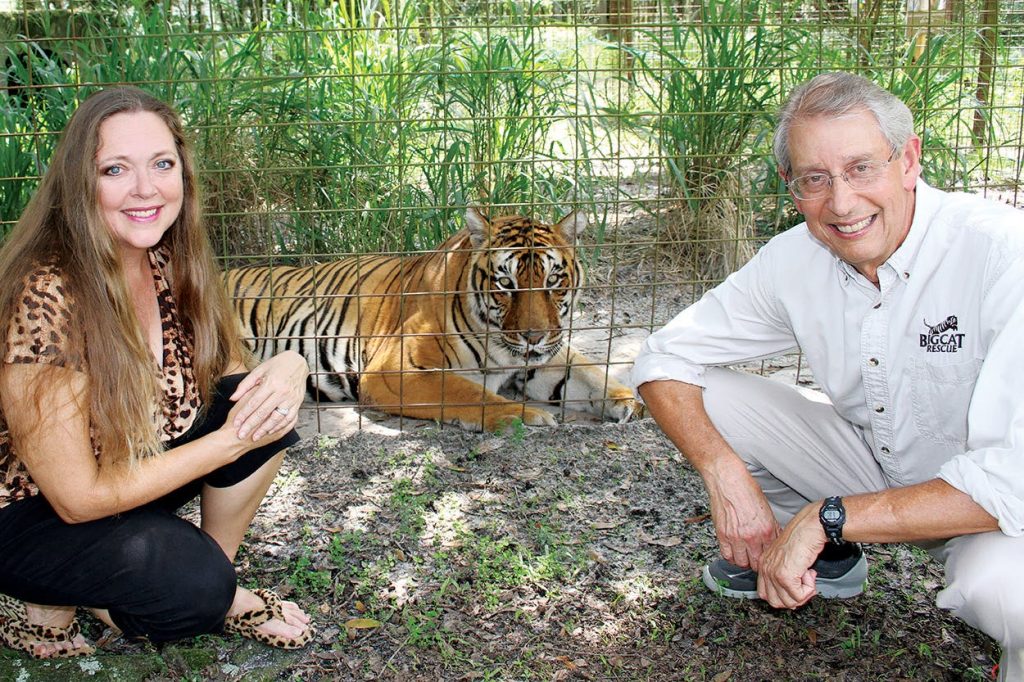 In 2002, during the launch party of "No More Homeless Pets", he met Carole for the first time. The two soon began to date, and eventually got married in 2004. From 2003, Howard started helping Carole reinvent Wildlife on Easy Street into Big Cat Rescue, a sanctuary founded on Carole's vision. Carole also went on to say how it was after meeting Howard that she began to realize this vision.
Of course, the two made a great team. Howard managed the administrative, financial and legal aspects, while Carole focused on advocacy, and raising funds through social media. In one of her interviews she revealed that it was on their honeymoon that the two wrote a 25-year plan to stop the abuse of big cats in the country. In an interview mentioned on Big Cat Rescue website, Harold stated:
"I kind of married into this transition, although it was of course my choice, not a requirement…I fell in love with her. One thing that drew me to her was her passion for the mission and the excitement of working for a cause, not just living."
The immediate goal for the Baskins was to stop the breeding of big cats. For this, they actively started working towards preventing cub-petting and cub-selling. This would soon lead them to cross paths with Joe Exotic, followed by an explosive rivalry that would someday make the headlines.
Where is Howard Baskin Now?
https://www.instagram.com/p/B7om9uhpzZN/?utm_source=ig_embed
The intense feud between the two parties, would eventually lead Big Cat Rescue to file a lawsuit against Joe Exotic for trademark infringement. With Howard's legal knowledge, the non-profit won the $1 million dollar lawsuit against Joe. While the Baskins tried finding ways to retrieve the money, which included getting Joe's mother involved in the lawsuit, Joe became increasingly consumed by his hatred for the Baskins. Eventually, he devised plan to hire someone to murder Carole.
However, the authorities were already investigation Joe Exotic for animal abuse, and became aware of the murder-for-hire plot, which never got carried out. On September, 2018, Joe was arrested by the Feds in Florida. Then, in January 2020, he was sentenced for 22 years in prison based on 19 counts, 2 of which included murder-for-hire, while the remaining 17 were related to animal abuse.
In one way or another, the Baskins got rid of their harasser, and also reduced one less exotic animal breeder in America. However, the brilliance of 'Tiger King' lies in how it looks at the Baskins with an unbiased and critical perspective as well. Something that will make the viewers question if the initial lawsuit was worth all the millions, and if any animal really benefited from it.
Today, Howard Baskin continues to live in Tampa, Florida, with his wife Carole. He currently works as the secretary, treasurer, and the advisory board chairman at Big Cat Rescue. Together, Carole and Howard Baskin take care of the cats at the Rescue. The duo is actively working towards ending big cat abuse, as they find ways to get the Big Cat Safety Act passed.
Read More: Where is Carole Baskin Now?