There is no denying that Netflix seems to be leading the way when it comes to the true-crime genre. The streaming giant has, in fact, led to a recent surge in the genre with all the twist real-life crime stories it has to offer. But with 'Tiger King', it takes it a whole notch higher, giving to us its wildest, most bizarre true crime narrative yet.
'Tiger King', through its expansive portrayal of captive ownership of big cats in America, introduces us to some of the biggest, strangest names in the industry. But it focuses on the rise and fall of the eccentric, mullet-sporting, gun-toting self-fashioned "Tiger King" from Oklahoma, Joe Exotic. Joe becomes, in many ways, the showstopper of what seems to a wild circus of big-cat owners, filled with madness and mayhem as the title suggests, and ultimately, murder.
Through it all, if there are few individuals that our heart goes out to, it is mostly former employees of G.W. Exotic Animal Memorial Park. Joshua Dial plays a key role towards the second half of the series as he offers a voice of reason in the otherwise stranger than fiction reality that 'Tiger King' explores.
Joshua labels working with Joe Exotic as the worst two years of his life. But what's interesting is that Dial worked with Exotic as a campaign manager when Joe was running a quixotic campaign as a libertarian. He was also the person who witness the devastating accident where Travis shot himself. But how much do we know about Joshua Dial?What happened to him after he left Joe Exotic? Here's everything we know.
Who is Joshua Dial?
Joshua Dial was always interested in politics. Native to Oklahoma, he was born and raised in Pauls Valley, and went to Pauls Valley Public School. He later studied Political Science at University of Science and Arts in Oklahoma. Though it has not been revealed, it can be assumed that he worked odd jobs, like the one in Walmart to support himself.
It was from 2014 to 2017 that Dial worked as a Store Manager at Walmart in Pauls Valley. It was here that Joshua Dial met Joe Exotic for the first time. When Joe offered Joshua a job to work as his campaign manager for the upcoming elections, despite his own views about Joe, Joshua accepted, seeing it as his golden opportunity to fulfill his own dream in politics.
Joe Exotic's Political Campaign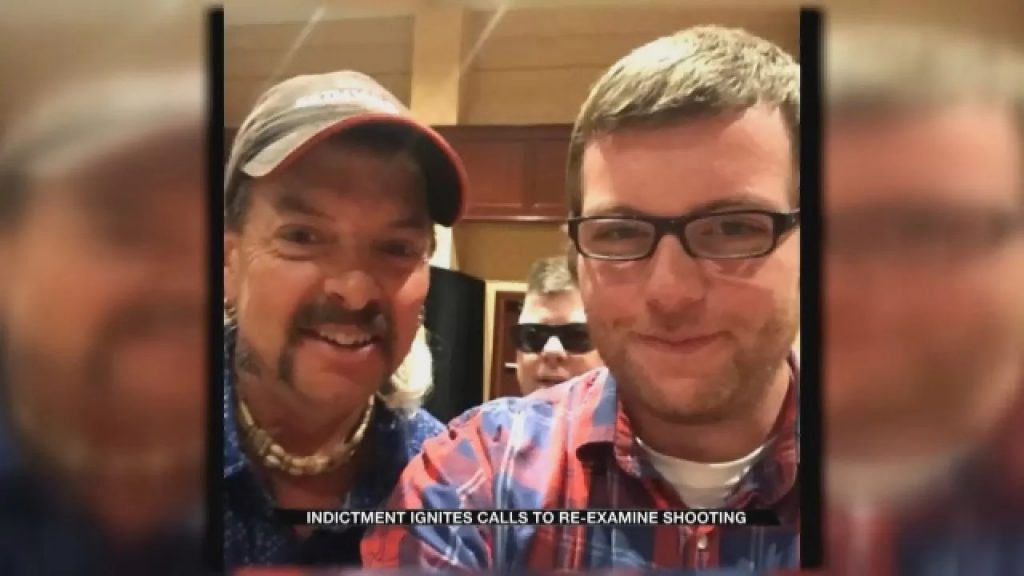 By April 2017, Joshua Dial was working for Joe Exotic's political campaign. At the time, he moved to Wynnewood and was living in the zoo. Dial had strong libertarian inclinations, and considered himself a libertarian environmentalist. Joe Exotic too was running for governor of Oklahoma as a libertarian, and was pro-gay rights, pro-abortion, and anti-gun reform. Joshua, at the time, became a member of the Libertarian Party.
It is believed that Dial once called Exotic "Donald Trump on meth", and in an interview with Washington Post, revealed that the campaign "was all about publicity" to bring more people to the zoo. He believed his job was to do damage control as Joe Exotic began distancing himself from what he started out to do, and focused more on gaining fame. It was also in 2017, that Joshua Dial witnessed Joe's husband, Travis Maldonado, accidentally shoot himself in the head.
The employees at G.W. Zoo carried firearms, Travis was particularly fond of guns. In 'Tiger King', Joshua reveals how Travis loved messing around with people and pointed guns at them. When Joshua objected one day, Travis stated that the gun wouldn't go off without a clip on it. He then went on to demonstrate it by pointing at his own head, but when he pulled the trigger, he ended up shooting himself. This heartbreaking accident took place on October 2017, and Travis was only 23 at the time.
Travis' death left a major impact on Joshua who was the sole witness. He stated that he no longer wished to work for the campaign, but as Joe was going through a devastating loss, Joshua decided to continue. However, Joe got remarried in two months. Joshua Diaz ultimately resigned from Joe Exotic's campaign on June 2018, just months before Exotic was arrested for the murder-for-hire plot.
Where is Joshua Dial Now?
According to his social media, Joshua Dial lives in Stillwater, Oklahoma with is fiance, Jackie Long. The two got engaged towards the end of 2019. A year after leaving Joe's campaign, Joshua had posted on his Facebook speaking of his experience and the effect it had on him:
"This month will make one year since I resigned as campaign manager for Joe. After watching his husband kill himself in my office, it's understating the matter by saying it was a rough campaign to work. In the past year I've been doing some political soul-searching."
Joshua Dial worked at Cowboy Travel Plaza in Stillwater, Oklahoma, as the store cashier until March 2020. His passion still lies in politics, but he shifted his support to the Democratic party, particularly for gay-rights in Oklahoma. Joshua Dial's social media also revealed that Joe Exotic tried making contact with him from Grady County Jail. But Dial has turned over a new leaf, and is focusing on his life together with his fiance.
Read More: Where is Carole Baskin Now?