Created by Jeff Lowell, 'The Crew' is a Netflix show that follows a NASCAR garage, where Kevin Gibson (Kevin James) is the crew chief. However, the owner of the garage retires and passes the business over to his daughter Catherine (Jillian Mueller), a tough nut who has a contemporary approach to business. This complicates Gibson's life as he is constantly at war with the new ideas and concepts brought in by the change in authority.
Headed by Catherine, the new team comprises tech-savvy millennials is hell-bent on modernizing the place, and Gibson has to deal with it. Apart from its well-timed comic punches, the show also features thrilling racing sequences, making it an exciting watch. If you want to know where the show is filmed, here's everything we know.
The Crew Filming Locations
'The Crew' started filming in October 2019 and wrapped up in the second half of 2020. This unique blend of sports and comedy in a sitcom is filmed in Long Island, New York. Let's get into details.
Long Island, New York
'The Crew' is filmed in a hamlet called Bethpage, situated on Long Island within the town of Oyster Bay in Nassau County. The place seems like a niche spot to be chosen as a filming location, but Bethpage is characterized by an easy-going and amicable atmosphere that the producers of 'The Crew' must have liked. It is primarily famous for its Bethpage Black golf course situated at the Bethpage State Park.
Most of the scenes in 'The Crew' were shot in Gold Coast Studios, situated at 700 Hicksville Road. It constitutes a vast interior space, having multiple zones and setups. Comedian Kevin James, who plays Gibson, shared his experiences on set, giving a tour of the overwhelming space that stood in as the show's NASCAR garage. A few scenes were filmed in actual NASCAR races, as stated by the actor. He talked to EW about the process and said, "We actually had a car wrapped, you know, with our Fake Steak logo, and it competed, which was amazing. So that's the benefit of having NASCAR helping you out, too." He also posed with the crew in various pictures posted on social media during production.
The series additionally features racing legends like Austin Dillon and Ryan Blaney. Kevin approached NASCAR legend Tony Oldman who guided him during the filming phase. Creator Jeff Lowell came up with the idea of welcoming popular racers in the show. Kevin also revealed his experiences chatting with Ryan, who Kevin termed as "crazy funny." The playful comedian initially wanted to joke around, making them feel nervous in front of the crowd during shooting. But Ryan turned out to be funny anyway.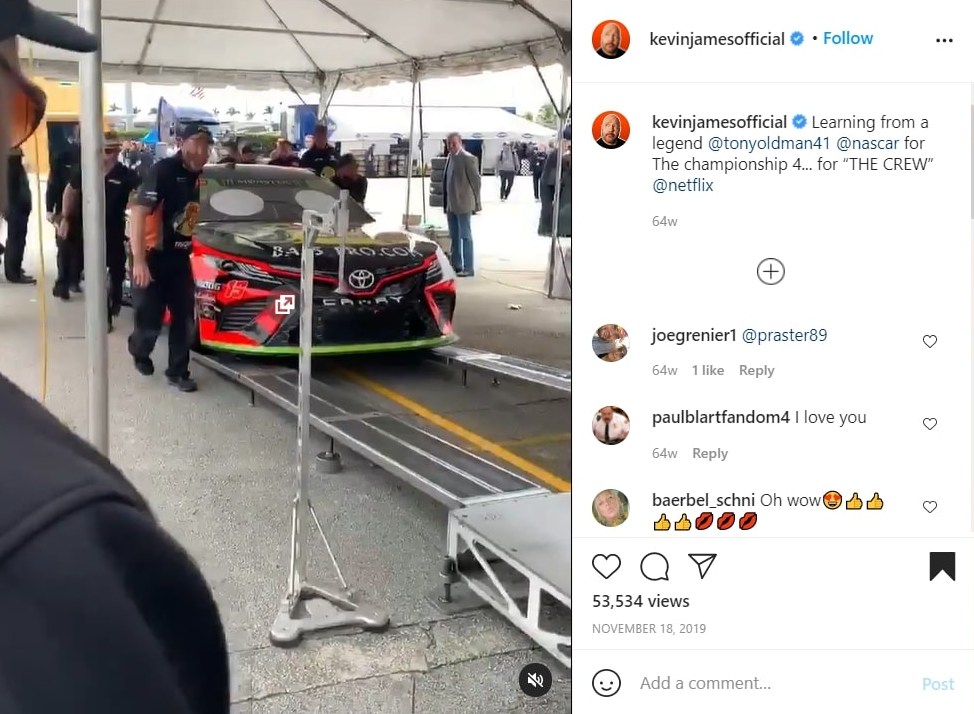 Read More: Best Car Racing Movies on Netflix