Over the years, Chris Rock has included several important topics and subjects, such as celebrities, family, romance, politics, music, and race relations, in his stand-up comedy acts. About a year after the infamous slapping incident that took place on stage at the 2022 Academy Awards between Will Smith and Chris Rock, the latter came up with a stand-up special 'Chris Rock: Selective Outrage,' in which he talks about non-racist yoga pants, spoiling his kids, the Kardashians, and of course, the entire Will Smith fiasco.
'Chris Rock: Selective Outrage' is the first ever live-streamed Netflix event which doesn't only give the audience laughs but also lets us in on his views about the Oscars incident, which was arguably the strongest part of the entire special. Since it was recorded inside an auditorium, it is natural for you to wonder where the live stand-up special was shot. Well, luckily for you, we have gathered all the necessary details about it!
Chris Rock: Selective Outrage Filming Locations
'Chris Rock: Selective Outrage' was filmed in Maryland, specifically in Baltimore. It was taped live on March 4, 2023, in front of a live audience. Now, without wasting any time, let's find out where exactly Chris Rock performed the stand-up special!
Baltimore, Maryland
Chris Rock and his crew set up camp inside the Hippodrome Theater at 12 North Eutaw Street in Baltimore where the stand-up special live event was taped. Although the comedian hasn't revealed the reasons for specifically choosing this venue in Baltimore, there are speculations that it is because the city is Jada Pinkett Smith's (Will Smith's wife) hometown. So, he might have kept Jada's name out of his mouth during his special but it is seen as a subliminal shot toward her, by many fans and critics.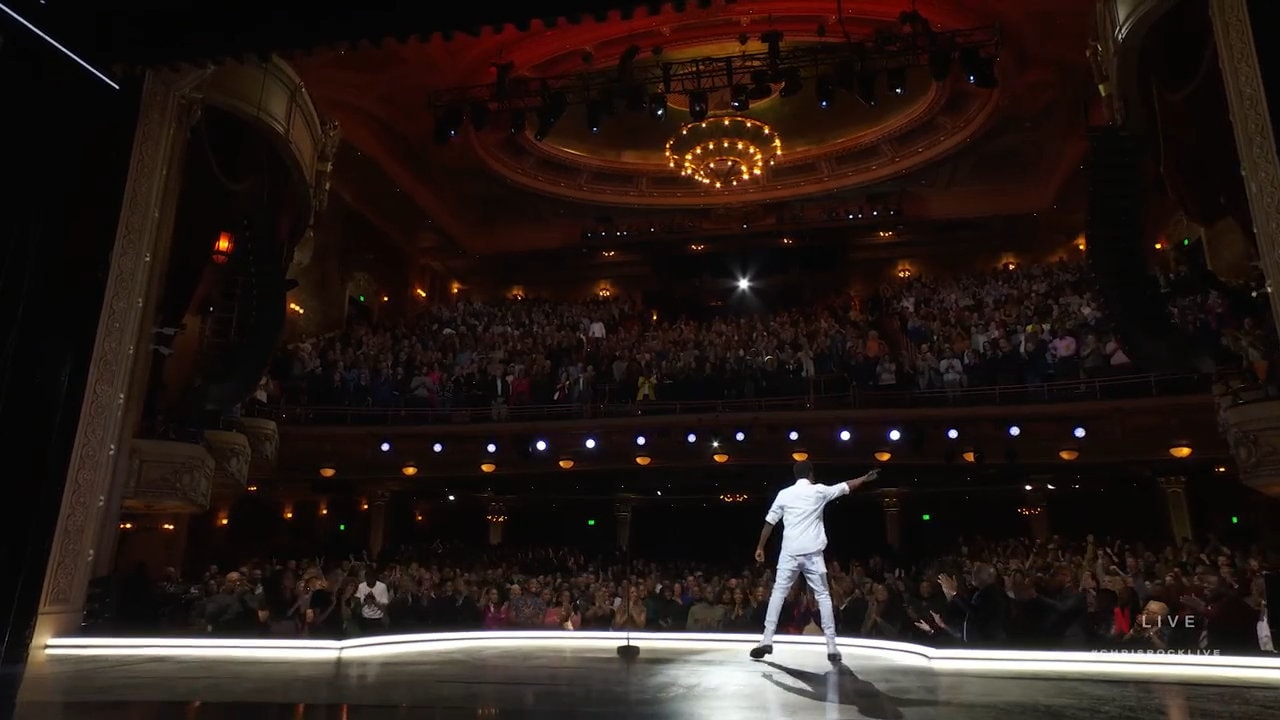 Established back in 1914, the Hippodrome Theater was the foremost vaudeville house in the city and also served as a movie theater. After getting renovated in 2004, the theater has been getting used as a performing arts theater and is an important part of the France-Merrick Performing Arts Center.
Situated in north-central Maryland on the Patapsco River, Baltimore's economy is dependent on numerous sectors but tourism plays an important role as the city is a popular tourist destination. There are plenty of attractions and places of interest that tourists tend to explore, such as the National Aquarium, Mount Vernon, Horseshoe Casino, the Walters Art Museum, the Babe Ruth Birthplace and Museum, and the B&O Railroad Museum.
Read More: Best Stand-Up Shows on Netflix