If you keep an eye on independent filmmakers, you must be familiar with the work of the Safdie brothers. Josh and Benny's new movie, 'Uncut Gems', is a crime thriller and one that had been contemplated for almost a decade before the brothers got around to making it. It has one of the best performances from Adam Sandler, who plays the protagonist, Howard Ratner, in the movie.
The premise basically follows Ratner, who works as a jeweler, who is on the lookout for the next big score. However, he is also a gambling addict and makes a series of bad bets which lands him in trouble. Now, when one of Ratner's largest scores is at stake, he must pull off a balanced act, handling his professional and personal lives, while attempting to fend off adversaries and emerging unscathed.
There have been some opinions, calling 'Uncut Gems' a protracted heart attack that plays out in New York City. If you are familiar with the works of the Safdie brothers, you will see that their movies take place in the city they love. The new film is no exception. However, New York City is a big place itself, and you might be wondering where Howard Ratner's intense tale plays out. We have you covered in that regard, as we bring all filming locations for 'Uncut Gems'.
Uncut Gems Filming Locations:
Naturally, the principal photography for the movie went on in New York City. From what the reports suggest, Manhattan saw most of the action unfurl in 'Uncut Gems'. There is a feeling among various New Yorkers that there is not much to see in the city, or that the city does not offer any moments of beauty anymore.
One only needs to see New York City through the eyes of the Safdie brothers to enjoy its unique charm and the hectic pace of the people. However, even in Manhattan, the Diamond District specifically becomes the center of the story since the protagonist is a jeweler working there. Apart from that, the movie has been shot in the streets in an around the area, with the Safdie brothers casting people off those streets to be a part of the movie. This increases the authenticity and brings a sense of involvement in the shots that are filmed out in the open.
Considering that the streets of Manhattan are always busy and it is next to impossible to close them off, it is a wise choice to roll with the flow, including the people on the streets, in the shots of 'Uncut Gems'. This brings us to the specific filming locations of 'Uncut Gems'.
Diamond District, Manhattan, New York:
The Diamond District is located between Fifth Avenue and Sixth Avenue in Midtown Manhattan. It was created with diamond dealers moving from two districts primarily- one located near Canal Street, and the Bowery, and the other located in the Financial District. However, the Diamond District only became significant and popular when Hitler invaded Belgium and the Netherlands, forcing a lot of orthodox Jews to flee and settle here.
In fact, the Diamond District lies on 47th Street, which runs between First Avenue and Manhattan's West Side Highway. Josh Safdie recalls being slightly miffed upon discovering flyers with filming permits for 'Uncut Gems' on the street because he had hoped to keep a low profile for the project.
The inspiration for the tale could have very well come to the Safdie brothers from their father, Alberto. Himself a Sephardic Jew, Alberto grew up in Italy and France before moving to New York, where he was a runner and salesman on 47th Street, bringing jewelry from that district to shops in the boroughs. He met several characters like Howard Ratner back in the day, and his tales might have encouraged the Safdie brothers to make 'Uncut Gems'. It would be interesting to note here that Alberto inspired the love and interest of cinema in the Safdie brothers.
Adam Sandler has also spoken about 'Uncut Gems' being shot on 47th Street, which is home to numerous merchants and stalls. He commented on how the film could not have been made without their help, saying, "These guys let us into their lives on 47th Street. We would sit and watch them work and they would let us in on not only their craft and their profession but also their family life. All of 47th Street was pulling for this movie. They were there every day we shot. And everybody was out on the block watching."
Other Manhattan Filming Locations: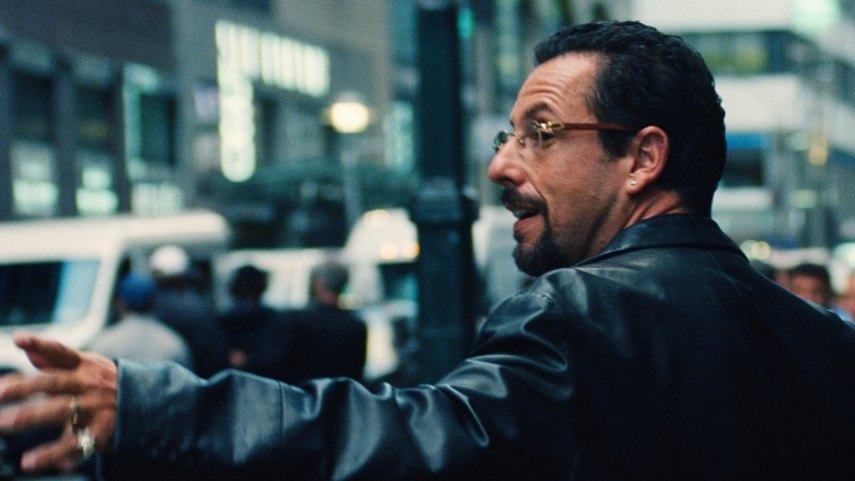 As per reports, signs for filming 'Uncut Gems' were also seen on 46th Street and 6th Avenue. The project was filmed under the name of 'KMA Gems'. Some NBA footage has also been used for the movie, so you might get to see some of your favorite games playing out. However, since the games referred to were all played in 2012, it is not technically new filming.
As is evident, the Safdie brothers have made good use of their home turf to shoot 'Uncut Gems', not only giving us a glimpse into how they see New York City but also involving the people on the streets in their project to give a more authentic experience. They even commented on how they shot a particular fight scene from the trunk of a car, with one brother lying on top of the other because it was practical and utilitarian. For now, the Safdie brothers have no intention of leaving their home turf for another movie, but we are sure New York City has been portrayed like never before in 'Uncut Gems', by this duo.
Read More: Upcoming Adam Sandler Movies