NBC's 'Zoey's Extraordinary Playlist' is touted as a ground-breaking show for network television for two reasons. Firstly, its unconventional, musical premise makes it an inventive addition to conventional broadcast productions that have failed to challenge the innovative premises of web series.
Secondly, NBC opted for a rather creative streaming strategy to attract its target audience: young females. The show's pilot was made available for online streaming on multiple platforms more than a month before it started airing on NBC traditionally, as per its weekly schedule. The strategy proved to be a well-thought-out bid to increase viewership for the broadcast television show.
'Zoey's Extraordinary Playlist' chronicles the life of its titular protagonist after she develops a special ability allowing her to hear other people's inner thoughts and feelings through song and dance. Due to its premise, the series is a musical television show that employs several song sequences as a part of its plot.
The protagonist is a computer coder living in San Francisco whose life starts to change significantly after she develops the "superpower," transforming her worldview remarkably. The showrunner explained the characterization to Entertainment Weekly in the following way:
"I made her a computer coder in San Francisco because I wanted it to be somebody who thought of the world more in black and white, more binary, who suddenly got this ability to understand people better, and the way she understood people better is by hearing and seeing people sing their inner thoughts as these musical numbers."
Zoey's Extraordinary Playlist Filming Locations
'Zoey's Extraordinary Playlist,' as mentioned earlier, is set in the city of San Francisco. The series, especially the pilot, seems to nail the authenticity of its setting aptly. However, many viewers might be wondering whether the show is actually filmed in San Francisco. Here's what we know.
San Francisco, California
To begin with, there is a reason that the pilot's San Francisco setting feels extremely authentic. Several scenes in the first episode of the series had been actually filmed in San Francisco, California. However, it must be noted that the entire series is not actually filmed in San Francisco. In fact, a major part of the NBC show is NOT filmed in San Francisco.
A few portions of the pilot were filmed in and around the North Beach neighborhood. For instance, a scene was filmed at Columbus Avenue between Vallejo Street and Union Street. This scene depicted a café with outdoor seating and required the entire street to be shut down for a day. Despite the logistical challenge that such a filming activity would usually entail, only one complaint had been registered due to it.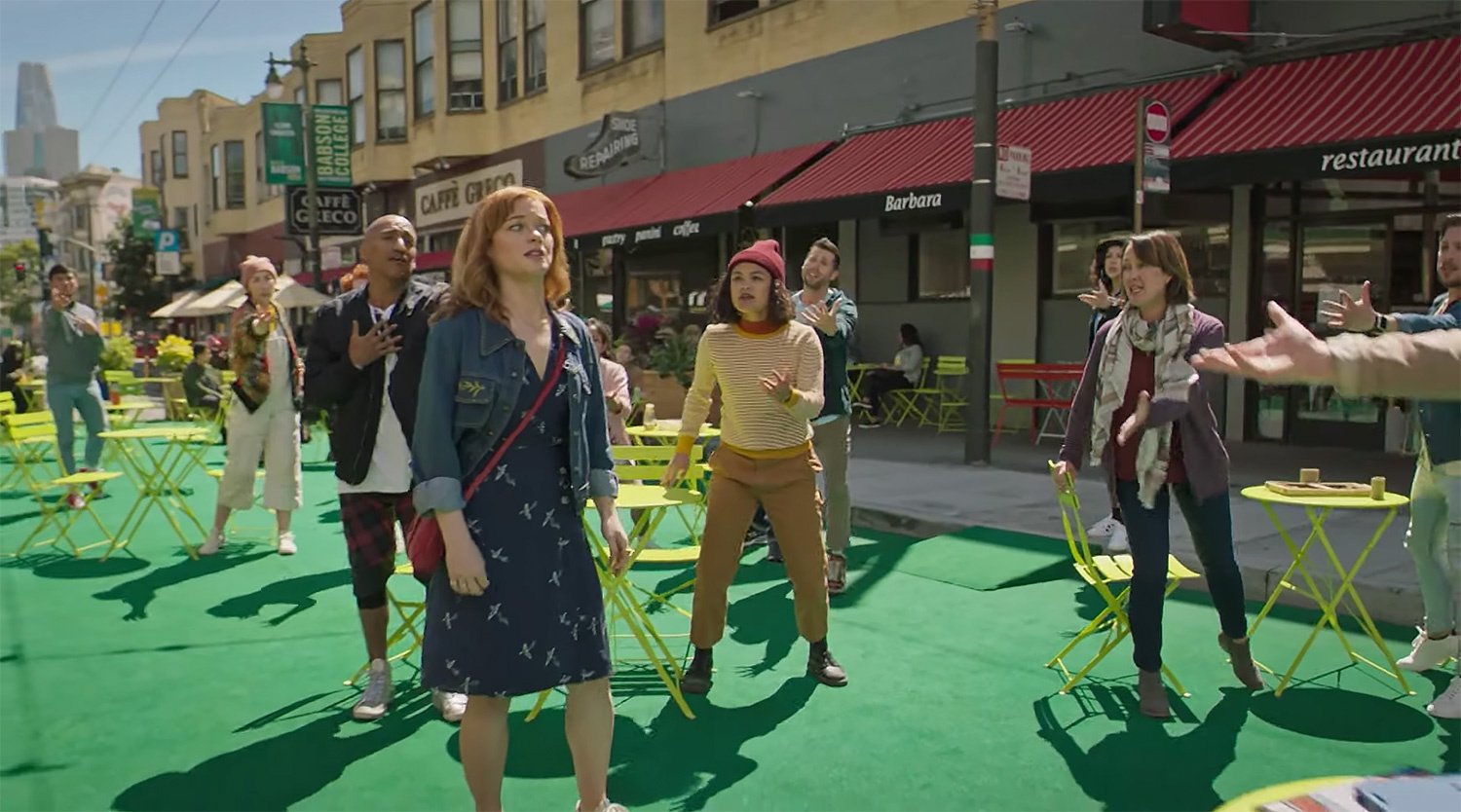 Moreover, filming was also carried out in Rincon Park and near the Ferry Building. Plus, a few scenes were also shot on Union Street and Montgomery Street with a view of the Bay in the background. Apparently, the makers wanted to include iconic San Francisco locations like the Transamerica Pyramid and the Bay Bridge in the mis-en-scene.
Vancouver, British Columbia
As mentioned earlier, a large chunk of 'Zoey's Extraordinary Playlist' is not filmed in San Francisco. In fact, the series is largely filmed in and around Vancouver in British Columbia. Canada has been witnessing a spike in filming activity due to the government's generous tax credits that help producers cut down on production budgets by a sizeable margin.
To begin with, the production team had set up its base at Whites Studio Copperwood in Richmond, British Columbia. The production facility is where most of the interior filming was carried out.
However, the show was also filmed on location in a variety of places in British Columbia, Canada, especially Vancouver. Several British Columbia residents had spotted filming notices in various places across the region. For instance, take a look at the following Twitter post. It reveals how filming had been conducted at The Nest, a social venue for students on the campus of the University of British Columbia.
@WhatsFilming Zoey's extraordinary playlist filming in UBC nest pic.twitter.com/EpcbmyBRWj

— Vita_Mine (@vsally_l) November 20, 2019
Moreover, filming had also been carried out in Nelson Park, Vancouver. The notice, as seen in the post attached below reveals how the scene filmed at Nelson Park depicted a couple of actors having lunch with a marching band playing in the background.
@WhatsFilming @yvrshoots Zoey's Extraordinary Playlist is filming tomorrow in Nelson Park with a marching band. pic.twitter.com/Juoojvd1Ej

— Matt (@thecultofpop) September 17, 2019
Additionally, the show was also filmed in Gastown and West End in Vancouver. Twitter posts revealing the filming notices for the same have been attached below.
Zoey's Extraordinary Playlist filming in Gastown next Thursday. @WhatsFilming @olv #yvrshoots pic.twitter.com/7aZneMpkx5

— Suffering Sappho (@ThemysciraBound) March 15, 2019
Zoey's Extraordinary Playlist filming in Vancouver's West End on Wednesday. #ZoeysPlaylist pic.twitter.com/2DZiynSctX

— YVRShoots (@yvrshoots) September 16, 2019
Lastly, two more Twitter posts revealed how filming for 'Zoey's Extraordinary Playlist' had been carried out on Drake Street and Homer Street in Yaletown, Vancouver and in the city of Surrey (also in British Columbia).
NBC's Zoey's Extraordinary Playlist filming in Yaletown.#ZoeysPlaylist.
Thanks @JordanVanMusic. https://t.co/SdohgxuRkl

— YVRShoots (@yvrshoots) September 6, 2019
Zoey's Extraordinary Playlist was filming in Surrey today. I want to wish them the best of luck with their upcoming movie.@MarySteenburgen @robertjulrich @SkylarAstin #filming #movies #surreybc #whatsfilming #musicals pic.twitter.com/VodxLOKPLQ

— Patricia Elliott (@AuthorPatricia) March 20, 2019