Netflix's 'Tiger King: Murder, Mayhem and Madness' offers an expansive portrayal of private ownership of exotic animals in America. The seven-part true-crime docuseries dives deep into the dark and meaty underbelly of tiger trade, exposing the devastating reality underneath the eccentricities of America's so-called "animal lovers".
As 'Tiger King' reaches its gnawing conclusion, it makes us aware that not a single animal benefitted from all the greed, rivalries and betrayals that unravel in the series. Cages only lead to more cages, unless a far worse reality awaits them. This reality is revealed to us through Zanesville Animal Escape that briefly makes its presence felt during the first half of the series.
But the horrific tragedy of Zanesville's animal massacre is enough to haunt the viewers as they see what follows. The catastrophic incident that took place in Ohio should have served as a cautionary tale for others in America. But it doesn't seem to be the case as 5,000 to 10,000 tigers live in captivity in the country, while less than 4,000 remain in the wild. This makes it all the more relevant to remember the tragic event that took place in Zanesville almost a decade ago. Read on to find out the details.
What Led to the Zanesville Animal Escape?
Zanesville Animal Escape took place in October 2011, in Zanesville, Ohio, when over 50 exotic animals were released from Muskingum County Animal Farm. The 73 acre farmland with the private zoo was owned by Terry Thompson. It is believed Thompson released nearly all of his 56 animals, following a mental breakdown which led him to take his own life.
Thompson was a collector of exotic animals, who grew up in Zanesville, and was well-known around the area for the wild things he did. Matthew Lutz, the Muskingum County Sheriff described him as "a like-to-live-on-the-edge type of person". It was also in Zanesville where he met his wife, Marian Sharp (Thompson), for the first time. Terry was also a Vietnam war veteran. Those around him believed that he was changed man after he returned from war, that he never fully recovered from its trauma.
After returning from war, Terry opened a motorcycle shop which he ran till the '90s, and then sold licensed firearms for some years. In 1997, Terry and Marian attended an exotic animal auction, from which Terry gifted an ailing baby lion to Marian as a birthday gift. Soon, their collection grew into a private mini zoo as the couple took care of rescued animals, and also bought some themselves.
The last few years of Terry's life were when things started going downhill for him. In 2010, he was sentenced to a year in prison on federal weapon charges. Only three weeks after getting out, he released the animals, and shot himself. He was devastated to find the poor condition of the zoo when he returned, and was also heavily in debt. But the final blow was finding out that his wife, Marian, had left him.
Zanesville Animal Massacre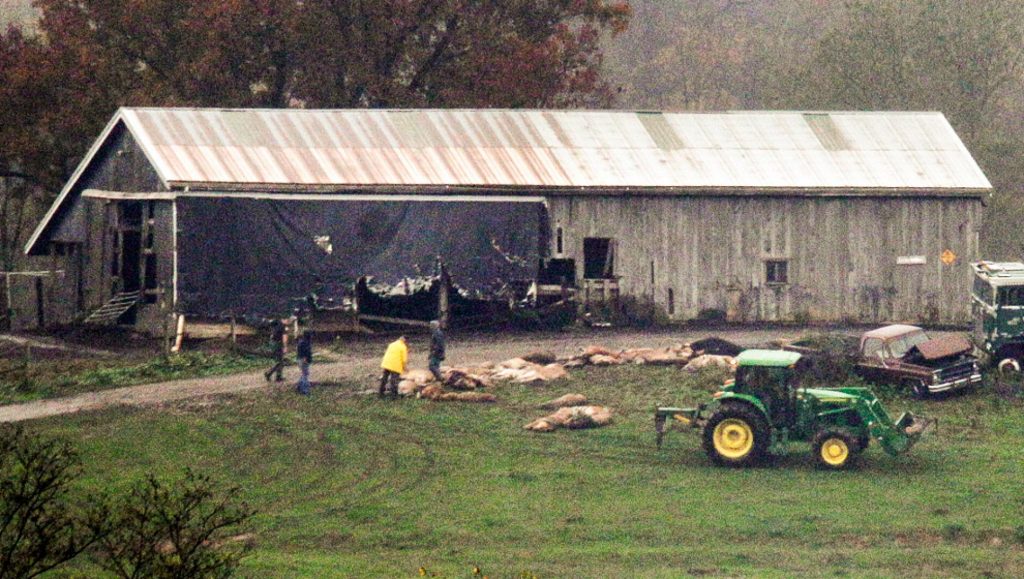 On October 18, 2011, Terry opened the cages of around 50 of his animals, and then shot himself in the head. His friends and neighbour have revealed that he deeply loved his animals, which could explain why he set them free. It was his neighbour, Sam Kopchak, who first noticed that Terry's horses were unusually agitated. He then caught the sight of a lion, and then a bear, and soon realized what happened.
Sam's 85-year-old mother, Dolores, called 911, and soon the police were in the area. Due to the dangerous circumstances, the police spent nearly seven hours hunting the animals, and shot nearly all of them. The police took guidance from wildlife expert Jack Hanna, who insisted that killing the animals was a necessity in order to ensure the safety of the public. However, it was devastating to lose so many innocent lives, especially the Bengal tigers who are an endangered species.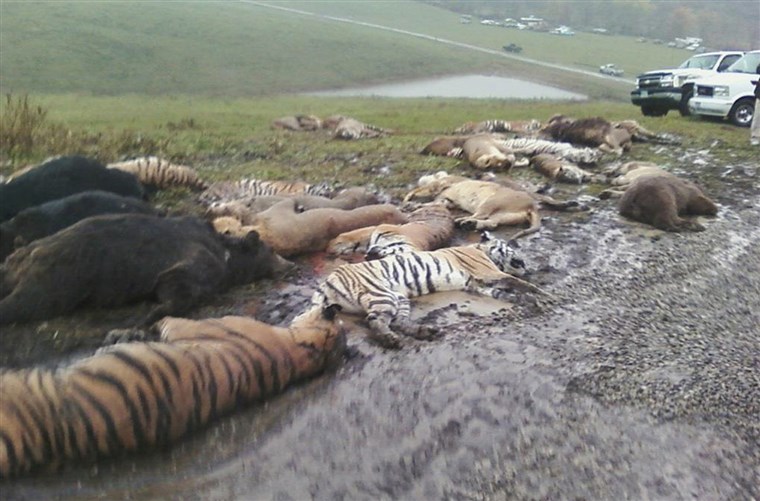 The local police confirmed deaths of 48 animals which included eighteen Bengal tigers, three mountain lions, nine male lions, eight lionesses, six black bears, two grizzly bears, two wolves, one macaque, one monkey and one baboon. It was presumed that the remaining two animals were eaten by some of the bigger ones.
While animal advocates have agreed that there was little the authorities could do in the matter, the brutal massacre serves as a reminder of why privately owned exotic animals are considered to be "ticking bombs". After all, this is not the life they are meant to lead, and certainly not the one they deserve.
The only surviving animals from Terry's zoo were the ones that were still in the cage. These included a grizzly bear, three leopards and two monkeys – all whom were then taken to the Columbus Zoo. Unfortunately, one of the animals, a leopard-jaguar mix, was euthanized after he was severely injured from a cage door that fell on its neck. It is believed that in 2012, Marian Thompson retrieved the surviving animals from the Zoo.
Read More: Where is Joe Exotic Now?