When it comes to Netflix's true-crime docuseries, 'Tiger King: Murder, Mayhem and Madness' is as wild as it gets. The series centers around the rise and fall of Joe Exotic: the gun-toting, blonde mullet-sporting, polygamous, gay roadside zoo-0wner and country singer. Joe, the self-proclaimed "Tiger King", at one point claimed to be the biggest breeder of tigers in the United States.
'Tiger King' follows Joe's life, while also introducing us to the other big names in the business. The series primary focuses on Joe's growing rivalry with animal activist, Carole Baskin, which ultimately causes his downfall, as he is convicted for a murder-for-hire plot. The eccentric Joe Exotic feels nothing less than a mythological character with the kind of craziness that ensues in his life. But who really is Joe Exotic? And where is he now? Read on to find out.
Who is Joe Exotic?
Joe Exotic was born Joe Schreibvogel on a farm in rural Kansas. Though he came from a relatively well-off farming family, he did not have a very loving relationship with them. He once reported that he was repeatedly raped by an older boy at his own house when he was only 5 years old. Growing up on a farm, Joe found his love for animals and even dreamt of one day becoming a veterinarian.
While he was still growing up, his father, who was Korean War veteran, decided to raise racehorses. Soon, the family shifted from Kansas to Wyoming, to ultimately Pilot Point in Texas. Interestingly, after graduating from high-school in 1982, Joe Schreibvogel became a police officer in a tiny town called Eastvale in Texas, and later became the police chief of the area.
Joe was aware of his homosexuality from the time he was 13 years-old. But he never came out to his family, until he was outed in 1985 by a cousin. His father's intense negative reaction drove Joe to suicide, and he tried to drown himself in his police cruiser. But he survived with a few broken bones. This, Joe believed, was the turning point of his life.
G.W. Exotic Animal Memorial Park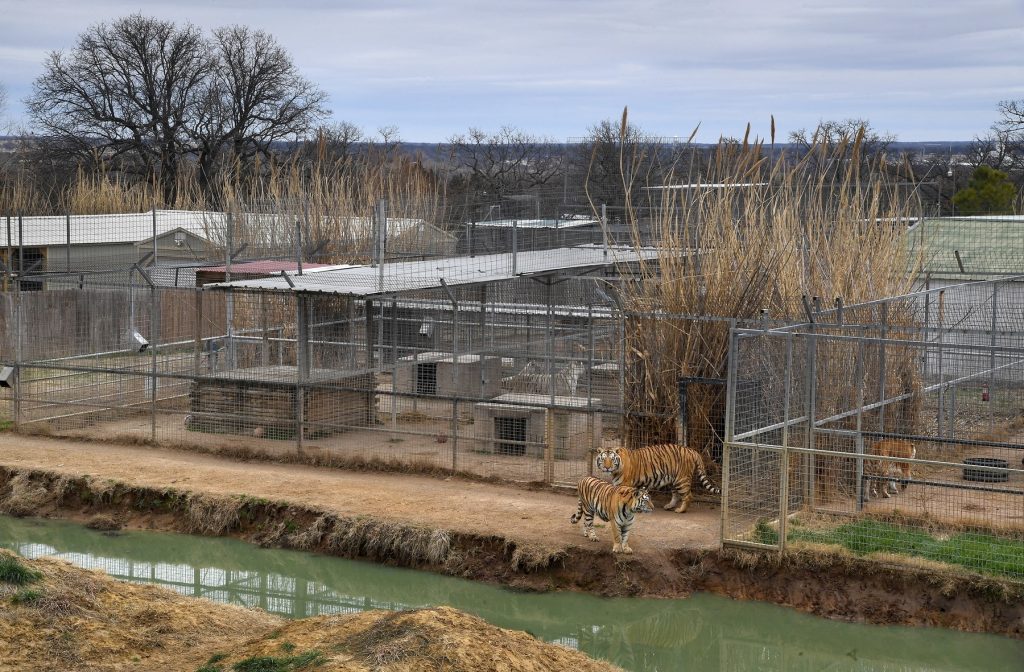 Joe Schreibvogel soon left Texas and moved to Florida. His neighbour had a pet-store, and a friend who worked at a zoo brought baby tigers home. Joe's experiences with the cub had a life-changing effect on him. He later moved to Texas, and worked at a pet store. Soon Joe and his older brother Garold purchased the store.
Joe was close to Garold as the two shared a deep love for animals. It is believed that Garold once told Joe that he hoped to see wild animals running free in Africa someday. In 1997, however, Garold passed away in a car-accident. Eventually, with the money that the family got as settlement, Joe decide to fulfill his brother's dreams and created a space that would benefit both animals and animal-lovers. He started afresh by building Garold Wayne Exotic Animal Memorial Park in Wynnewood, Oklahoma.
Joe created and opened the space as a refuge for rescued animals. It is believed that a deer and a buffalo, both Garold's pets, were the zoo's first inhabitants. Soon, as the word spread, people began leaving the exotic animals that they longer wanted. In 2000, Joe got his first two tigers, who were abandoned near Ardmore, and named them Tess and Tickles.
Joe Exotic vs. Carole Baskin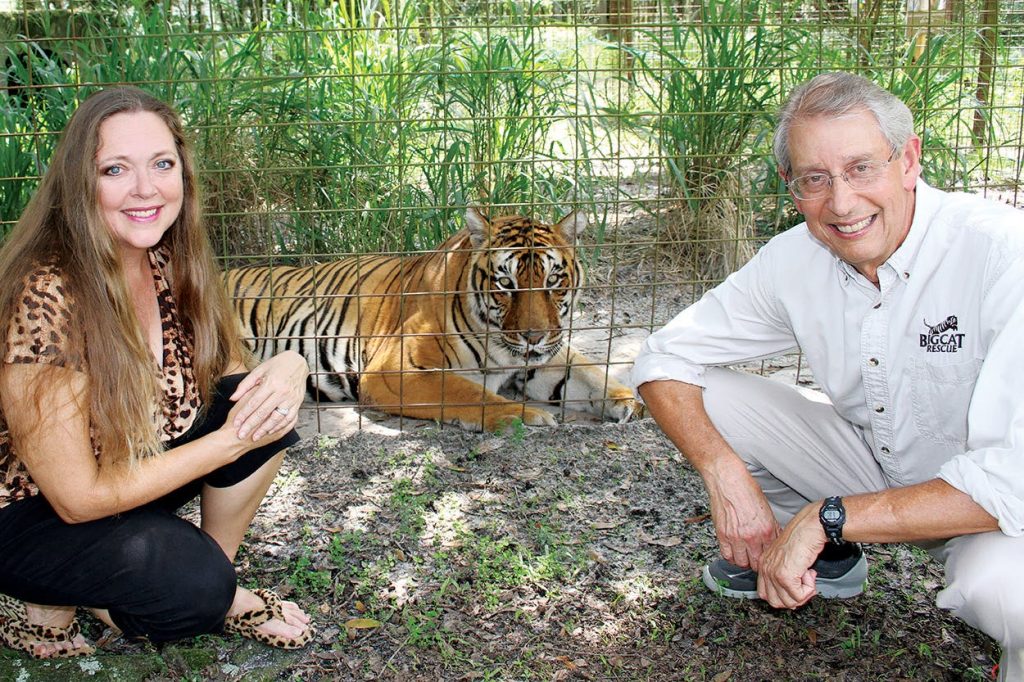 For a while, Joe Schreibvogel maintained that his Park was a sanctuary and not a zoo. He took care of abandoned big cats, and worked with donations and sponsors. But he soon realized that the money he was receiving wasn't enough for taking care of the animals. This is when he started a petting zoo, and soon began breeding tigers for cub-petting.
Joe also started travelling with the cubs to perform magic shows, which was meant to attract an audience to the park. This is when Joe Schreibvogel became Joe Exotic. But he was caught in a vicious cycle where he kept breeding tigers for cubs, but at the same time needed the money to raise all these tigers, who were all caged in a 16 acre zoo.
As Joe became increasingly business-minded, he became one of the biggest big-cat breeders in the country. He then gained the attention of animal-right groups like PETA, and particularly Carole Baskin, the owner of Big Cat Rescue. What followed was an intense rivalry between the two that entirely consumed Joe and eventually led to his downfall. Eventually, in 2011, Carole filed a trademark infringement lawsuit against Joe that cost him $1 million dollars.
Dethroning of the Tiger King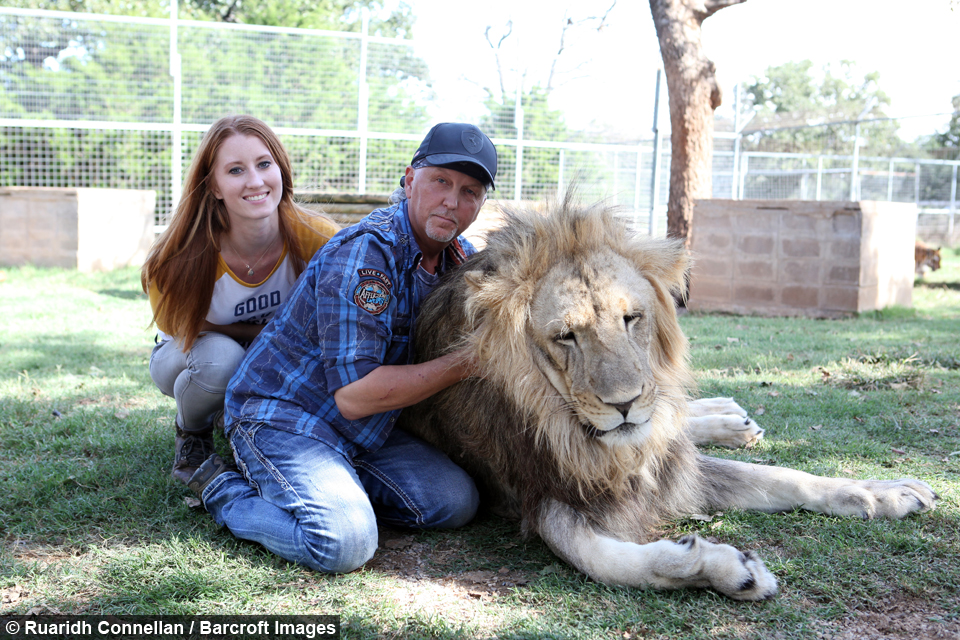 'Tiger King' primarily focuses on the heated war between Joe and Carole, so I don't want to delve deep into that. But it involved bizarre actions, from threatening videos, one of which included Joe shooting a blow-up doll named Carole, to sending snakes to her mailbox around Carole's birthday. In return, in 2015, a mysterious fire burned down Joe's studio, along with another building, killing seven alligators. However, the case was never solved.
Around this time, Joe's hatred towards Carole had consumed him so much that he started fantasizing about her death. This was also around the time Jeff Lowe became a part of the equation, initially as an investor, and eventually as the owner of the park. Over time, Joe began losing interest in the zoo.
Inspired by Donald Trump, he even ran for president, and later for governor. He spent an immense amount of money on his campaigns both of which were doomed. In 2017, a devastating tragedy struck when Travis, his husband, accidentally shot himself in the head. It is believed Joe began losing himself, and became increasingly paranoid. He also shot 5 of his tigers the same year. While he claimed he had euthanized them, the employees were sure they were healthy.
Where is Joe Exotic Now?
Joe's mad rage against Baskin, coupled with Lowe taking away the Park from him, eventually pushed him over the edge. James Garretson, a strip-club owner who also privately owned big cats, also became part of the equation. Garretson began working as an informant for the FBI as he heard Jeff and Joe discussing Carole's murder.
Alan Grover, who was Jeff's right-hand man, and a former felon with a teardrop tattoo, was hired by Joe for $3,000 to kill Carole Baskin. Unbeknownst to the three, Garretson had recording their conversations all along. However, Grover just went away with the money and never carried out the task.
At this point, Garretson introduced Joe to an undercover agent posing to be a hitman. However, despite plotting Carole's murder, no money was exchanged. Garretson, soon, informed Lowe about everything. In order to escape the gun themselves, Lowe, and eventually Grover, both fully cooperated with the Feds. When the officers learned that Joe had, in fact, paid Grover money to kill Carole, they tracked him down and arrested him. At this point, Joe was in Gulf Breeze, Florida with his current husband, Dillon.
This was followed by a trial, where Joe pleaded not-guilty and maintained that Jeff Lowe had set him up. However, several individuals, including former long-term employees testified against him. On January 2020, 56-year-old Joe Exotic was sentenced to 22 years in prison on 19 counts, 2 of which were related to murder-for-hire, while others included shooting of five tigers, and breeding and selling the animals illegally. Joe Exotic, the Tiger King, is currently serving his sentence in Grady County Jail, in Oklahoma, ironically inside a cage much like his tigers.
Read More: Tiger King Review