Finding the person right for their heart, fourteen pairs of twins head on an exciting journey in Amazon Prime's 'Twin Love.' The social dating experiment chronicles the life of twenty-eight strangers as they seek to find their forevermore in a group of singles. Hosts Nikki and Brie Garcia divide the cast into two houses and allow them to find a prospective connection based on their unique disposition. As the individuals embark on a whirlwind journey filled with dates, challenges, and confessions, a deep connection continues to emerge. Zoie Bogart and Samer Akel were two members whose affectionate connection made fans curious about their relationship status.
Zoie and Samer's Twin Love Journey
In the hopes of making a serious commitment and finding a lifelong connection, 22-year-old Zoie and 32-year-old Samer had come to 'Twin Love.' Initially, however, their paths had differed. While Zoie had taken to Luke, Samer was yet to develop a connection that could last a lifetime. His wishes were answered when 25-year-old musicians and twins Gabby and Maddie came into the house. Before long, Samer found himself developing a connection with Gabby. However, his hopes for a commitment came crashing down when Gabby and Maddie suddenly left the Garden and Vista House.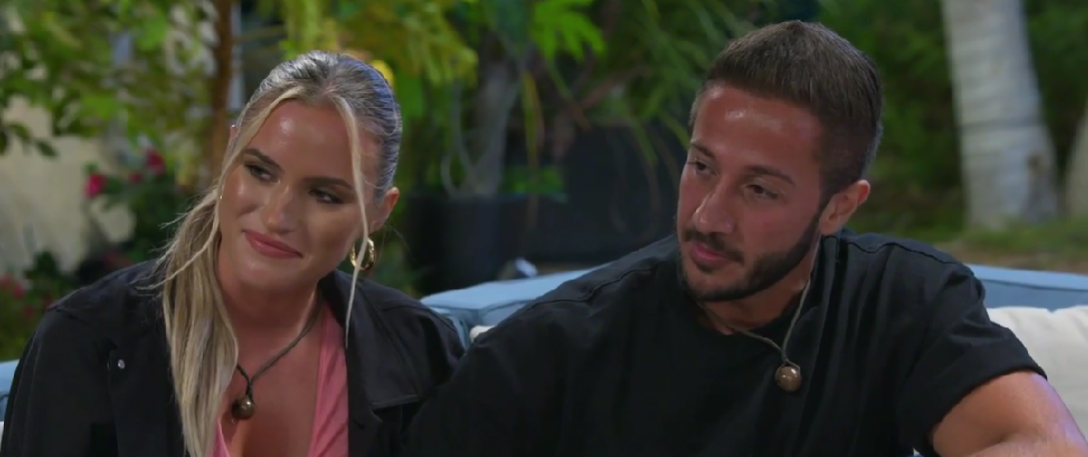 A possible connection between Samer and Zoie had seemed improbable given Luke and Zoie's endless devotion to one another. Even when Luke lay on the precipice of elimination, he and Zoie made a heartful evocation of their connection and declared that they would wait for each other. After Luke ultimately left the 'Twin Love' house, Samer and Zoie had a chance to find common ground. It wasn't long before they realized that, like their twins, Samir and Baelee, they also had the opportunity to deepen their bond. Ultimately, they grew close and created a strong bond.
Before long, they decided to commit to one another and even referenced to the prospect of marriage, albeit jokingly. Later, their affection for one another only grew stronger. Once all the twins were in the same house, Samir, Baelee, Samer, and Zoie expressed their happiness with the situation and were ready to see the next milestone through. In the end, Samer and Zoie's twins ended up winning the 'Best Couple' award and even scoring $50,000.
Why Did Samer and Zoie Break Up?
After their sojourn on reality television, Samer and Zoie decided to head back to their individual paths. No longer surrounded by the tropical paradise that first facilitated their connection, the television personalities had to deal with the added pressure of distance and professional and personal commitments, too. As seen on the show, Zoie and Baelee had initially visited Samer and Samir in Los Angeles. Likewise, the restaurant owners and businessmen had also visited the girls in Colorado. However, the quad soon realized that outside the Garden and Vista house, there was very little that connected them.
Ultimately, they decided to part ways and have since returned to making milestones in their personal and professional lives. Currently, Zoie is working as a Junior Marketing Coordinator with The Influencer Marketing Factory. Not just this, Zoie's sister is also working at the same company. Together, the sisters have co-founded a lucrative apparel business and continue to grow its operations by focusing on marketing, strategy, and e-commerce.
As for Samir and Samer, the Syrian natives have also been advancing in their business. With five restaurants under their purview, the television personalities are now trying to establish a holistic brand that involves a myriad of online channels. The entrepreneurs generally refer to themselves as the Habibi Twins. So, even though Zoie and Samer haven't been able to map the road to forevermore, it is apparent that several great milestones still await the duo in the future!
Read More: Andrew and Matthew: Twin Love Siblings Are Now Focused on Their Careers