There is always something special about Martin Scorsese movies. You can immediately tell that a lot of passion has gone behind the films. Coming from a household where he had seen his mother acting in films and theatres, it was not difficult for Martin Charles Scorsese to get inspired by cinemas since childhood and hence, he started watching influential films since when he began understanding. He still recalls how films like 'Bicycle Thieves' and 'Paisan' and directors like Satyajit Ray and Ingmar Bergman had inspired him in his early days. Growing up in a devout Catholic environment, he initially desired to be a priest. But this is the first time the world would later thank him for not choosing that and instead he enrolled himself in NYU's film school.
A major impact on Hollywood at present, Scorsese ushered in the concepts of modern crime, gang conflicts and Catholic concepts of guilt and redemption in the films profusely and correctly. Believing in his long term partner in cinemas, Robert de Niro, was never a wrong decision for him. Blockbusters came every year, 'Taxi Driver' and 'Raging Bull' to name a few, and they made de Niro into a more methodical actor.
Directors with such talent come rare and Martin Scorsese is such a person. Procuring every high profile award including an Oscar, a Palme d'Or, a Cannes Best Director, a Grammy, Golden Globes, BAFTAs and Emmys, Scorsese is now just looking up for more and more quality. So, here is the list of top Martin Scorsese movies selected from his vast filmography. You can watch some of these Martin Scorsese movies online on Netflix or Amazon Prime or Hulu.
10. Ater Hours (1985)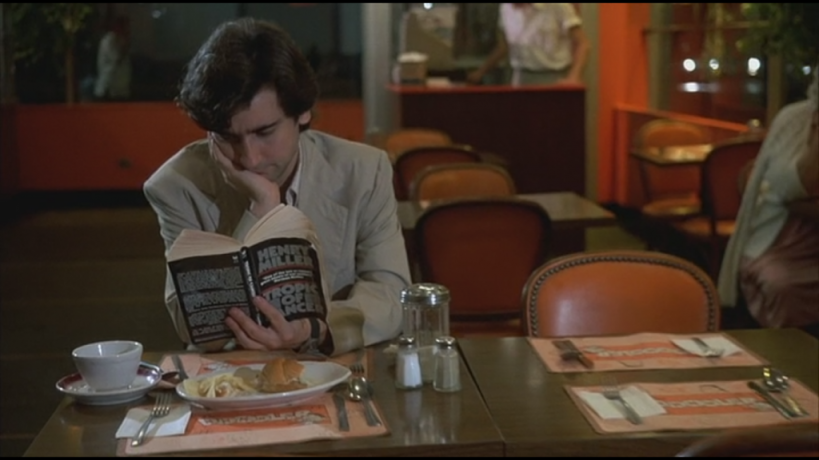 Dealing with black comedy and film noir had been a habit of Scorsese since his debut. Making a film by combining satire and comedy and endearing it to the audience is not an easy task, which Scorsese did in 'After Hours'. With an ensemble cast of then-famous actors including Griffin Dunne, Rosanna Arquette and Linda Fiorentino, the film shows us the story of a professor who meets a literature enthusiast, Marcy, in a Manhattan cafe. At night, the professor boards a cab to reach Marcy's downtown apartment and things go in disarray when he $20 bill flies out the window and he is subjected to a series of awkward, life-threatening situations with a colorful cast of characters when he is unable to pay the driver. Though the film did not make a huge success during its time, it was praised later and has become a cult classic since.
9. The Wolf of All Street (2013)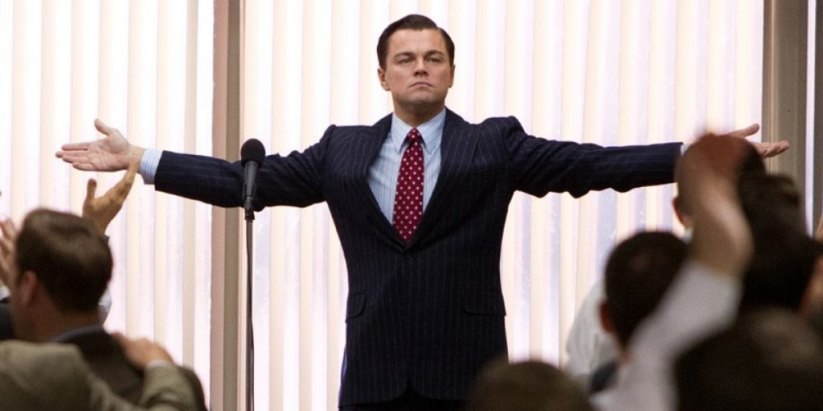 As had been with de Niro, Scorsese's collaboration with Leonardo DiCaprio didn't get wrong anywhere, with this film being their fifth since 'Gangs of New York' in 2002. 'The Wolf of Wall Street' is a rather different film than Scorsese's usual plays with dark comedy and satirical dramas. It tells about a small-time broker, Jordan Belfort, who, with his own effort, had established one of the most finally successful brokerage firms of that time, Stratton Oakmont, when still in his 20s. Apparently, fooling wealthy people out of their investments had worked as a good source of income for them. The film shows how Belfort and his group of trusted workers, not used to such wealth, partake in a lethal brew of drugs, sex and other thrills, until the SEC and the FBI call them off. Though the film talks of Belfort's downfall, never for a moment Scorsese gives us a scene to mourn about, but all the witty dialogues and humorous post-drug effects scenes to munch on. Easily one of the top Martin Scorsese movies.
8. Mean Streets (1973)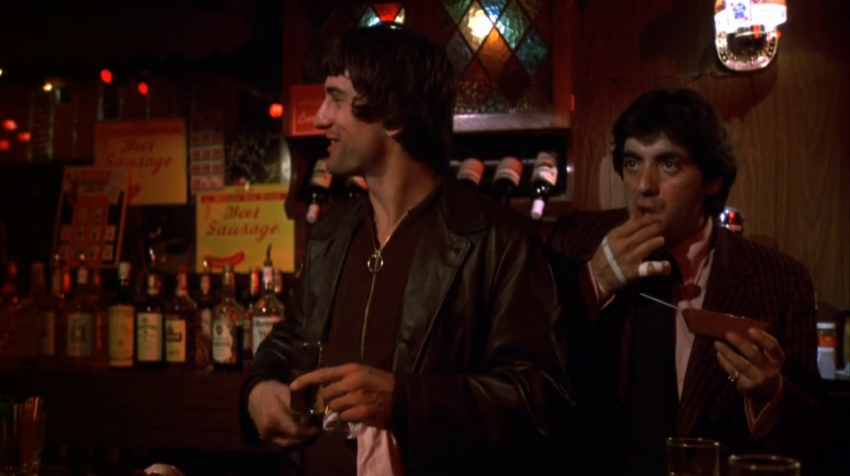 Hailed as one of the best American films ever made, 'Mean Streets' is an original crime film, very much unlike the share of crime films and TV shows these days. 'Mean Streets' has so much of that charm and originality in itself that most of the crime films and TV shows nowadays have one thing or other derived from it. With Robert de Niro and Harvey Keitel in lead roles, this film tells us about some lower echelon Mafias, punks and petty criminals in Italy and follows a low-time hood, who gets under a vicious lone shark, when he cannot repay the debt. Things go more out of control, when, the friend he asks for help, is also involved in criminal activities. Often tagged as 'dizzyingly sensual' and 'completely gripping', the movie was selected to be preserved by the National Film Registry as being 'culturally, historically, or aesthetically significant'.
7. The Departed (2006)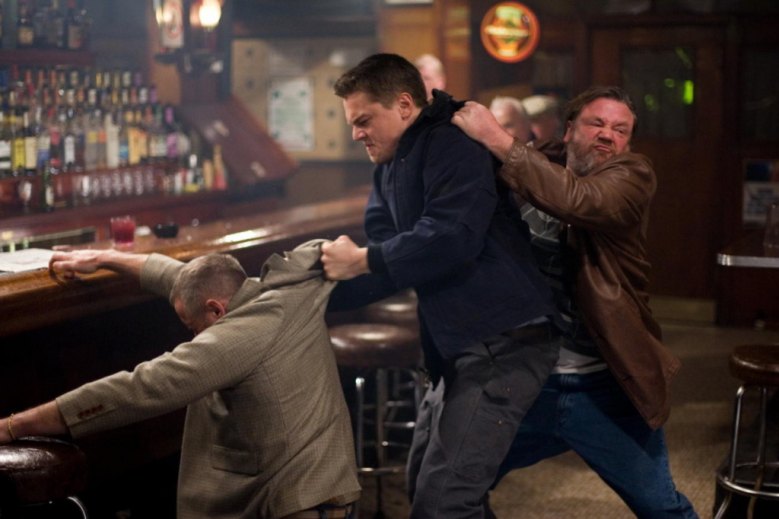 Though adapted from another Chinese film, 'The Departed' is perhaps one of the most successful films made by Scorsese till date. Often hailed as Scorsese's best film of 2000s, 'The Departed' not only presented itself with its cruel authenticity, but also changed the way we look at gangster dramas entirely. Engaging some of the best actors Hollywood has ever produced like Leonardo di Caprio, Jack Nicholson and Matt Damon, the film roared both at the box office and the Academy Award stage. 'The Departed' follows an undercover cop, who is trying to infiltrate the empire of a gang-lord, to gather information about him. No sooner has he started to gain their trust, when he finds out about another criminal, who has, in turn, infiltrated the police department and is informing upon them to his bosses. Things get confusing between them as both of them are at false and we see throughout how this rivalry develops and what it results to. 'The Departed' received four Oscars including those of Best Picture and Best Director, making it Scorsese's first one.
6. Casino (1995)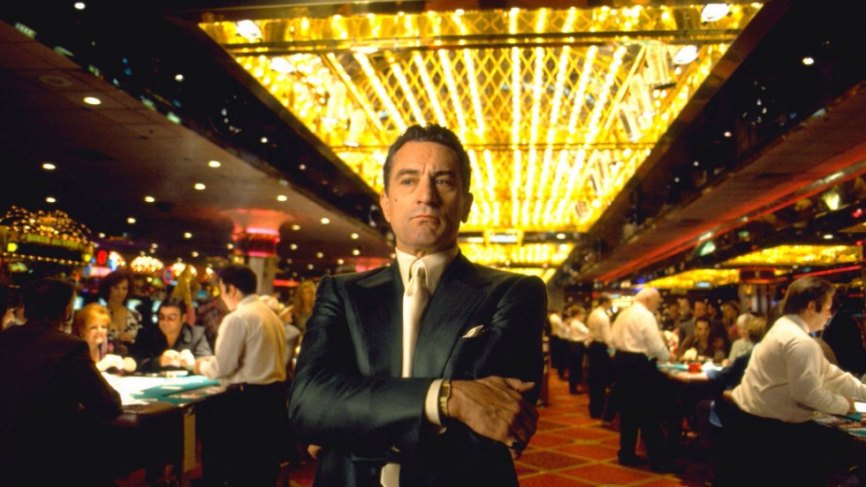 Till the late 90s, Scorsese did not look away from de Niro in despair and Joe Pesci was always there to support them from behind. Though de Niro was the star, Joe Pesci might have given us some of the best roles as a supporting actor in those years. Casino employed those same actors to give another piece, worthy of praise. The film takes us to Las Vegas in the 1970s and follows a low-time mobster to oversee a casino. Things go nice and well until a few years, when his enforcer, his ex-hustler wife, her con-artist and a group of politicians mingle with him and make his job tough. Though 'Casino' was a really thought-of piece, it failed to garner the praise as 'Goodfellas' did.
Read More: Best Christopher Nolan Movies
5. The Age of Innocence (1993)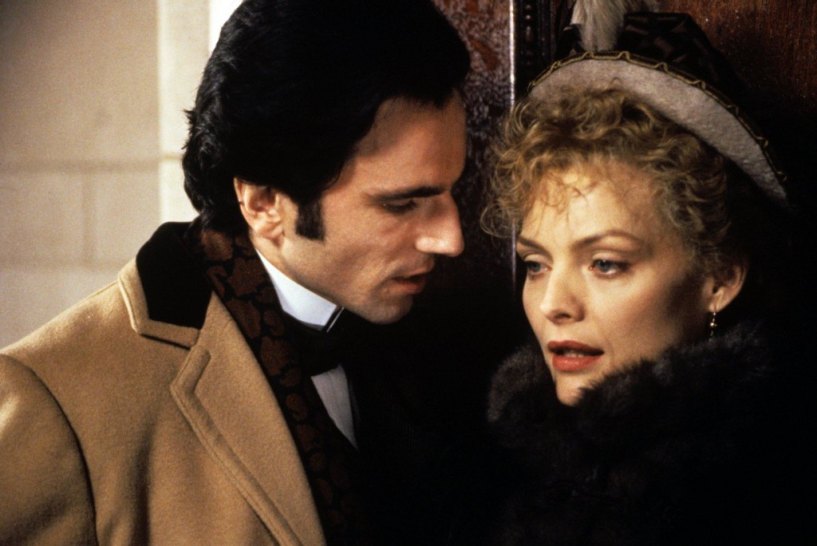 We often hear rumors about Daniel Day-Lewis about how methodical he is, how he takes up a single project in five years and how he readies himself for the film. How he makes his performances an impossible feat and how he has won 3 Oscars till now, the highest for an actor, is well discussed among everyone. Claimed as one of the most queer masterpieces of Scorsese and also one of his greatest, sliding away from mafias and underworld for collaborating with Day-Lewis, 'The Age of Innocence' lays a perfect story for envy and lust in a marriage, gone wrong. Employing Winona Ryder and Michelle Pfeiffer along with Day-Lewis in lead roles, the film tells us about a perfect marriage between a wealthy lawyer (Lewis) and a sweet socialite (Ryder); perfect as it seems from outside. Though when Ryder's beautiful cousin (Pfeiffer) comes in town, Lewis tries to throw away his marriage and desperately pursue Pfeiffer. Though Ryder got an Oscar nomination, never did the competition for superiority among these three actors bid down throughout the film.
4. The King of Comedy (1982)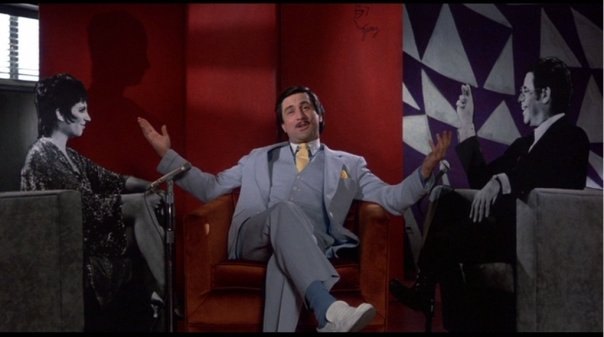 'The King of Comedy' is largely based on celebrity worship and how obsession about a thing or a person or an event can drive us crazy enough to indulge in violence. Another film residing in the dark comedy genre, Scorsese's 'The King of Comedy' is often termed as one of the creepiest and one of the best movies of his career. The film talks about expectations and failure in a way any other Hollywood movie has failed to do. It talks about a person, who is essentially a failure in life but thinks himself to be star, hosting an imaginary talk show in his basement. He is extremely excited to meet the actual host of the talk show and believes it to be his chance to success, instead the actual host is least interested in him. When he finds out the host's disinterest, which he had failed to gauge earlier, he stalks him, kidnaps him and asks for a ransom a guest appearance in the talk show. The film intrinsically points out the dark psychology of human minds with Robert de Niro and Jerry Lewis in lead roles and becomes a piece to be preserved.
3. Goodfellas (1990)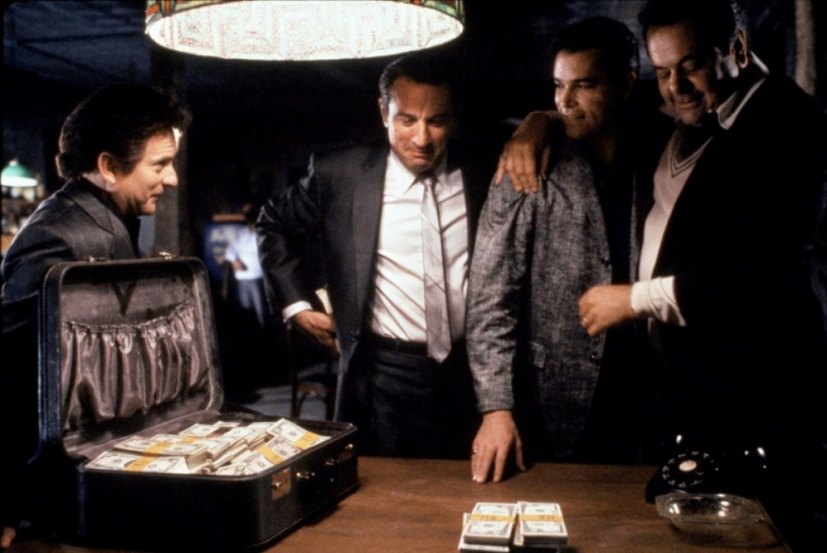 Perhaps the best gangster film ever made in the cinematic world and also a film with a hard-hitting moral, 'Goodfellas' oozes royalty and classical quality in its every frame. The organization in which the crime happens, the genre 'organized crime' being a hit these days, may have even made 'The Godfather' look petty in many scenes. With an actor trio, who performs throughout and whom we will remember throughout our life, Robert de Niro, Joe Pesci and Ray Liotta, 'Goodfellas' tells us about an associate of a crime family and his friends within a period of several years and how he caused his downfall, after being involved in drugs and other mistakes, after years of living a luxurious life. Adapted from a novel, 'Goodfellas' became a worldwide phenomenon and was nominated for six Oscars and winning one for Pesci as a supporting actor, along with being preserved in National Film Registry.
2. Raging Bull (1980)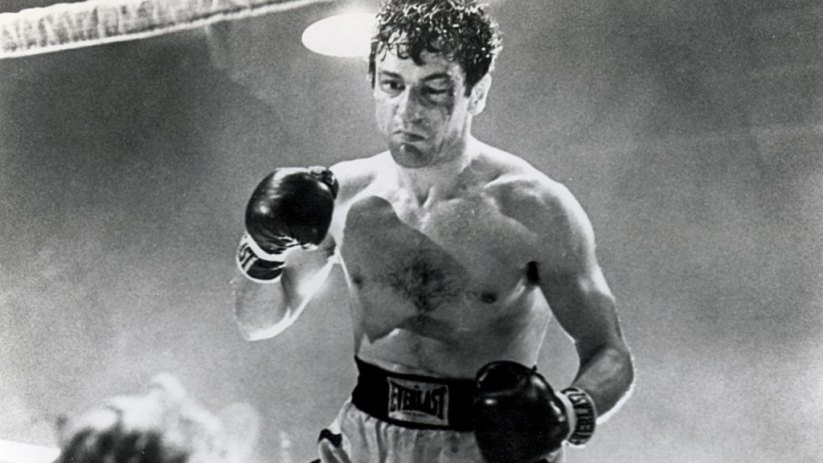 Often termed as Scorsese's 'magnum opus', 'Raging Bull' is seldom said to be the 'best film of 1980s' by critics and audience worldwide. The film tells us about the biography of an Italian-American middleweight boxer, Jake LaMotta, whose own inner demons destroyed both his life and his career. It follows LaMotta from his early days, when he was establishing himself, his growing relation with his to-be wife and his harsh relationship with his well-intentioned brother, his rise to success and how he drowned himself in his own sea of obsessive rage and violence, sexual jealousy and uncontrollable appetite. Joe Pesci, as the brother, gave an ever-lasting performance and launched himself highly into Hollywood. Robert de Niro's acting, along with him gaining weight for bringing out the perfection, is well beyond commendable.
1. Taxi Driver (1976)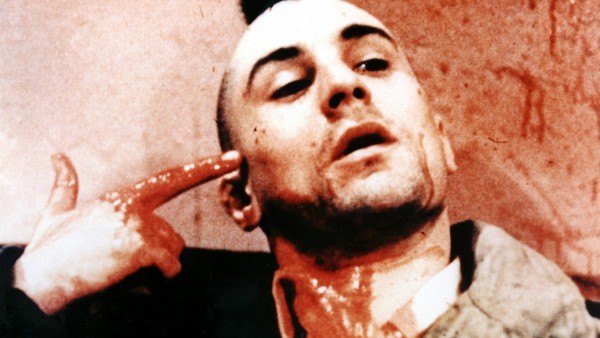 Bringing ultimate perfection to neo-noir and psychological thriller genre, 'Taxi Driver' is one hell of a film, from the opening scene of a cab emerging from the clouds till the adrenaline-filled closing scene of bullet ricocheting everywhere and the camera coming down to close in on de Niro's face. The film tells us about an insomniac taxi-driver, who is hell-bent on cleaning of all the filth from the city, running a cab in the streets at nights. His life takes a dramatic turn when he meets a campaign worker and plots to kill a presidential candidate and diverting his attention to rescuing a teenage prostitute. Made in a minimal budget, 'Taxi Driver' became one of the highest-grossing films of the year. The film quickly raised through the ranks and was nominated for four Oscars, along with winning the Palme d'Or and being one of those pieces to be preserved in National Film Registry.
Read More: Best Quentin Tarantino Movies