'90 Day Fiancé' Season 6 is an addictive reality TV series that showcases the highs and lows of couples embarking on a unique path to love and marriage. Within a 90-day timeframe, these couples must overcome language barriers, cultural differences, and societal judgments to solidify their relationships. As the pairs rushed against time to plan their dream weddings and navigate the K-1 visa process, Season 6 delivered a compelling mix of romance, challenges, and unexpected twists that kept the viewers enthralled from start to finish. So, if you are wondering where your favorite contestants from the sixth season are nowadays, we've got you covered!
Where Are Ashley & Jay Now?
Ashley Martson and Jay Smith's relationship started with a whirlwind romance, as they met while on vacation and got engaged only six months later, despite their ten-year age difference. They went on to marry by the end of the season, but their relationship quickly encountered significant challenges. Ashley discovered that Jay had been unfaithful to her by using dating apps, leading to their breakup. Their divorce was finalized in 2021, and since then, she has made allegations that Jay cheated on her with a stripper he had been involved with before their marriage.
In the aftermath of their split, Ashley has focused on rebuilding her life. She currently runs a salon in her hometown of Pennsylvania and has confirmed that she is actively dating again. Although her relationship with Jay did not work out, Ashley has remained resilient and is moving forward with her personal and professional endeavors. Following their divorce, Jay is rumored to have stayed in Pennsylvania, where he reportedly works as a tattoo artist.
Where Are Colt & Larissa Now?
After a whirlwind romance, Colt proposed to Larissa, his online girlfriend from Brazil, shortly after meeting her in person. However, their relationship quickly encountered challenges when she moved to Las Vegas to live with Colt and his mother. Tensions arose between Larissa and Colt's mother, causing friction within the family dynamic. Despite the difficulties, the two got married on the show.
The pair's marriage did not last long, as they divorced in 2019. The divorce followed an incident where Larissa was arrested for assaulting Colt by punching him in the mouth. Colt's mother provided support for his legal fees during this time. Since then, Colt has appeared on the spin-off series '90 Day: The Single Life,' where he pursued relationships and eventually married Vanessa Guerra. Yet, his relationship with his mother continues to create tension in his love life.
After the divorce, Larissa remained in the United States and briefly dated another cast member from "90 Day Fiancé," Corey Rathgeber, who has had an on-and-off relationship with his now-wife Evelin Villegas. Recently, she announced that she is moving to Colorado Springs to be with her new partner, Eric Nichols, marking a new chapter in her life. Meanwhile, Colt has currently eloped with Vanessa and is on his way to fully recovering from his trampoline accident that occurred while filming.
Where Are Jonathan & Fernanda Now?
Jonathan and Fernanda's relationship faced scrutiny from viewers due to their significant age difference, with Jonathan being 32 and Fernanda only 19 at the time of filming. Despite the criticism, they tied the knot in the former's home state of North Carolina in May 2018. Unfortunately, their relationship was plagued by cheating accusations and constant arguments, leading to their eventual divorce.
After their divorce, the North Carolina native stopped providing financial support to Fernanda, and their legal separation was finalized in 2020. Jonathan, who continues to work as a realtor, has since moved back to his hometown of Chicago, where he married sports marketing agent Janelle Miller. They have welcomed their first child together, marking a new chapter in his life.
Although Jonathan canceled Fernanda's immigration paperwork, she still resides in the United States, currently working as a model in Miami. Previously, she lived in Chicago, a city that Jonathan was unwilling to relocate to during their relationship. Fernanda appeared on the spin-off series '90 Day: The Single Life' and is now dating professional boxer Noel Mikaelian, embracing new opportunities and relationships.
Where Are Kalani & Asuelu Now?
Kalani, an American of Samoan descent, met Asuelu, a 23-year-old from Samoa, during her visit to the country. Despite her intention to remain celibate until marriage, Kalani discovered she was pregnant after her second trip to Samoa. Kalani, raised in the Mormon faith, faced opposition from her Samoan father regarding her relationship with Asuelu. Nevertheless, they got married by the end of the season, following the birth of their son Oliver. After season 6, Kalani and Asuelu welcomed another child in 2019.
The couple appeared together on the spin-off series '90 Day Fiancé: Happily Ever After?' Surprisingly, in 2022, Asuelu confirmed their split on Instagram, indicating that their relationship had ended. In terms of his career, he initially had various part-time jobs, including working at a local grocery store and handing out free frozen yogurt. Since then, Asuelu has found a more stable and lucrative career as an Uber driver, which has improved his financial situation. His transition to a new profession has allowed him to support himself and navigate his life post-separation from Kalani.
Where Are Eric & Leida Now?
Former Marine Eric met Leida, an Indonesian native, through an international dating site, despite their significant age difference. Yet, their relationship quickly faced challenges when the latter expressed dissatisfaction with his commitment to his children from a previous relationship. Eric's parents also voiced their concerns, questioning Leida's claims of wealth and her reliance on his income.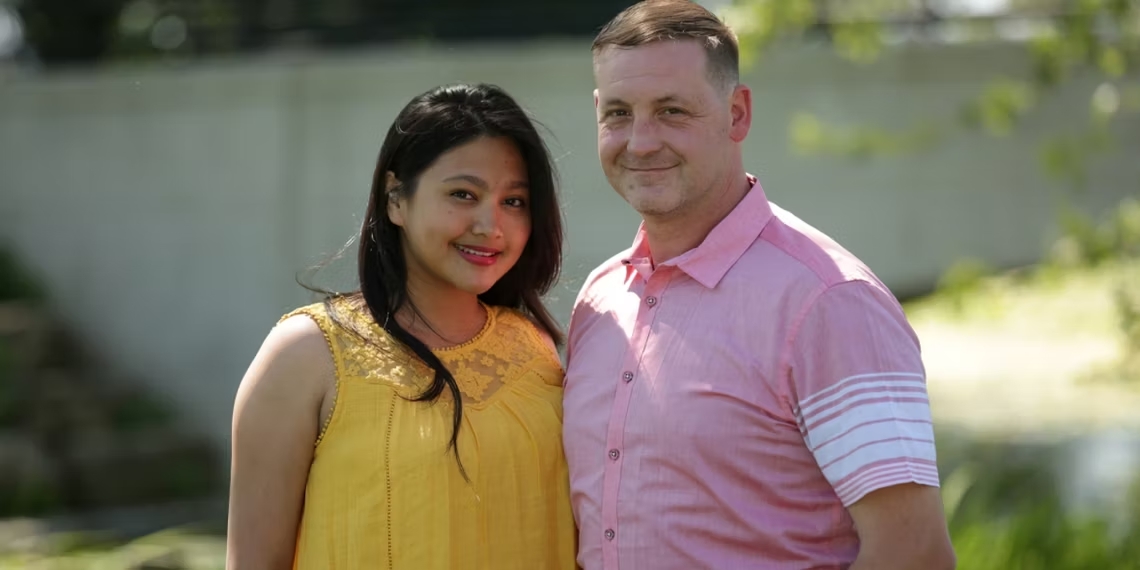 The situation took a more serious turn when Eric's daughter, Tasha, obtained a restraining order against his girlfriend in 2019, highlighting the strained relationship within the family. Interestingly, he has remained with Leida despite these ongoing issues, and as of writing, they are reportedly still together. In 2020, the couple took a significant step by purchasing their first home together, leaving behind the apartment they had shared with Eric's daughter.
However, the pair's continued relationship has puzzled many fans of '90 Day Fiancé,' especially given the ongoing restraining order and the reported police investigation into a domestic dispute at their home. The dynamic between Eric and Leida remains a source of controversy and surprise within the '90 Day Fiancé' community, as their enduring relationship seems to defy expectations given their challenging circumstances.
Where Are Steven & Olga Now?
Steven and Olga's relationship began when they met while Olga was visiting the United States. Their story dramatically turned when she became pregnant, leading her to move to America to be with him. However, Steven's behavior towards Olga, including moments of yelling and a lack of support after she gave birth, caused him to be disliked by viewers of '90 Day Fiancé.'
Despite the challenges they faced, Steven and Olga got married in 2019. Sadly, they later announced their separation in 2021, which was met with some approval from fans who believed the latter deserved better. Surprisingly, Steven and Olga eventually reconciled and decided to give their relationship another chance. They moved to New York and recently welcomed their second child.
Amid the couple's reconciliation, there was also positive news for Olga. She fulfilled her lifelong dream of working as a photographer in New York City, showcasing her talent and passion. Currently, Olga is balancing motherhood with her photography career, finding a way to pursue her dreams while navigating her relationship with Steven.
Read More: 90 Day Fiance Season 5: Where Are They Now? Who Are Still Together?