With Netflix's 'Who Killed Jill Dando?' chronicling the horrific April 26, 1999, homicide of the titular television correspondent on the doorstep of her own home, we get a docuseries unlike any other. After all, it carefully incorporates not just archival footage but also exclusive interviews to really shine a light upon the actuality behind this offense as well as its ensuing long-drawn investigations. It thus comes as no surprise there's mention of this 37-year-old's loving fiancé Alan John Farthing too.
Who is Alan Farthing?
It was reportedly back when Alan was a young boy growing up in Winchester, Hampshire, that he first developed a keen interest in medicine, only for it to continue expanding as the years passed. He hence enrolled at St. George's Hospital Medical School in London as soon as he'd graduated from Beacon School in Crowborough, East Sussex, enabling him to earn the title of doctor in 1986. This was when he began specializing in Obstetrics-Gynecology (OB-GYN), resulting in him joining the Royal College association in 1991 before evolving into a consultant for St. Mary's Hospital in 1997.
This particular year — 1997 — was actually very significant for Alan because apart from landing a stable, reputable job, he also came across Jill for the first time upon being set up by a mutual friend. He'd reportedly separated from his wife not long before, yet the intrinsic connection he felt with the famed BBC presenter was such that he didn't hesitate to jump into a serious relationship again. Moreover, and more importantly, these feelings were reciprocated — as per the original production, she often thought of the precise moment they met since it had changed her life for the better.
Therefore, of course, Jill and Alan decided to take the next step almost immediately after his divorce was finalized in late 1998, leading them to announce their engagement on January 31, 1999. The couple subsequently planned to tie the knot in a beautifully intimate ceremony in September, unaware they'd never make it as the former would be shot to death outside her home on April 26. The truth is she'd been living with her fiancé in Chiswick at the time and had only returned to her Fulham home — a place ready to be sold — to pick up some papers, but this simple act cost her life.
In a candid interview with BBC following his love's demise, Alan made it clear he was devastated as well as confused — "I cannot understand what has happened," he expressed before adding, "I do not think for one moment what could go through somebody's mind when they do such a thing to a beautiful, caring, and well-meaning person." Then, in his final public discussion concerning this matter in 1999, he revealed that the last time he'd seen Jill was on the fateful morning when she'd made him breakfast prior to his leaving for work. But alas, according to Daily Mail, what'd broken his heart the most in the ensuing months was finding a notebook of hers containing a draft of the speech she'd intended to give on their wedding day.
Alan Farthing is Living a Private Life Today
"I think I'm coping in the same way as anybody else would cope under these circumstances," Alan had said in one of these interviews prior to unabashedly describing his love Jill as "perfect." Yet since then, he has preferred to remain well away from the limelight despite later raising almost £1.5 million alongside the journalist's 'Crimewatch' co-presenter Nick Ross to launch an academy in her memory. Jill Dando Institute of Security and Crime Science (a still active organization) was established at University College London (UCL) on April 26, 2001, the second anniversary of her untimely death.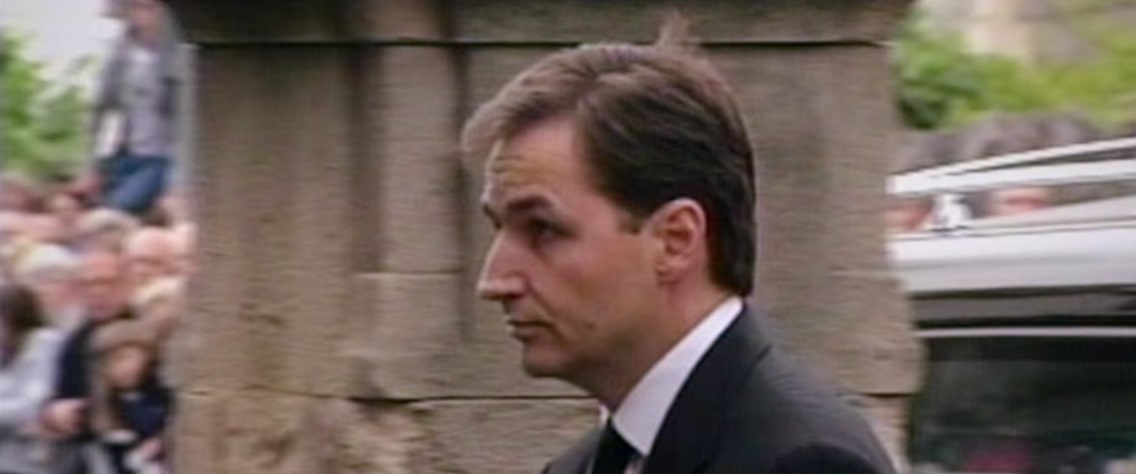 Coming to Alan's current standing, from what we can tell, the 60-year-old Londoner continues to work as a specialized and skillful surgeon, obstetrician, as well as gynecologist to this day. In fact, this gynecological cancer care expert turned Harley Street private practitioner is even internationally recognized for his incredible use of both laparoscopic plus hysteroscopic surgeries.
Furthermore, Alan still serves as a consultant at two teaching hospitals in London, all the while proudly holding the position of Gynecological Cancer Department's Head at Imperial College. Then there's the fact he was Queen Elizabeth II's surgeon-gynecologist, plus a member of the specialist team that oversaw the birth of Princess of Wales Kate Middleton's three children. As for his personal status, it appears as if Alan has found love again with Dr. Janet Stowell — they ostensibly met through work nearly a decade following Jill's demise, tied the knot in a small ceremony in 2008, and have since welcomed a beautiful boy into this world.
Read More: Hamish Campbell: Where is Jill Dando Murder Investigator Now?