Salma Hayek, the Mexican-American actress, producer, and activist, has carved a remarkable and enduring legacy in the world of entertainment. She burst onto the Hollywood scene in the early 1990s with her debut film 'Mi Vida Loca' (1993) but it was her breakout role in 'Desperado' (1995), alongside Antonio Banderas, that catapulted her to international fame. Hayek's mesmerizing beauty and undeniable talent soon made her a sought-after actress in the industry.
Throughout her career, Hayek has delivered a plethora of memorable performances in films like 'Frida' (2002), in which she portrays the iconic Mexican artist Frida Kahlo, earning an Academy Award nomination for Best Actress. Her impressive body of work also includes 'Traffic' (2000), 'From Dusk Till Dawn' (1996), and 'Once Upon a Time in Mexico' (2003). Hayek's dedication to her craft and her advocacy for women's rights have garnered widespread acclaim and recognition, culminating in numerous prestigious awards, including Academy Award and Golden Globe nominations and an Emmy Award nomination for her role in the television series 'Ugly Betty.' Hayek's indelible mark on the film industry and her tireless commitment to social causes continue to inspire and resonate with audiences worldwide.
In her most recent role, Hayek graces the screens as Maxandra Mendoza in 'Magic Mike's Last Dance.' However, if you can't get enough of her captivating on-screen presence, here's a glimpse into her exciting roster of upcoming projects.
1. Without Blood (TBA)
'Without Blood' is an eagerly anticipated war drama film helmed by the renowned Angelina Jolie. This cinematic adaptation is based on the eponymous novel by Italian author Alessandro Baricco, first published in 2002. The film, much like the novel, delves into the profound human experiences that emerge amidst the chaos of war—exploring themes of trauma, memory, and the journey towards healing. The narrative of 'Without Blood' revolves around the character Nina (Salma Hayek). As a young girl, Nina bears witness to the brutal violence inflicted upon her father and brother by their enemies. To survive, she conceals herself beneath the floorboards of her family's farmhouse. Remarkably, one of the assailants, Tito (Demián Bichir), discovers her presence but chooses to remain silent.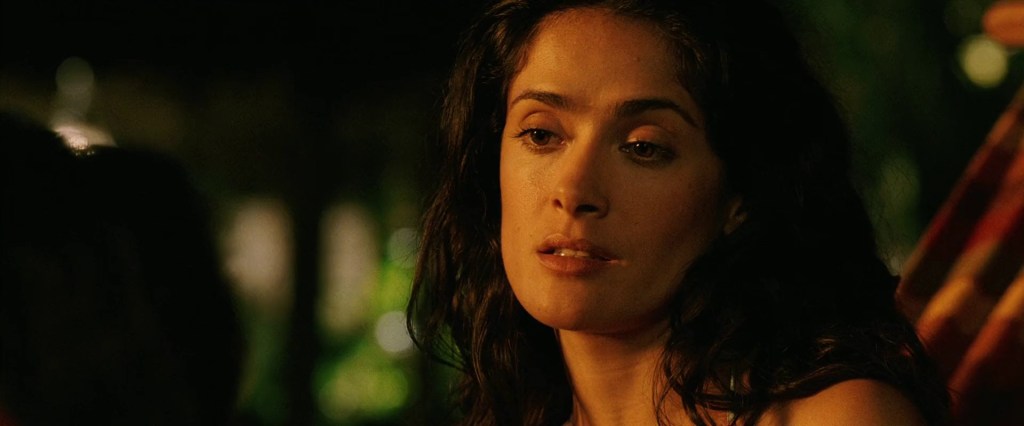 The film unfolds as their paths cross once again many years later, with an ensemble cast featuring Juan Minujín, Andrés Delgado, Alfredo Herrera, Simon Rizzoni, Patricio José, Ariel Perez Lima, and Juan Carlos Huguenin. Currently, the project is in the post-production phase, promising an emotionally charged cinematic experience.
2. Seesaw Monster (TBA)
Kôtarô Isaka's novel 'Seesaw Monster' is now poised for an exciting leap onto the big screen with a forthcoming movie adaptation developed at Netflix. This action-packed comedy film is set to feature the dynamic duo of Hayek and Anne Hathaway in the lead roles, portraying rivals who find themselves compelled to collaborate. The source novel explores the relationship between a wife and her enigmatic mother-in-law. Notably, Hayek is also taking on a producer's role for this project. The screenplay for this eagerly anticipated cinematic venture is currently being crafted by Olivia Milch. While the director's chair remains vacant for now, the project is seemingly gearing up for pre-production and fans are eagerly awaiting further updates regarding its progress.
Read More: Best Salma Hayek Movies