'The Amazing Race' has viewers glued to their screens for more than two decades. With a mix of adventure, competition, and cultural escapades, this Emmy Award-winning series takes teams of two on a whirlwind trip around the world. Hosted by Phil Keoghan, contestants face mind-boggling challenges that push their limits, both physically and mentally, in the most unexpected situations.
Along with the participants, viewers are taken away to stunning destinations, showcasing intense rivalries, heartwarming camaraderie, and the occasional meltdown, making it a rollercoaster ride of epic proportions. Season 20 aired in 2012, and the contestants were treated to an extra dose of excitement, leaving audiences on the edge of their seats and proving once again that 'The Amazing Race' is nothing short of, well, amazing. But where are these contestants now? What are their lives like after 10 years?
Where Are Rachel Brown and G. David "Dave" Brown Jr. Now?
Rachel Brown and G. David "Dave" Brown Jr., once a team of Army Wife and Combat Pilot on 'The Amazing Race' season 20, faced not only the race's challenges but also their own marital struggles. The strain of Dave's year-long deployment had taken a toll on their relationship, manifesting in frequent arguments and tension during the race. Despite their differences, they emerged as the official winners of the season.
However, their victory in the race didn't translate to a lasting marriage. Rachel and Dave eventually divorced in June 2013. Since then, both have moved forward with their lives. Rachel found happiness in her marriage to Chad Weiss, with whom she welcomed a daughter. Dave, on the other hand, became a father again, welcoming a son with Ali. Their post-race lives took them on separate paths, but their journey on 'The Amazing Race' remains a testament to their resilience and determination in the face of adversity.
Arturo "Art" Velez and John James "JJ" Carrell
Arturo "Art" Velez and John James "JJ" Carrell, known for their formidable partnership as Border Patrol Agents on 'The Amazing Race' season 20 and later as Best Friends on season 31, left an indelible mark with their generosity and dedication. Despite narrowly missing the first-place title in their first race, their compassion shone brightly when they selflessly shared their winnings to help a fellow competitor, Bopper, and his daughter in need.
Beyond the race, Art Velez's commitment extends to his family, proudly married with a son serving in the US Navy, showcasing his dedication both personally and professionally. Meanwhile, JJ Carrell has carved a multifaceted path, emerging as an author, speaker, and political commentator, delving into the world of podcasts and discussing vital issues on platforms like 'Stinchfield.'
Where Are Brendon Josef Villegas and Rachel Eileen Reilly Now?
Brendon Villegas and Rachel Reilly Villegas, the dynamic duo known for their tenacity and charm, first caught the audience's attention on season 20 as the engaged couple and ended up in third position. Their love story blossomed into marriage and they appeared as newly married in the 2014 edition of 'The Amazing Race: All-Stars' but their adventures didn't stop there. Beyond their impressive race performances, Brendon and Rachel showcased their talents in various reality shows. Their love story took a new chapter when they welcomed their daughter, Adora Borealis Villegas, into the world, marking the beginning of their beautiful family.
In 2020, the Villegas family expanded with the arrival of their son, Adler Mateo Villegas, adding even more joy to their lives. Rachel's vibrant personality continued to shine on screens, notably in 'Celebrity Fear Factor', where she emerged victorious. In 2023, Rachel displayed her competitive spirit alongside fellow contestants in Peacock's reality TV series 'The Traitors'. On the personal front, Brendon Villegas, a Biomedical Physicist, has become a UAB professor. Their journey, filled with love, adventure, and triumph, continues to captivate audiences, proving that their connection goes far beyond the racecourse, making them an enduring and inspiring presence in the world of reality television.
Where Are Vanessa Macias and Ralph Kelley Now?
Vanessa Macias and Ralph Kelley, the charismatic Dating Divorcees from San Antonio, Texas, captured hearts with their dynamic partnership. Despite their elimination in 4th place, their story took unexpected turns afterward. Vanessa found love with former NBA player Tim Duncan, evolving her career in radio and sports announcing. They have a little munchkin together, named after a Marvel character, Quill. Ralph Kelley, on the other hand, delved deeper into his passion for photography, filling his Instagram with captivating visuals. He tied the knot with Missey Kelley in 2015. Their post-race lives became colorful tapestries of new beginnings, showcasing love and creative pursuits beyond the race's finish line.
Where Are William "Bopper" Minton and Mark Jackson Now?
Best friends Bopper and Mark, hailing from Manchester, brought Southern charm and a strong bond to 'The Amazing Race.' Their mission, driven by their humble background, was to secure a better future for their families. Bopper, a motorcycle mechanic, and Mark, a former State Inspector, despite their elimination in 5th place, left a lasting impression on the viewers. Mark Jackson, a devoted father of three – daughters Kashia and Tori, and a son named Mark – not only plays the role of a loving parent but has also embraced the joys of grandparenthood.
Bopper Minton, also a family-oriented individual, finds his greatest joy in being a dedicated father to his daughter. Unfortunately, his daughter was suffering from respiratory problems when she was 7-years-old. Though there has been no update on her health since then, we hope she's healthy and happy.
Where Are Nareman "Nary" Ebeid and Jamie Graetz Now?
While entering 'The Amazing Race' season 20, LA-based Nareman "Nary" Ebeid and Jamie Graetz, carried a hidden secret that added an intriguing twist to their journey. Despite their true professions as federal agents, they chose to keep their identities under wraps. Although they gave a spectacular competition, they got eliminated in 6th place. After the show, It seems like Jamie Graetz, now Jamie Graetz Nassour, has gracefully transitioned into family life, embracing the joys of motherhood with her daughter, Charlie. Meanwhile, her fellow federal agent Nareman "Nary" Ebeid has mastered the art of staying off the grid, evading the prying eyes of social media enthusiasts.
Where Are Joey "Fitness" Lasalla and Danny Horal Now?
Together, Joey Lassalla and Danny Horal brought their unique skills and friendship to the race, showcasing their determination, charisma, and adaptability as they competed in the thrilling adventure of a lifetime. Joey Lasalla, affectionately known as "Fitness," owner of a thriving supplement company back in 2012, is a realtor now. But his love for health and fitness didn't just stop; he is still passionate about it. A devoted husband to Dana and father to two adorable kids, Giovanni and Dom, Joey is also an investor in digital assets and business funding.
Alongside Joey was Danny, the charismatic nightclub promoter, who once ruled the nightlife scene in New York and is now a scalp micro pigmentation artist and the proud owner of 'Scalp Micro USA'. Despite his public persona, he managed to keep his dating life private, sharing his world with a loyal companion, a dog named Buddy.
Where Are Kerri Paul and Stacy Bowers Now?
Meet Kerri and Stacy, the trailblazing duo who made history as the first African-American female team of cousins to grace the television screens in their thrilling appearance on the show. Since their time on the show, they've gracefully stepped into their own extraordinary journeys. Kerri, now a successful entrepreneur, owns a trendy restaurant Brick & Spoon Biloxi. Her life is complete with love as she shares her life with Matthew Paul, a prominent MLBPA Certified Player Agent, and their three adorable daughters, Jules, Jeannie, and Joe.
Meanwhile, Stacy Bowers has transformed into a powerhouse in her own way. A celebrated author, her book 'Elevated: Rise of the Underdog' has soared to the best-selling charts, capturing the hearts of readers around the globe. Not just stopping there, Stacy is the proud owner of an insurance company and also made waves in the entertainment industry by making her mark on OWN TV's 'Ready to Love' season 4 displaying her business acumen. As a mother to three wonderful kids, Cameroon, Caylen, and Carina, she fearlessly navigates the challenges of parenting.
Where Are Elliot Weber and Andrew Weber Now?
In the lively realm of 'The Amazing Race,' Arizona-based twins Elliot Weber and Andrew Weber embarked on a captivating journey. Elliot, a soulful singer/songwriter in a band called Enova and his twin brother Andrew, a skilled goalkeeper in Major League Soccer, added a unique flavor to the race, showcasing their talents and determination in a truly captivating way. But sadly, this dynamic duo got eliminated in ninth place. After the show, Eliot James continued to pursue her passion for singing and songwriting.
While Eliot's marital status remains a well-guarded secret, his social media is adorned with candid moments captured with his long-time partner Jordan Sherman, leaving fans curious and captivated by their enchanting relationship. On the other hand, Andrew Weber is now an entrepreneur and affiliated with NKE Sports Training. He has found joy in his equestrian passion, owning a horse named Céline. In February 2023, Andrew got engaged to his longtime love, personal blogger, Same Stivenson. The couple posted it on their Instagram handle and shared the news with their fans.
Where Are David AKA "Dave" and Cherie Gregg Now?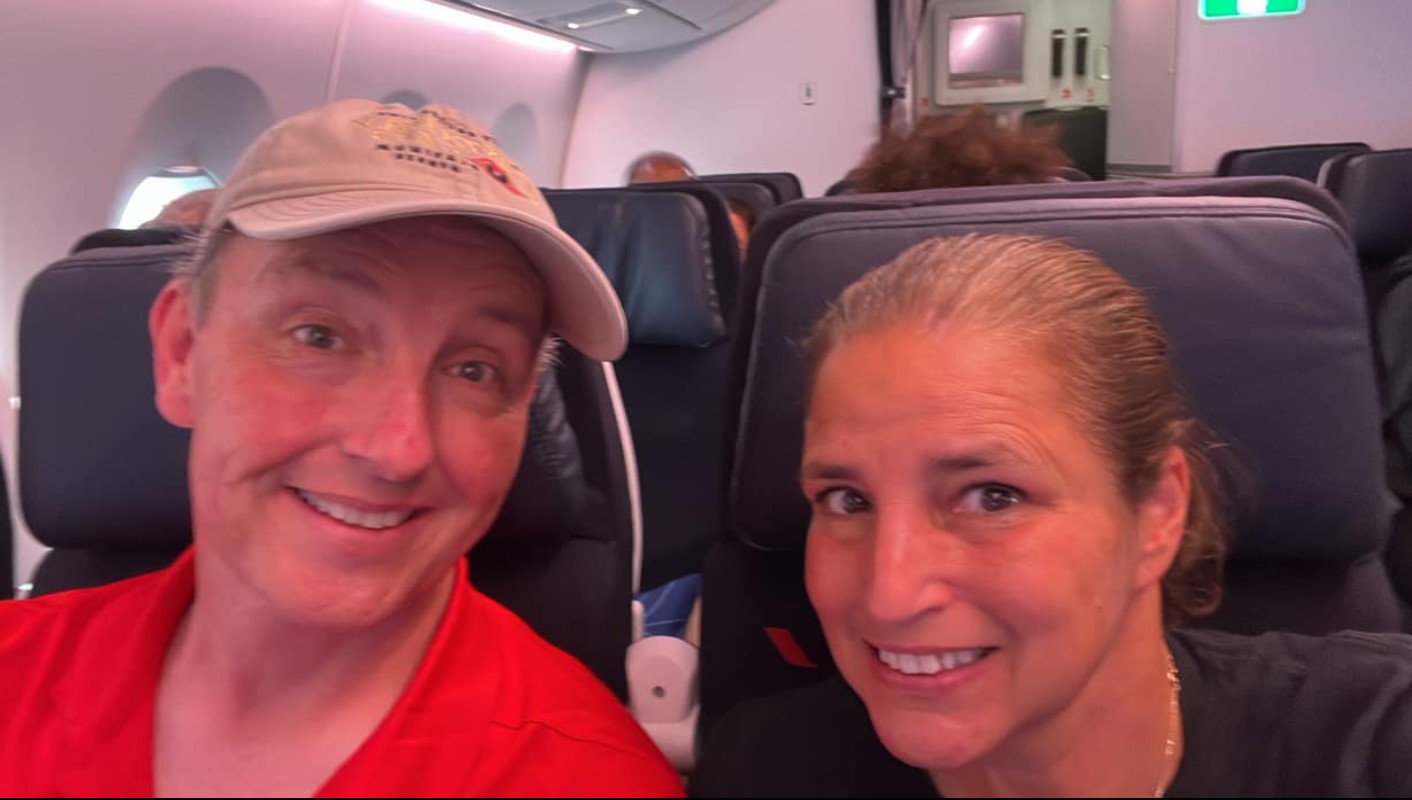 David "Dave" Gregg and Cherie Gregg, a married couple from New Port Richey, Florida, brought their unique profession as clowns into the thrilling world of 'The Amazing Race.' Despite often finding themselves at the back of the pack during their brief stint in the race, Dave and Cherie remained resilient, showcasing their positive attitudes. After the show, they have been traveling a lot and posting about it on their social media handle. Together, they have embarked on an extraordinary journey of traveling to make the most of every moment of their lives.
Where are Misa and Maiya Tanaka Now?
The elimination of Misa Tanaka, a car buyer at the time, and her sister, professional golfer Maiya Tanaka, from 'The Amazing Race' will forever be etched in fans' memories as very heartbreaking. In a twist of fate, one impulsive decision led the San Diego siblings to finish in last place. But after the show, Both the sisters have ventured into the world of golfing, making their mark on the sport and appearing on golf shows like ABC's 'Holey Moley Golf' and Golf Channel's 'Big Break'. Beyond their reality TV stint, the Tanaka sisters have found happiness in their personal lives also.
Maiya found love with a fellow golfer, Jamie Puterbaugh, and the couple tied the knot in a heartwarming ceremony in 2021. Their love story, evident from their Instagram accounts filled with enchanting wedding photos, captured the hearts of many. Meanwhile, Misa Tanaka also found her soulmate in Ryan Daley. Although Misa has never publicly acknowledged that they are dating, her ever the supportive sister, Maya, has shared glimpses of the couple on various occasions, making it evident that love has blossomed in Misa's life as well.