'America's Got Talent' is a popular television talent competition show that features a wide array of performers showcasing their unique skills in front of a panel of celebrity judges and a live audience. It has become known for its diverse and extraordinary acts, as well as its heartwarming stories and inspirational journeys. The second season of the show premiered on June 5, 2007, on NBC, with Jerry Springer as the host.
The season featured a wide range of participants, spanning various ages and group sizes, resulting in a diverse group of finalists. It's been quite some time since we last saw these finalists grace the stage, and fans may be eager to learn about their current endeavors. We've gathered all the details you're looking for, so let's delve into it.
Where is Terry Fator Now?
Terry Fator emerged victorious as the winner of the second season of America's Got Talent on July 21, 2007, showcasing his exceptional talent as a ventriloquist. His performances with his puppet pals, Winston and Elton John, were so captivating that they earned him a well-deserved standing ovation. Post his AGT triumph, he secured a significant deal with the Las Vegas Hilton, entailing 15 engagements valued at $1.5 million in 2008. That same year, he made appearances on popular shows like 'The Oprah Winfrey Show' and 'The Ellen DeGeneres Show.' Fator even penned a book titled 'Who's The Dummy Now?' in 2008.
His deal with Mirage in 2009 continued till 2020, with Forbes recognizing him as one of the world's highest-paid comedians in 2019. Currently, Fator is enchanting audiences with his new show, "Who's the Dummy Now?" at the New York-New York Hotel & Casino in Las Vegas, starting from 2020. On a personal note, he tied the knot with his wife, Angie Fiore, in November 2015, and he recently shared in a Facebook post that they had been together for 8 years. With his remarkable talent and immense success, Terry Fator is undoubtedly poised for an even brighter future in the world of entertainment.
Where is Cas Haley Now?
Benjamin Cas Haley made a memorable debut on 'America's Got Talent' as a singer-songwriter with a knack for infusing reggae vibes into his music. His rendition of The Police's "Walking on The Moon" garnered widespread acclaim, propelling him to the status of the first runner-up on the show. Following the conclusion of 'America's Got Talent,' Haley has been on a remarkable musical journey, releasing a total of seven original albums.
In 2014, his life took a challenging turn when he endured a skiing accident that resulted in severe muscle and nerve damage to his neck. Thanks to rigorous physical therapy and acupuncture, he made a remarkable recovery and even managed to release 'More Music More Family' in November of the same year. His current project, 'Boots, Rock, Reggae Vol 1,' showcases a fresh and soulful style that is already gaining recognition and accolades.
Born in Paris in 1980, Benjamin Cas Haley is currently happily married to Cassy Haley, and they share two children, Eben and Noah. In 2018, his wife faced a battle with breast cancer, but the couple emerged from this challenge stronger than ever, leading a flourishing and fulfilling life together.
Where is Butterscotch Now?
Antoinette Clinton, renowned by her stage name Butterscotch, has ascended to great recognition and popularity as a beatboxer, singer, and musician. Her remarkable performances on the show have translated into numerous viral videos on YouTube. Following her appearance on the show, Butterscotch was invited to showcase her talents on 'The Ellen DeGeneres Show' and has since shared the stage with music legends like Earth, Wind & Fire, Chick Corea, and Bobby McFerrin.
Her single, "Perfect Harmony," is readily available on iTunes, and her artistry has earned her features on prestigious platforms like TedTalks and Forbes. Butterscotch's talents even led her to perform at the illustrious Coachella music festival. Beyond her musical prowess, she proudly identifies as a member of the LGBTQIA+ community and fervently advocates for mental health awareness. With her remarkable journey thus far, it's evident that Butterscotch is poised for even greater achievements in her artistic career.
Where is Julienne Irwin Now?
At the young age of 14, Julienne Irwin displayed exceptional musical prowess, securing a notable fourth place on the show and leaving a lasting impression on all who heard her perform. Post the show, she embarked on a remarkable journey, touring alongside the legendary Country Music Hall of Fame member, Kenny Rogers. Julienne's talents extended beyond the stage, where she lent her captivating voice to perform the National Anthem at various high-profile sporting events, encompassing Major League Baseball games, Minor League Baseball games, NCAA basketball contests, and even a NASCAR race.
Currently residing in the vibrant musical hub of Nashville, Tennessee, Julienne Irwin is passionately honing her artistic craft, channeling her creativity into crafting original compositions. Her pursuit of musical excellence took a brief pause as she dedicated time to complete her education and attend college, a testament to her commitment to both her education and her art. Now she stands poised to astound the world with her unique musical creations, undoubtedly leaving an indelible mark on the music industry.
Where are The Calypso Tumblers Now?
The acrobatic breakdancing ensemble, known for their electrifying performances, clinched a spot in the prestigious top 8 during the second season, quickly becoming darlings of the audience. Following their memorable stint on the show, The Calypso Tumblers transitioned seamlessly into the realm of television, gracing popular programs such as 'MTV's Oddville,' 'Good Morning America,' and 'The Today Show.'
Their talents extended to the realm of sports entertainment, where they provided captivating halftime entertainment for WNBA's New York Liberty. Undeterred by the passage of time, The Calypso Tumblers continue to grace stages across the United States, the Caribbean, and Europe, captivating audiences in clubs, on tour, and during special occasions. Their journey thus far serves as a testament to their unwavering dedication and paves the way for even grander shows and larger stages in the future.
Where is Robert Hatcher Now?
Robert Hatcher graced the stage of the competition as a singer and musician, showcasing his remarkable talents that carried him almost to the very conclusion of the show. Following his stint on the show, his journey in the world of entertainment continued to unfold on various platforms. He secured a coveted spot on 'Sunday Best,' a significant milestone that earned him the distinction of being the first person globally to have participated in three distinct singing competition shows aired on three separate networks, a feat that included AGT and American Idol.
In a noteworthy international venture, Robert assumed the role of lead singer in a German Broadway production in October 2010, further solidifying his position as a versatile and accomplished performer. However, his trajectory has not been confined to the stage alone. Presently, he has transitioned into entrepreneurship, assuming the role of owner at 'the Social Lounge ATL.' Additionally, he has pioneered 'Taco Tuesday,' a vibrant platform that provides a creative space for musicians and singers to shine. In embracing his passions and remaining unapologetically true to himself, Robert Hatcher continues to make a significant mark in both the entertainment and entrepreneurial realms.
Where are The Glamazons Now?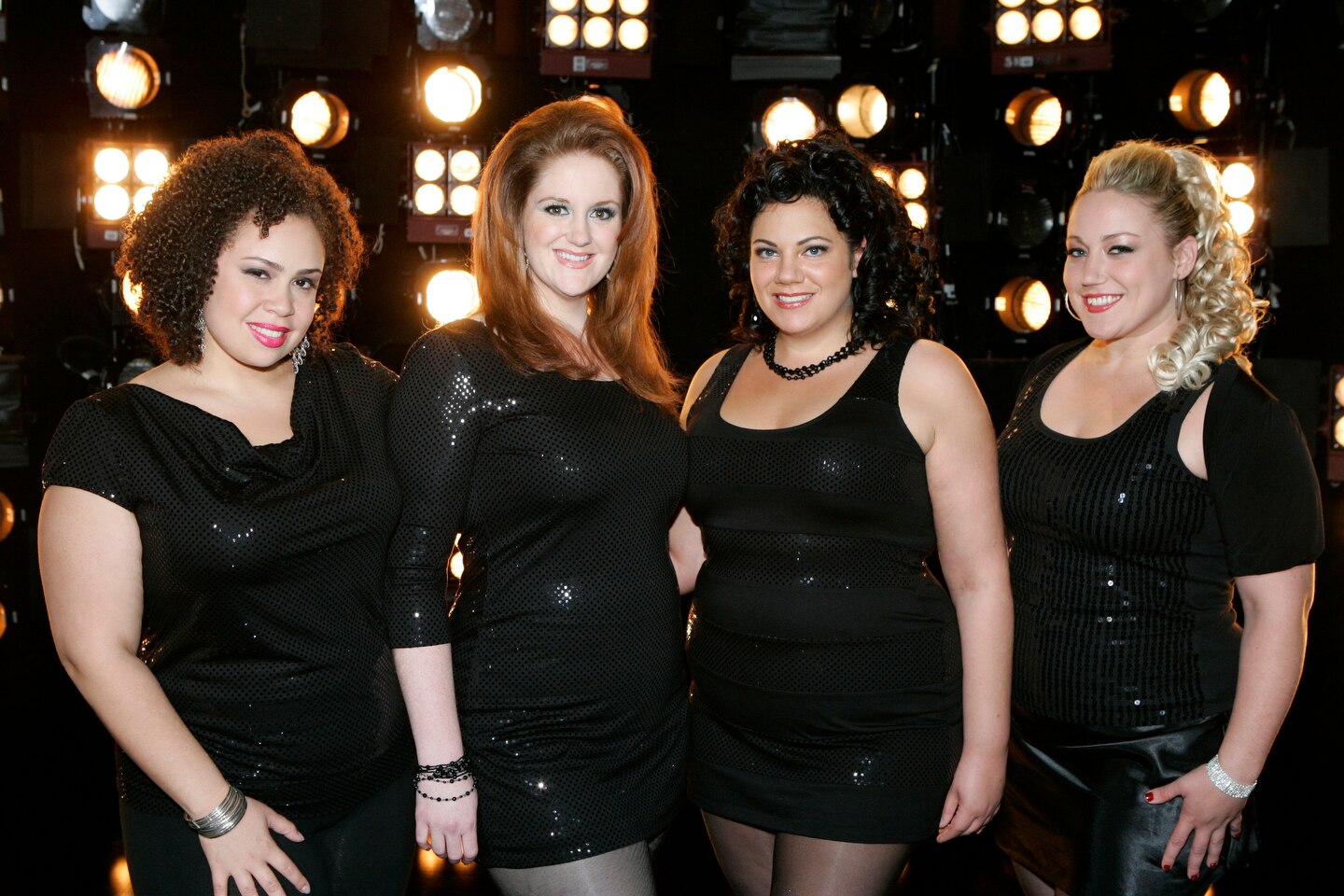 The quartet, showcasing their vocal and dancing prowess, graced the auditions of this particular season, making a remarkable journey deep into the competition. However, despite their talent and a memorable rendition of 'Raining Men' during the Final 8 episode, they fell short of garnering sufficient votes to advance, ultimately leading to their elimination. In the aftermath of their time on the show, their career paths took them to diverse and exciting places. They assumed the roles of fashion campaign supermodels, notably featuring in Torrid's 2008 Spring Collection.
Moreover, they graced numerous television shows and live events, further solidifying their presence in the entertainment arena. More recently, they ventured into music, recording an original track titled "Hot Mess" in collaboration with Drag Superstars Sherry Vine and Bianca Del Rio. As they continue to pave the way for a promising future, they set their sights on even greater opportunities and accomplishments.
Where is Jason Pritchett Now?
Hailing from Independence, Missouri, this accomplished singer and guitarist delivered a series of captivating performances during his journey on the show, although his run concluded with his elimination during the Final 8 performance. Presently, he leads a band titled 'Fleck Projector,' and they recently released their inaugural single 'Phoenix.' In addition to his musical pursuits, he operates a small-scale gardening venture under the name 'Green Witch Garden.' He maintains a reserved demeanor when it comes to his personal life; however, it's worth noting that he takes pride in being the dedicated parent of Kronos, a nine-year-old Boston Terrier.
Where are The Duttons Now?
The Duttons, a family of musicians who excel in both touring and recording, display remarkable proficiency with a diverse range of musical instruments, combined with a captivating on-stage charisma. Presently, they are proud proprietors of their theater located in their hometown of Branson, Missouri, a venue that includes not only a theater but also a hotel and a gift shop. Additionally, they manage another theater situated in Mesa, Arizona, where they put on performances from December through April. Throughout the year, The Duttons maintain an active schedule with numerous tour dates spanning various locations around the world.
Where is Sideswipe Now?
Sideswipe, a martial arts ensemble, had to step back from the initial season of the show because one of its members suffered an injury. Nevertheless, they made a triumphant return in the second season, showcasing their remarkable talent and determination. Sideswipe has since crafted dynamic performances featuring high-energy routines for renowned musical artists like Britney Spears, Fortune 500 corporations, various commercials, and movies. Furthermore, each member of the group also contributes as stunt performers and action choreographers, all aspiring to achieve even greater success in the future.
Read More: Shows Like America's Got Talent