A Darren Star creation, 'And Just Like That…' is a comedy-drama series that serves as one of the entries in the 'Sex and the City' franchise. Set 11 years after the events of the 2010 film 'Sex and the City 2,' the plot continues to follow Carrie Bradshaw (Sarah Jessica Parker), Miranda Hobbes (Cynthia Nixon), and Charlotte York Goldenblatt (Kristin Davis), though Samantha Jones (Kim Cattrall) is noticeably missing (she is slated to appear in the season 2 finale). In season 2 episode 6, Carrie meets an old acquaintance who hasn't forgotten she didn't show up in what could have been the biggest turning point in their writing career. Elsewhere, Miranda faces critical decisions about her life, and Charlotte's daughter announces something that embarrasses her parents, at least initially. Here is everything you might want to know about the ending of 'And Just Like That…' season 2 episode 6. SPOILERS AHEAD.
And Just Like That… Season 2 Episode 6 Recap
The episode begins with Carrie doing an interview with someone and realizing that the host has neither read nor learned what her book is about, even though that is supposed to be the subject of the interview. To spare Carrie the frustration of going through the interview, her trusted laptop of eight years effectively self-destructs, prompting her to go on laptop shopping with Seema (Sarita Choudhury) later. The women also decide to go to the Hamptons together.
After their sitcom is canceled, Che (Sara Ramirez) slowly begins to lose themselves to depression. It is revealed that they have stopped performing or even leaving the home. The only thing they do now is fan interaction through social Media. Miranda finds the entire thing bizarre and doesn't entirely know how to deal with the fact that Che is being cheery and charming with their fans, while she gets the dark and depressed version. Miranda's life seems to be at an important crossroads. While she was at Nya's (Karen Pittman) home earlier, she discovered that Nya and her husband were getting a no-fault divorce, prompting her to wryly comment that the dissolution of her marriage was all her fault. Miranda doesn't intend to initiate the talks of divorce. She feels that as she is the one who caused the split, the divorce proceeding should be started by the other party. Carrie informs her that Steve told her that he was never taking off his ring.
This prompts Miranda to speak to Steve. She is stunned to discover he has no desire to leave the house as he is sentimentally attached to it. The conversation soon devolves into shouting. As Miranda tries to leave, Steve immediately calms down and stops her. They cuddle until Miranda discovers a condom wrapper, realizing that Steve is not as hurt as she thought.
Charlotte, Harry, and Anthony get the shock of their lives when Lily nonchalantly announces that she is ready to have sex with her boyfriend. No matter how open-minded she is, Charlotte hasn't been definitely prepared for this. On the one hand, she is thankful that Lily believes that she can be this honest around her parents. On the other hand, part of Charlotte wonders whether this is a bit too much. Either way, she comes through for her daughter, even delivering a packet of condoms through a blizzard.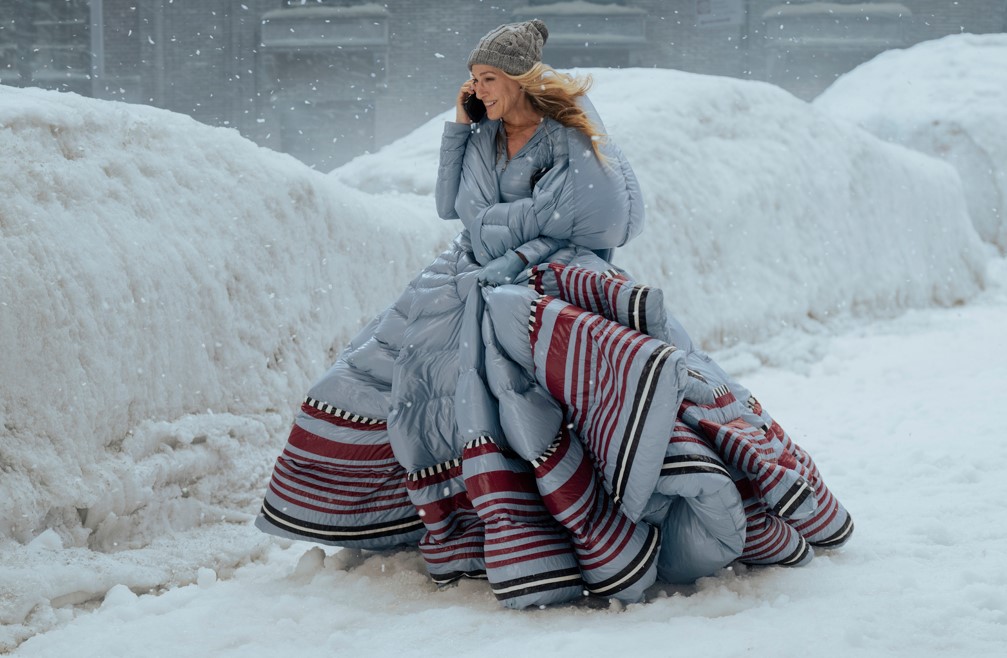 The aforementioned blizzard brings out the women's most impractical but gorgeous dresses. Lisa (Nicole Ari Parker) gives an interview about her work and is happy to see her husband in the audience. Herbert had a fundraiser, which he evidently left early.
Carrie's publisher tells her that she should attend a convention for widows. She is reluctant about this, especially after learning that the event has been organized by a woman who used to be her writing partner. Her original name is Karen, and because of how that particular name is regarded in the current climate, she has changed it to something that sounds extremely close to Carrie. Moreover, Carrie apparently didn't show up at their meeting with a studio executive; the film wasn't made, and this woman blames Carrie for it.
After much deliberation, Carrie eventually decides to attend the convention and serve as the keynote speaker, but not before she convinces Che to come with her, despite the blizzard. Carrie initially feels intimidated about giving a speech immediately after a comic delivers a fantastic set, impressing even Che. When her attempt at humor doesn't work, Carrie simply reads from her book and the candid words she shares connect with the audience. Toward the end of the episode, Carrie sends an e-mail to Aidan Shaw (John Corbett), her former fiancé.
And Just Like That… Season 2 Episode 6 Recap: Do Miranda and Che Break Up?
Yes, Miranda and Che break up toward the end of the episode. After the insightful conversation with Steve, a shocked Miranda returns to Che's apartment and starts to vent about her former husband. When she mentions that she and Steve should have split up when they had a chance, Che admits that this is what they have been thinking about. They believe that they and Miranda have already been the best they could be in the relationship, making Miranda realize that two of her relationships are effectively ending on the same day.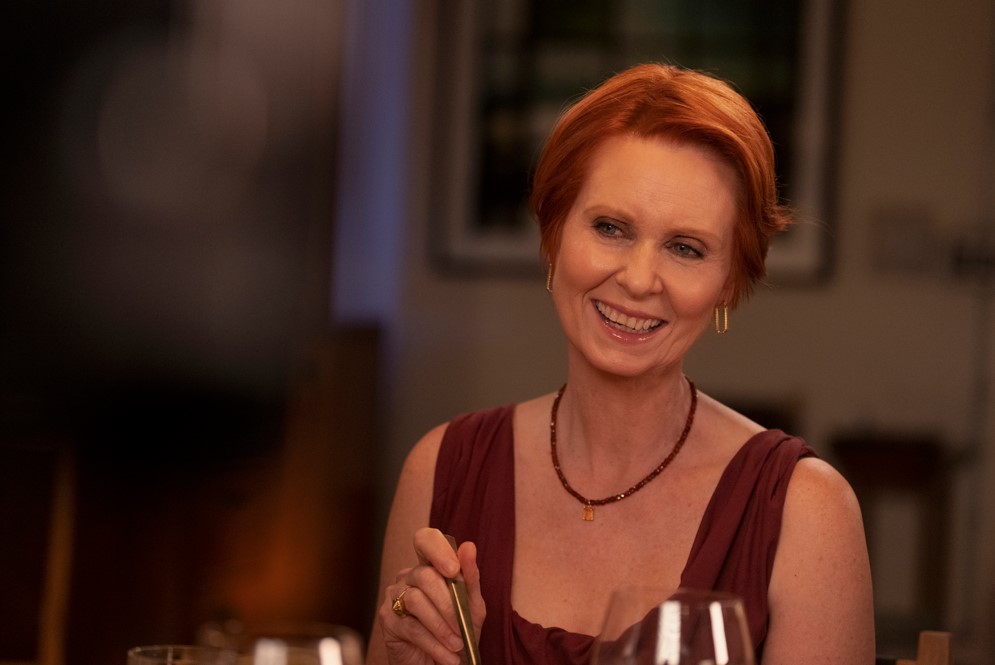 What Che and Miranda had was never meant to last long. Nixon explained as much in an interview with Vanity Fair. It seems that the relationship has finally run its course. This was always meant to be a stepping stone in Miranda's journey of self-discovery. When she was in California, she let herself be swayed by the happiness she found in every moment and in Che's company. The return to New York also brought them back to reality.
Read More: And Just Like That… Season 2 Episode 5 Recap and Ending, Explained