Max's 'And Just Like That…' is a sequel and revival series of HBO's 'Sex and the City.' The fourth entry in the franchise, its narrative is set 11 years after the events of the 2010 film 'Sex and the City 2. Miranda Hobbes (Cynthia Nixon) remains one of the main protagonists. At the start of 'And Just Like That…,' she is married to Steve Brady (David Eigenberg), but their relationship has become sexless. She eventually leaves Steve and begins a relationship with the non-binary comedian Che Diaz (Sara Ramirez) and relocates to Los Angeles with them for the summer. In season 2, the couple almost inevitably starts to have issues. If you are wondering whether Miranda and Che will break up in 'And Just Like That…,' we got you covered. SPOILERS AHEAD.
Will Miranda and Che Break Up?
Che is one of the new characters introduced in the first season of 'And Just Like That…' They host an LGBTQ+-friendly podcast in which Carrie Bradshaw takes part. They and Miranda have an argument after they share marijuana with Miranda's son Brady. Meanwhile, Miranda's relationship with Steve falls apart, and she becomes overly dependent on alcohol.
Toward the end of episode 5, Miranda starts to gain control over her drinking problem. But in the same episode, she and Che drink together, and the situation quickly becomes sexual. They get involved in an affair in the following episodes, though Che ends it after Miranda confesses that she loves them. Miranda eventually ends her marriage, declines a prestigious internship, and relocates with Che to Los Angeles, where the latter begins filming a self-titled sitcom.
In season 2, as the honeymoon period of the relationship nears its end, the couple begins to have problems. According to Ramirez, Che was introduced to the narrative to usher in changes in the main characters. "… so it was made very clear from the beginning that Che Diaz was being brought in to help other characters grow, to push them to their edges, to highlight that life can be non-linear, that we can change our minds, that it's okay not to have all the answers," she told playwright Jordan Cooper in a conversation for the Interview magazine. "And to me, that was a really exciting prospect. Obviously in 2020, the world had its reckoning with racism in this country, and I think that that's had an impact on how a lot of people understand all the intersecting issues, not just racism, but homophobia, transphobia. So it was interesting to me to plug into a story that is sort of an escapism for a lot of people."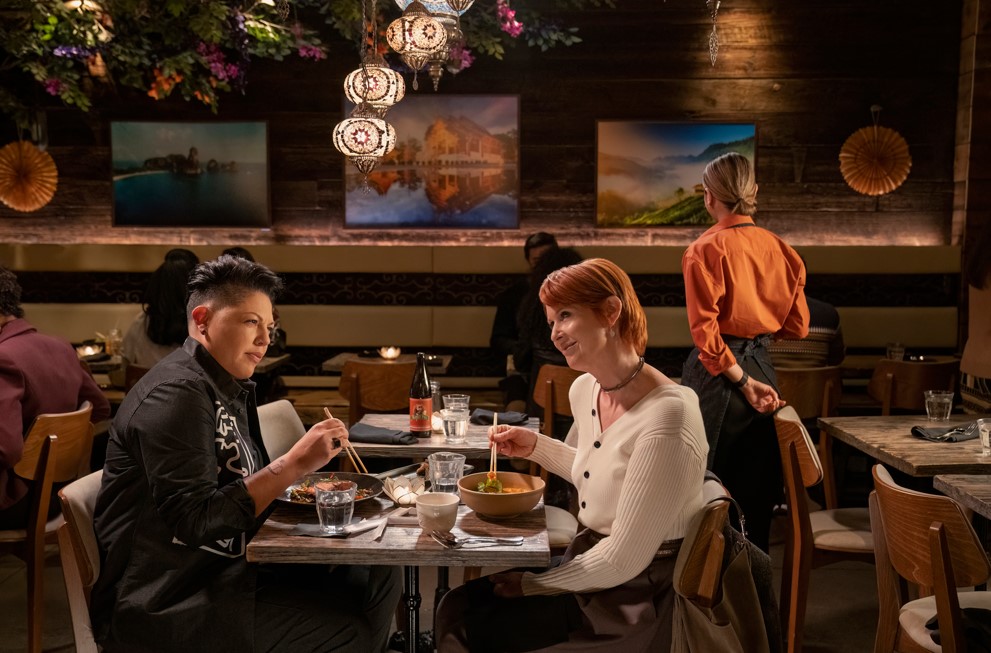 Upon their introduction, Che was not received well by the fans of the 'Sex and the City' universe for various reasons, including the fact that many of them were invested in Miranda and Steve's relationship. Many fans and reviewers also thought that Che was part of a bigger but ultimately inauthentic effort to create a more diverse world in the revival series by the showrunners. It can be argued that Miranda and the other women are some of the well-written, socially conscious characters from the late 1990s and 2000s. But as Ramirez implies, the world has undergone drastic changes since then, and Che plays the guide into the 2020s for these characters.
In Miranda's life, Che is not just a guide but also her traveling partner in a transition period of her life. When she comes out of the other end, it's unlikely that Che will be there. Nixon indicates this in her interview with Vanity Fair. "We get to different points in our life, we turn corners and all of a sudden everything seems amazing," the actress said. "I think we all know it's not going to last. But Miranda—I think she's in love. She's come out of her marriage that was sort of killing her by degrees, and after years of slogging away at a corporate law firm, she's embarked on this new legal journey of trying to help people who need it. She's got the California euphoria, she doesn't have any commitments, and she's living with her lover who's starting a TV series." Moreover, Che doesn't seem like a person who will settle down anytime soon. So, it's safe to assume that Che and Miranda's relationship will end in the future if not later this season.
Read More: And Just Like That… Season 2 Episode 3 Recap and Ending, Explained