Ever since its premiere back in 1978, ABC's '20/20′ has been featuring one unforgettable true-crime tale after another to really shine a light upon the dark, twisted, sordid side of human nature. Thus, of course, its season 46 episode 24, chronicling the 1998 homicide of Virginia native Andrea Cincotta and hence aptly titled 'The Andrea Cincotta Murder Case,' is absolutely no different. So now, if you wish to learn more about the same — with a specific focus on what precisely transpired, the perpetrator/s, as well as its overall aftermath — we've got the essential details for you.
How Did Andrea Cincotta Die?
At the age of 52, Andrea had genuinely managed to build a good life for herself in the beautiful city of Arlington as a local reference librarian when everything shattered apart in the blink of an eye. The truth is she was not only fiercely independent, but she was also a warm, devoted mother to her then 24-year-old son Kevin Cincotta and a loving fiancé to 36-year-old James Christopher Johnson. Therefore, when she was suddenly found dead inside her own Colonial Village complex apartment in the 1700 block of North Rhodes Street, the entire community was left shaken to its core.
Andrea actually had plans to go swimming before meeting a close friend at an Italian restaurant for lunch on August 21, 1998, following which she and her live-in fiancé were to have a movie night. However, she failed to show up for any of these activities, just for the former to think she might've been hanging out with James and the latter to believe she simply lost time while with her friend. The fiancé hence chose to complete some daily chores prior to heading off to sleep on that fateful Friday since he was tired from work, yet he awoke still alone in bed sometime around 1:30 am.
That's when James noticed their closet door was closed despite the fact Andrea always liked it open, inadvertently leading him to find his love's eerily cold yet bloodless remains slouched inside. According to reports, he'd placed his hands upon her neck to check her pulse before immediately dialing 911, but it was already too late — nothing could be done to revive the mother of one. Medical examiners later confirmed in an autopsy that she had been forcefully strangled to death without being otherwise touched, as evidenced by the fact she had no blood or bruises anywhere else.
Who Killed Andrea Cincotta?
Andrea's fiancé James became a suspect for detectives almost from the get-go because he alone had unrestricted access to their home, and there were no signs of a forced entry or struggle. He did manage to tell them that some coins as well as bags, along with Andrea's Honda Civic, were missing from their shared place, but it didn't really make a difference considering the circumstances. Nevertheless, he agreed to be questioned for hours on end, waived his right to an attorney, willingly provided fingerprints plus DNA samples, and tried to cooperate in every way conceivable.
The fact James was the one to locate Andrea's vehicle on the shoulder of Interstate 295 on August 22, 1998, while he was returning home after visiting her parents didn't help his case either. He was thus interrogated for a total of 28 hours within the first three days of the incident itself, towards the end of which he swayed from his narrative of innocence for the first time. He didn't give a confession per se, yet he did state he'd had a "vision" of him and his fiancée arguing, only for it to escalate to such an extent he knocked her into their bedroom desk by hitting her on the neck.
"It's all very hazy," James had reportedly said. "Just an image… I see me holding her, and she slips out of my hands, and she goes down to the floor… I fell on top of her. She hit her head on the desk." He seemingly went on to describe placing her in the closet before ultimately calling the police, and then he provided a matching written version of this sequence of events as well. However, the investigators let him go since Andrea didn't suffer from blunt force trauma, and her time of death was also ruled to be before he could have reached home from his shift at Home Depot.
James' proclamations were then deemed a "vision statement" stemming from coercion because officers had deliberately, falsely told him his fingerprints were found on his fiancée's body. This was all despite the fact he and Andrea's son had even directed them toward another possible suspect, a local maintenance worker to whom Andrea had given an old computer four weeks prior. This man — soon identified as Bobby Joe Leonard — had actually been inside the apartment to take the device away, plus he'd called in the ensuing days as he was having problems with it.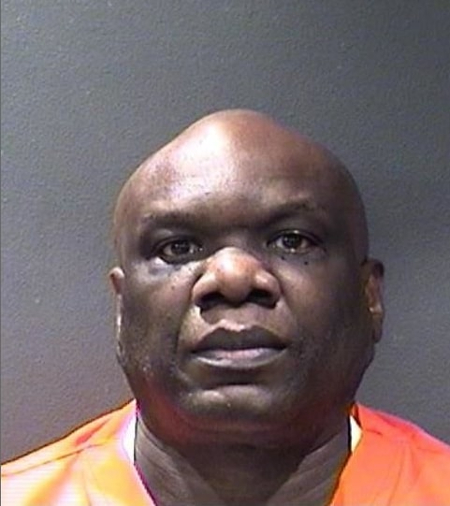 By the time officials decided to contact convicted felon Bobby days later (armed robbery, assault, and forcible sodomy), he was reportedly behind bars again for physically abusing his wife. Yet even he was cleared in connection to the homicide a short while later, resulting in the case going cold until it was officially reopened around 2013 at the behest of Andrea's son Kevin. Though it was only in 2018 that a breakthrough came when Bobby — serving a life term plus 30 years for the 1999 sexual assault and attempted murder of a 13-year-old girl — confessed to being Andrea's killer.
Bobby claimed an unidentified man who sounded a lot like James had called him one day shortly following the computer giveaway with an offer to slay Andrea in exchange for $5,000 in total. This male had given him the victim's schedule, urged him not to use a gun, and ordered him to wear gloves and a mask/hat to hide his identity before asserting the money would be in the closet. He hence followed all the steps, but because there was no money, he stole whatever he could from the apartment — Bobby and James were then officially indicted in November 2021.
Nevertheless, in the end, while the former pleaded guilty to first-degree murder in the summer of 2022, the latter was acquitted following a three-week trial and one hour of deliberation. Bobby's credibility was questionable at best since he'd attempted to slay the 13-year-old in the same manner of choking and falsely stated the call he'd received came from Andrea's place. We say false as his then-wife testified in court that they didn't even have a caller ID back then, helping in James' acquittal.
Read More: James Christopher "Chris" Johnson: Where is Andrea Cincotta's Fiancé Now?