Netflix's 'Aggretsuko' has amassed a huge fan following over the years. The entertaining anime series follows a female red panda who has to work responsibly and live up to expectations of her corporate job. But it is tough for her to act in a sane manner when everyone around her is insane and stresses her out. Thankfully, her love for heavy metal helps her to vent out the tense air out of her head. Here's the list of best anime similar to 'Aggretsuko' that are our recommendations. You can watch several of these anime like 'Aggretsuko' on Netflix, Crunchyroll or Hulu.
7. Wotaku ni Koi wa Muzukashii (2018)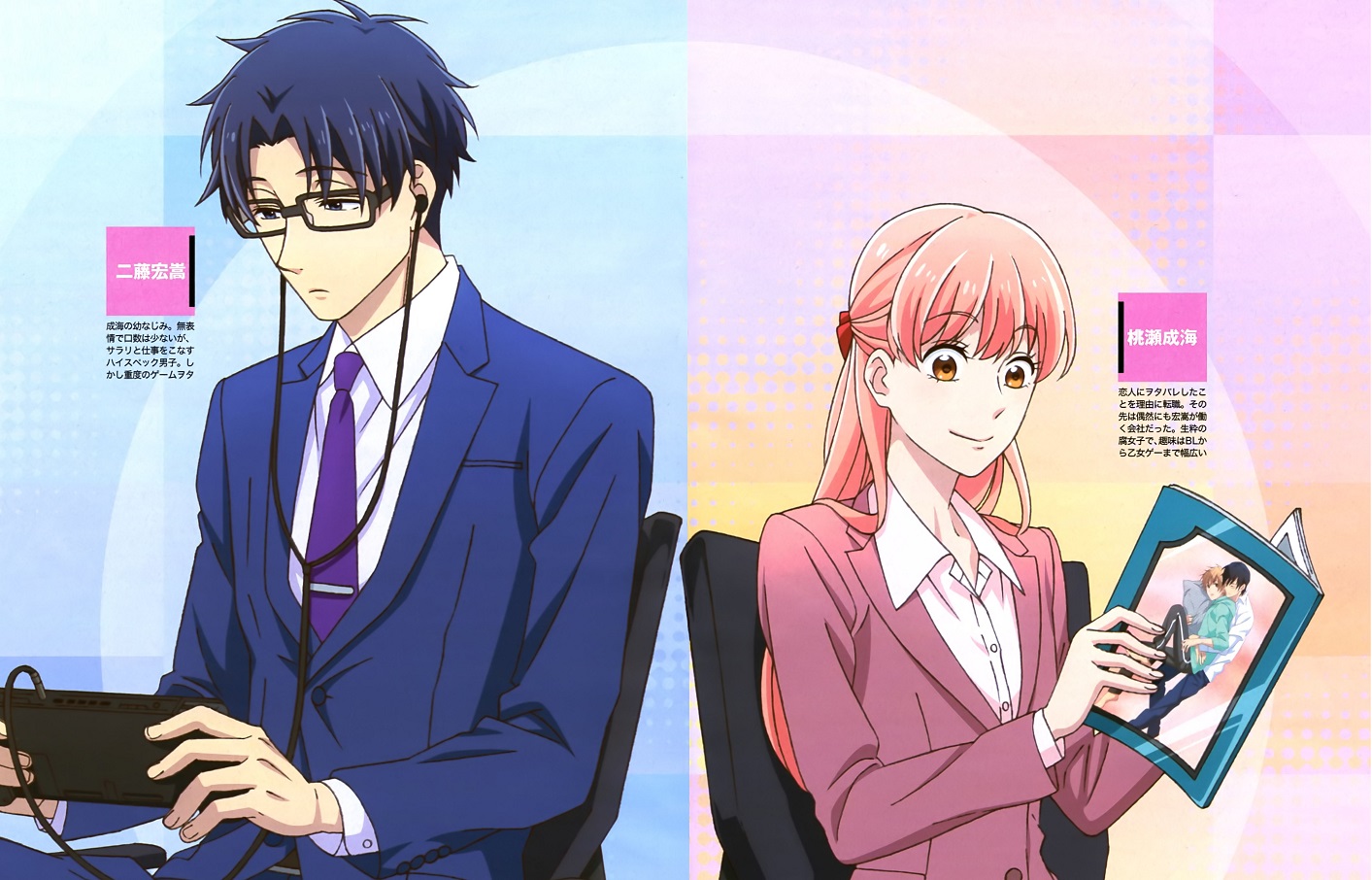 'Wotaku ni Koi wa Muzukashii' is a slice-of-life genre anime which is peppered with romance and comedy. The series is entertaining and funny so that you won't get serious watching the episodes neither is it too light-hearted. The balance works pretty well for the show which shares several similarities with 'Aggretsuko'. The shows take place in an office and deal with the office environment. Both anime showcase the relationship among the workers in office which consists of characters in their 20s. Both the anime use unconventional ways to make things funny and feature decent animation.
Narumi Momose, the female protagonist of the anime, is late for work. It is her first day of work at the company. She wants to make sure that none of her coworkers learns about her love for manga, especially for Yaoi stuff. But then she meets Hirotaka Nifuji, a friend from middle school, and asks him out to drinks to keep her secret. This does not go as intended as two people discover her secret. But there's an upside. Both of them are huge Otakus as well. They all go out for drinks and Narumi tells Nifuji about her break-up. Her boyfriend left her because she likes Yaoi. Nifuji then tells her that she should date him because he will take care of her as he is an Otaku. She readily agrees the suggestion. The show is quite nice. Give it a try.
Read More: Anime Like Death Note
6. Gaikotsu Shotenin Honda-san (2018)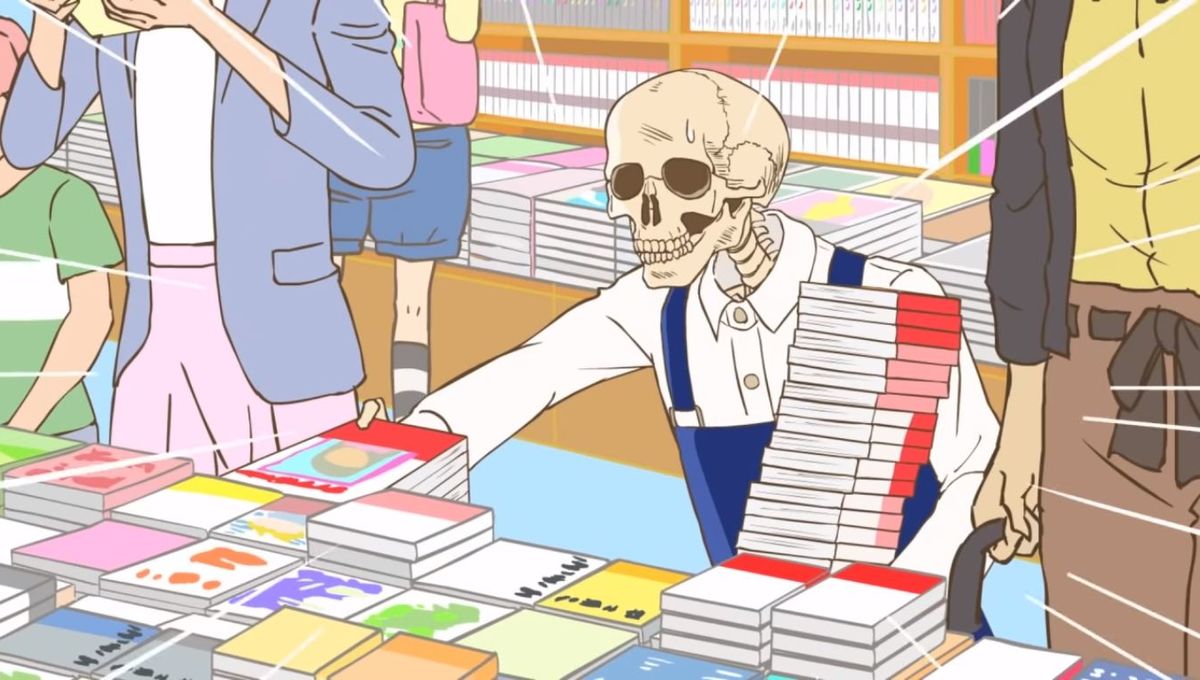 'Gaikotsu Shotenin Honda-san' is another interesting take on the workplace environment anime. It is entertaining and the art and animation-style increase the comic value of the anime. The series is kind of similar to 'Aggretsuko'. The obvious similarity being, both shows take place in a workplace environment. Another similarity is that the main characters of both the shows are not human. The tones of both anime arouse a similar feeling.
The protagonist of the anime is Honda, who is a skeleton. Yup, I am not kidding. He is quite passionate about his job which is selling books. But he believes that selling books is not as easy as one might think. He has to deal with various problems day-in and day-out. Be it the crazy shenanigans of his eccentric coworkers, the unprofessional attitude or the exhaustive demands of the book-selling industry, Honda finds himself out-of-place as a skeleton selling books to customers speaking a different language. Despite all the odds, Honda adores his job and puts a lot of effort into it. He does his best to provide quality book selections and services to his customers.
Read More: Anime Like Akame Ga Kill
5. Nyanpire the Animation (2011)
'Nyanpire the Animation' might not be an anime for everyone. I did enjoy the show but I still believe that the anime targets a niche. The series gets a spot on this list because it is a funny anime like 'Aggretsuko'. Though it does not take place in a workplace setting, it does feature the daily shenanigans of a furry character. Also, both shows have a very unique and unconventional comedy style. If you like watching 'Aggretsuko,' 'Nyanpire The Animation' definitely deserves a try. Who knows you might end up liking it as well.
The anime deals with supernatural elements like vampires, which make it kind of funny and interesting in weird way. The show has a total of 12 episodes and one can easily binge watch them. This is because each episode is only 4 minutes in length. The protagonist of the anime is a black cat named Nyanpire whose blood is transfused with the blood of a vampire. He becomes a vampire himself and craves for blood, uttering 'Give me blood nya' in a cute rhythm all the way. Nyanpire has been adopted by a girl named Misaki and now the cat lives with her. The anime is a bit weird but it is worth a try for the same reason.
4. Neko Ramen (2006)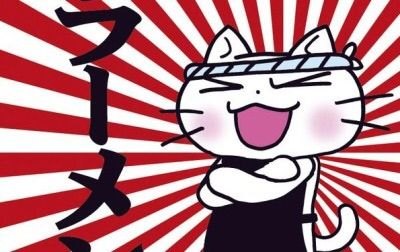 'Neko Ramen' is another anime which has a furry as the main character. The anime lovers may not have heard about it because it is not a popular series like Aggretsuko. It is an original net animation like 'Aggretsuko' and, similar to 'Aggretsuko,' the protagonist is a cat. Both series have a plot which lacks a serious tone and hence relies on the quirky animation to evoke laughter. The series has 13 episodes in total with each episode being just 2 minutes in length. Yup, so it will take you less than half an hour to finish this series, which is an unreasonably short binge watch, indeed!
So, if you have some twenty minutes to spare, give this anime a try. Taishou, the protagonist in the anime, is a cat who wants to make it big. He dreams of becoming a business tycoon reigning over the city of Tokyo. So, he decides to become an entrepreneur by opening a "Ramen" shop called Neko Ramen. And yes, it is the only restaurant run by a cat! He soon finds out that this job isn't going to be as easy as he originally believed. But the realization doesn't discourage Taishou as he works hard to improve his culinary skills to achieve his dream of building a restaurant chain.
Read More: Anime Like Re Zero
3. Rilakkuma to Kaoru-san (2019)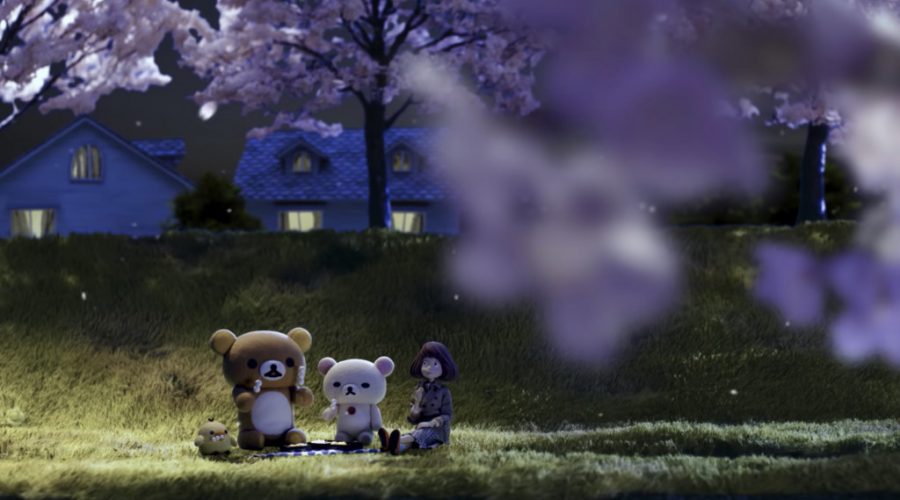 'Rilakkuma to Kaoru-san' is one of the latest additions to the anime universe. The show debuted in April, this year, on Netflix. Though the protagonist in this anime seems to be human, a majority of other main characters are furry in nature. The series has a comforting air around it and the storyline is not at all a serious one. Yup, that's what 'Aggretsuko' is about too. Both the series deal with the problems at the workplace and inter-personal relationships among various characters.
One of the best things which I like about 'Aggretsuko' and 'Rilakkuma to Kaoru-san' is that both anime showcase the harsh reality in our modern world without any filters. But they do so in a calm and unconventionally humorous manner. The shows do not aim to make you sad or depressed, rather it tries to make light of the situations that we all face on a day-to-day basis. The show released on the eve of the 15th anniversary of San-X's Rilakkuma. Kaoru, the human protagonist in the anime, is a normal girl with ordinary problems. The story begins when Kaoru receives a new roommate Rilakkuma, who is a bear who does not want to do anything but just lie and pass his day lazing.
2. Hataraki Man (2006)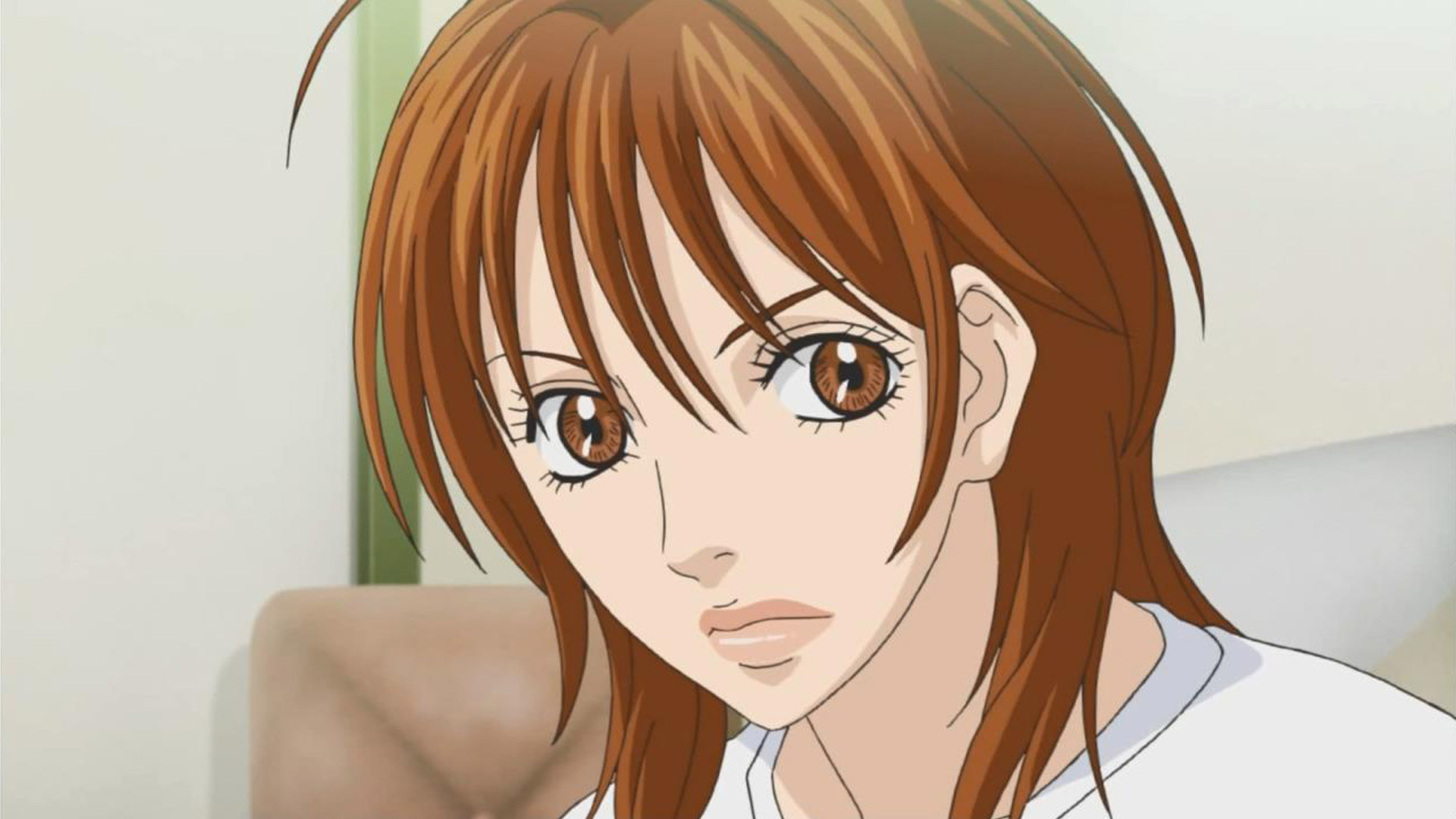 'Hataraki Man' is again a lesser known title among anime lovers. It's highly unlikely that you will meet an anime fan who has seen this anime. But nonetheless, the anime is worth giving a try those who like a slice-of-life anime with some comedy, romance and drama. It is an entertaining series which has a total of 11 episodes with each episode being around 21 minutes in length. 'Hataraki Man' has the same premise as that of 'Aggretsuko'. Both shows deal with day-to-day life at the workplace in a Japanese city. The plots explore the difficulties faced by employees while working in an office ecosystem.
The protagonists in both the shows are females in their 20s although in 'Aggretsuko,' it is a female red panda. Hiroko Matsukata is the protagonist of the anime 'Hataraki Man.' She works for a magazine company. Even though the job stresses her out, she tries best to rise up to the expectations like Retsuko. She can transform into "work mode" to meet her deadlines. Even though she is successful in her corporate life, her love life is barren. She would do anything to go on a date, even leave workplace earlier than the office timings. But unfortunately, she dates a man who is a workaholic too!
Read More: Anime Like Noragami
1. Detroit Metal City (2008)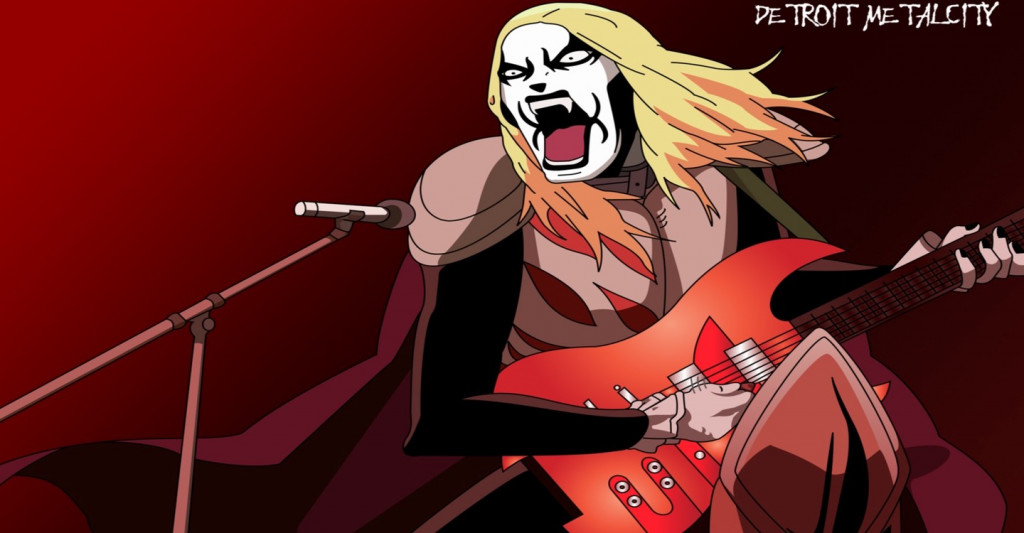 'Detroit Metal City' is one of the most entertaining anime dealing with heavy metal music. Again, it is not a popular anime so that many of you might not have seen it. But believe me, you are missing something genuinely funny and interesting. If you like 'Aggretsuko,' then there's a high chance that you would enjoy 'Detroit Metal City'. Both shows deal with a protagonist who works tirelessly and has to go through the daily struggles of life. They have to accept and tackle the problems head-on because it is a matter of survival. But what makes this shows more similar is the fact that the protagonists love heavy metal.
While in 'Aggretsuko', Retsuko is a fan of heavy metal and sings in karaoke or alone, the protagonist of 'Detroit Metal City' shows off his love for the genre publicly. The anime revolves around heavy metal band 'Detroit Metal City' who are quite popular in the indie music scene. The lead singer of the band Johannes Krauser II is seen as a demonic being straight out of hell. But the reality is something different. Krauser II is just an average college graduate who wants to leave peacefully and does not like heavy metal that much. But in order to survive in this unforgiving world he has to perform at the DMC concerts. Can he balance his double life and handle the pressures?
Read More: Anime Like Konosuba