Netflix's 'Heart of Invictus' doesn't just tell stories of various armed forces veterans but also shares how their journies affect those closest to them. The documentary series sheds light on the life of Yulia "Taira" Paievska, a proud Ukrainian veteran who served as a volunteer paramedic during their fight against Russia. While her story is impressive on its own, her daughter, Anna-Sofia Puzanova, also showcased immense courage while trying to help her mother in any way possible. Naturally, people are eager to know where this young woman is these days, and we are here to share what we know about the same.
Who is Anna-Sofia Puzanova?
Daughter of Yulia "Taira" Paievska and Vadym Puzanova, Anna-Sofia's relationship with her mother was far from conventional. She shared in the Netflix series that since around the age of 11, she used to see her mother only a few times a year until her retirement. This led to a complex dynamic between them, but the two were trying their best to mend the bridges following Taira's return due to medical reasons, as it was found out that she'd suffered heart attacks on two separate occasions.
After Taira was selected to a part of the Invictus Games 2020/2022, her story was being recorded by the producers of the Netflix series. However, when Russia attacked Ukraine in 2022, she, who'd initially joined the front lines as a volunteer after the start of the initial War in 2014, decided to help her nation by making use of her skills as a medical professional. Anna-Sofia had departed the country before the Russian invasion had fully started.
Therefore, on March 16, 2022, the Russian forces captured Taira, and little news was heard about her until she was seen in a negative light in a Russian propaganda video mere weeks later. According to those close to Taira, this video came around the same time Russia denied knowing where she was. Nevertheless, in order to fully represent their country, the rest of Ukraine's Invictus team traveled to The Hague, Netherlands, to take part in the event.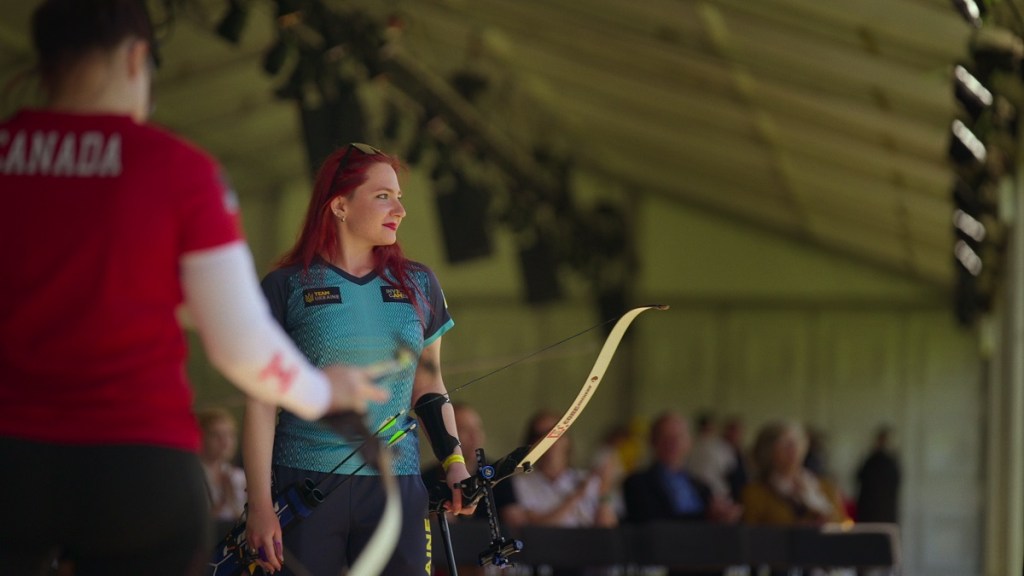 Anna-Sofia thus joined this team to bring the limelight to her mother's case. The organizers even agreed to have her as an honorary participant in the Women's Recurve Archery event in the Novice category. Determined to show her support for her mother, she gave her all and ended up claiming the bronze medal. "It is the only thing I can do right now, it is the only way I can help," she told The Daily Telegraph afterward. "I really wanted to do this because she was saving Ukrainians, she was saving the army, she was saving civilians, and also she was fighting for my future. I wanted to repay her." This victory, combined with the efforts made by the Invictus team of Ukraine, brought Taira's case to global recognition, and she was released on June 17, 2022.
Where is Anna-Sofia Puzanova Now?
While Anna-Sofia Puzanova is not very active on social media, we are sure that she is fully supportive of everything her mother has done during the past year and actually continues to do to help her nation. Yulia "Taira" Paievska's efforts have helped Ukraine tell its story on a global platform on numerous occasions. Following her release from Russian captivity, Taira expressed how proud she was of everything that her daughter had done, including her performance in the Invictus Games. It even gave her hope for their overall future.
It was also evident to see how the unfortunate capture of Taira allowed Anna-Sofia to better understand her mother's reasons for joining the armed forces when she was young. Now, the mother and daughter seem to have grown closer together and seemingly enjoy practicing archery together. Anna-Sofia even attended the 2022 Warrior Games in Florida, where Taira won two gold medals and a bronze medal. At a time when every citizen of Ukraine has been affected by the ongoing crisis in one way or another, the support by Anna-Sofia is truly commendable, and we hope that she never loses this strength of character, no matter the challenges.
Read More: Paul "Jenks" Jenkins: Where is the Wheelchair Rugby Coach Now?