At some point in our lives, we have all dealt with the loss of a loved one or a friend. While some go down the path of self-destruction, others choose to look back and see it as an opportunity to live a better life. Some adults might even look for an easy way out through negative coping mechanisms like drinking or other similar ways. However, by the time you reach adulthood, loss becomes slightly easier to deal with because it is something you might have already experienced earlier. But as a teenager, it is a new feeling and the emotional damage one goes through after certain devastating events can be scarring.
'AnoHana' centers around teenagers who experience something quite similar. It starts off quite normally like most slice of life anime series but then it slowly drifts into a very strong character-driven plot. On the outside, it's about a bunch of teens trying to deal with death and the sorrow that comes right after it. But if you explore further, you get to see a very methodological approach towards drama that does make it predictable in some ways but also gives a much-needed calm tone to the narrative.
One thing that 'AnoHana' relies heavily upon for its character development is the use of flashbacks that add a lot of historical value to the personalities of each character and also their relationships. In real life, people often tend to adulate their past when they have actually been through some very traumatic experiences. This is exactly how many characters of the anime have been portrayed. The sense of realism in everything that these characters feel often drives the entire narrative of the show, turning it into a very relatable experience.
'AnoHana' is what you would call a "true to its genre anime" that does indeed give you a slice of life. I wouldn't say that it is entirely enjoyable because the issue that it's dealing with does not usually take a comic tone. But if you're in the right mood for it, then this might just turn out to be one of your favorite anime series ever. More than anything, 'AnoHana' defies the common notion that only manga adaptations can be great anime series. Let's just end this by concluding that experienced anime viewers should definitely not miss out on this amazing original anime show and even the ones who are new to the world of anime might enjoy it, depending on the kind of mindset they have.
Anohana Season 2 Release Date: When will it premiere?
'AnoHana' season 1 was premiered on April 15, 2011 and came to an end on June 24, 2011 with a total of only 11 episodes. This was followed by a sequel movie that came out on August 21, 2013. Most anime do not end with a proper conclusion and leave behind some loose strings every single time. 'AnoHana', however, ends with a very solid closure. Even now, there are fans who are obsessed about it and keep praying for a new season, but it seems very less likely as of now. At this point 'AnoHana' season 2 release date of 2021 or 2022 seems like a distant dream. We will update this section as soon as we learn more. If you're one of those fans, then you can always catch up with the side stories of the anime because even reading the manga is not really an option here.
Anohana English Dub:
The English Dub of 'AnoHana' season 1 is available on Netflix and Crunchyroll
AnoHana Plot:
'AnoHana' centers around Jinta Yadomi, who enjoys living his life in absolute seclusion far away from the maddening crowd of the world. Unlike most other kids of his age, he avoids going to school and instead, stays at home and plays video games. But one fine day, his childhood friend Menma appears, who grants him the opportunity to have a forgotten wish. Jinta first assumes that all the isolation and the summer heat has gotten into his head and that he's hallucinating but later he realizes that he's actually seeing her.
A childhood incident had forced Jinta and all of his friends to drift apart but now, they come together after Menma's appearance. And this time, they not only have to do something for Menma but also bring peace to themselves by finally cutting off all the ties from the past. They have been living in pain and guilt all this while, but this might just be the right opportunity to finally leave that feeling behind and live the rest of their lives as better people.
AnoHana Characters:
Jinta Yadomi
Jinta was once the leader of the group that later split up after Meiko's death. He has an average height for his age and a lean built. He is often seen wearing a red T-Shirt that says "Underground People" in Japanese and below that, he wears a pair of classic blue jeans. He has long black hair that usually sways down on his face. As a kid, he had much shorter hair and he wore a pink t-shirt along with blue shorts. When he was a child, he was a very enthusiastic and outgoing kid who had natural leadership skills. But after Meiko's death, he decided to cut himself off from the world and stayed in complete isolation. His other friends drifted away from him and he decided to skip school and stay at home instead.
Meiko Honma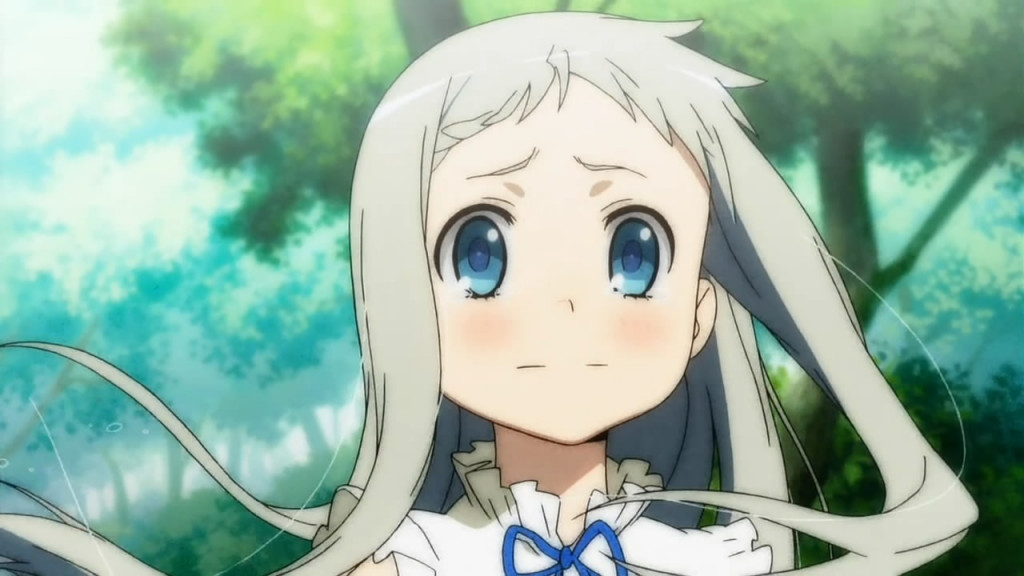 Meiko Honma, who is nicknamed Menma, is dead and in the present events, it is her ghost that visits Jinta. As a child, Meiko was a very tiny 5-year-old who had long silver hair that went down all the way till her shoulders. She wore a white dress that had blue ribbons all over it. Her grown-up spirit version looks pretty much the same and she still wears the same white dress that she wore as a child. Her hair is now longer and her skin is paler than ever. Unlike all of her friends, she hasn't really grown to her full potential and still appears to be very timid. Even her personality is the same as that of a five-year-old and she hasn't grown at all, mentally.
Honma is free-spirited and often cares about those around her, especially Jinta. Despite being dead, she shows no signs of pity towards herself and still has a sense of optimism towards what will happen next. Although Jinta is the only one in the group who can see her, she is able to communicate with others in the group by using a notebook. Jinta had initially assumed that she is just a figment of his imagination and had labeled her as "the beast of the summer".
Atsumu Matsuyuki
Atsumu is a tall good looking boy with brown hair that has bangs parted on each side of his head. As a kid, he was often seen with a yellow cap, which had a fish emblem on it, right in the middle. He holds a lot of hatred for Jinta and every single time Menma's name is mentioned, he tries to hide all the feelings that he still holds from the past. Soon after the tragic events of the past, Atsumu even started crossdressing as Menma but later had to stop it after getting caught. He has been trying to get rid of all of his feelings and the pain that was caused by certain events but only he knows that he will never be able to forgive himself. He also has a very dark, manipulative side, which is an outcome of his past feelings for Menma and also his childhood's inferiority complex.
Read More in Anime Preview: No Game No Life Season 2 | Haganai Season 3