Netflix's 'Too Hot to Handle Brazil,' also known as 'Brincando Com Fogo' in Portuguese, is exactly like the original American-British counterpart – intriguing and exciting. As per tradition, several hot singles step onto the shores of an island paradise, where they will have to refrain from all forms of physical contact to stand a chance of winning the R$500,000 (approx. $95,000) grand prize. With every rule broken, this amount will decrease, which, as we already know, is bound to happen. Yet, a few couples, including Caio and Thuany, really did try their best. Curious to know whether the two are still together? We've got your back!
Caio and Thuany's Too Hot to Handle Brazil Journey
Although Thuany Raquel sought and failed to form emotional connections with the men in the retreat initially, as soon as Caio Giovani arrived as a surprise addition in episode four, sparks erupted. Their positive energy, contagious attitude, and perfect smiles attracted them to each other from the get-go. Thus, of course, when the time came, Caio asked Thuany to be his first (and only) date. From seductively sharing food to discussing families and from crying to breaking the rules by locking lips, Caio and Thuany did it all in just one night to further their bond, and they truly succeeded.
Having paired up, Caio and Thuany took every opportunity that came their way to get to know one another better, yet they still were not on the same page. He was more open and forthcoming than her, so when another date seemingly allowed them to get a little closer physically, Thuany retreated. However, she soon conceded that it was due to fear of breaking the rules, not because she didn't want to, adding that Caio is someone she would've dated even in the real world as he's caring and genuine. They appeared to be almost perfect, but insecurities were still present in their relationship.
Are Caio and Thuany Still Together?
Caio and Thuany looked like they were going strong towards the end, but when another new entry came about, he not only got jealous but also had to walk away from the entire group to calm down. Since the new man was Thuany's exact type when it came to casual hookups, Caio felt vulnerable, especially since she'd showed no interest in him that way for a while. After a small dispute that night, they managed to talk things out. A day later, when Caio performed the song he'd penned for his lover, he and Thuany got to share a proper kiss with zero consequences.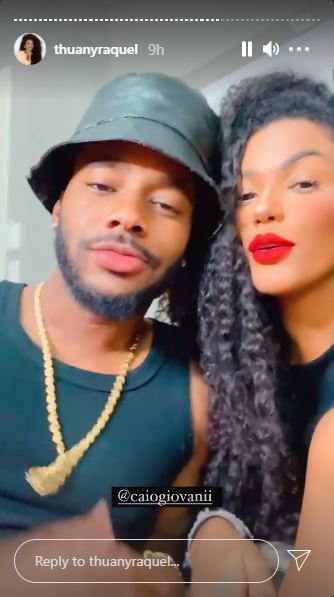 Subsequently, Thuany finally confessed to her feelings and told Caio that she was glad to have him in her life. She thanked him for his patience and stated that he somehow uncomplicated her complex past and personality. In the end, the beautiful couple walked away with their share of the prize money and a romance like no other. Therefore, we're happy to report that Caio and Thuany are still together!
The 29-year-old entertainment artist from Rio de Janeiro and 26-year-old businesswoman and artist from Pernambuco are still in love, as confirmed by their social media accounts. Their profile feeds show an utter lack of their presence in each other's lives, but their stories, as seen above and below, depict how much they continue to care about one another. After all, Caio's story says, "I love you."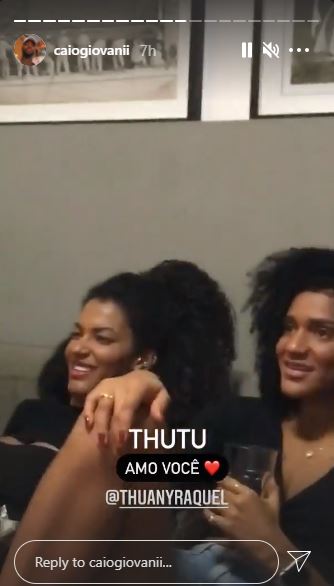 Read More: Are Leandro and Marina Still Together?