'Love Island Australia' season 4 was the peak of reality show entertainment! There was drama, tears, gossip, and everything you'd want to spice things up. One of the standout couples in the show was Callum Hole and Madeline Wilcox. They made it to the season finale but unfortunately did not win the show. However, their journey was memorable for the audience because the couple showcased amazing chemistry. As avid fans, we are sure you are more than curious to know whether the two are still going strong or if they did not last that long. So, let's uncover the truth together.
Callum and Madeline's Love Island Journey
One thing evident about Callum since his entry was his charisma, plus he had a Welsh accent that made all the girls swoon. Being a pool boy at a top hotel in Brisbane attuned to his magnetism. He was used to working around VIPS, which made him buttery smooth with his words. Moreover, he was a personal trainer to a few regular clients, which tells us he is undoubtedly hardworking. On the other hand, Madeline is a chirpy and energetic Makeup artist from Melbourne who described herself as the "queen of situationships." She joined the show hoping to find something long-term and stable.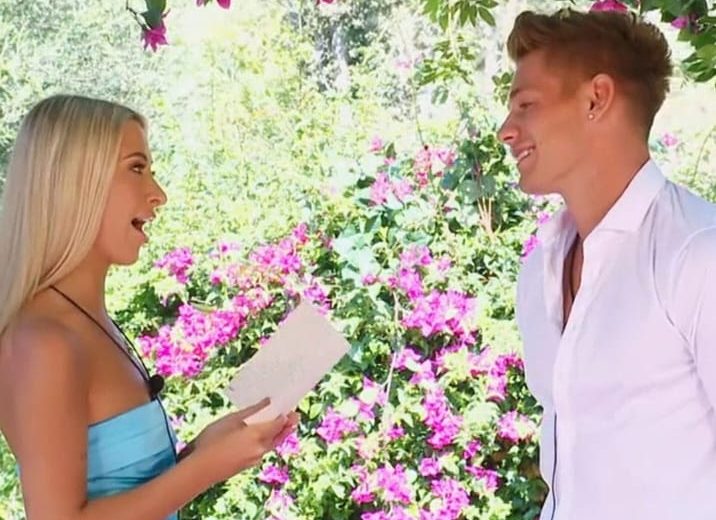 Throughout the show, Callum seemed to be more of an explorer type, trying to get along with Tina, Layla, Vakoo, and Maddy. However, his search halted when Madeline entered the show as a Bombshell. When she first entered the villa, she was attracted to Callum and mesmerized by his persona. Meanwhile, Callum was afraid to commit and feared uncertainty.
Even through all thick and thin, the couple moved past their difference and found solace in being with each other. Callum admitted that he felt nervous after seeing her for the first time in his Declaration Of Love speech, which was a heartfelt moment during their journey. Who'd have thought that the two people with polar opposite expectations would hit it off so well!? The viewers rooted hard for the couple and were completely invested in their relationship. But how are the two holding up now?
Are Callum and Madeline Still Together?
No, Callum and Madeline are not together. After the conclusion of season 4, Callum gave an update about the status of their relationship in an interview with So Dramatic! on December 21, 2022. Talking about him and Madeline not being official due to their short time in the villa, he implied that they were at least "more than just friends." The two reality TV personalities decided not to commit and take things slowly at a pace they both found comfortable.
Out in the real world and away from the constant scrutiny of the cameras, Callum got in touch with his ex-flame on the show, Layla John, as hinted in the season finale. He explained how he was open about meeting Madeline and Layla seemed supportive of his decision, but she likely did not expect the relationship to be strong. He said, "Layla had told me before she left, 'I want you to try to find another connection and continue your journey.' So that's exactly what I did."
In another interview, Callum kept things slightly open-ended when he said, "We're keeping it casual. Obviously, things change when you come out of the villa, and life's a bit hectic at the moment, but we're still in contact and see each other and stuff." A significant contributing factor to their split was the distance. They admitted to being unprepared for the challenges of a long-distance relationship and thought it was fair to part ways.
Madeline was honest about letting their fans know about the relationship when she stated, "No, I wouldn't say we're together. We kept things pretty casual since we were on the show, and I guess we'll sort of see what happens, but no. We are not together. I feel like as well, he lives in a different state [in Queensland], and I'm in Melbourne, so I feel like we both didn't really keep in regular contact as you would expect."
She concluded, "I guess we just both didn't really put in as much effort as we could have. But nothing really led us to not working out. I would say we're amicable at the moment, yes." As of writing, both Callum and Madeline are keeping their respective love life under wraps. There has yet to be an update about any new projects from their ends, so we infer that they've returned to their everyday lives before their time on 'Love Island Australia' and are busy building something that'd further their individual careers.
Fans could take solace in the fact that their bond possessed just pure understanding of each others' character and desires, and though they decided to go their separate ways, no drama was involved between them. In a Q&A session on his Instagram stories in January 2023, Callum shared that he and Madeline are good friends before describing their bond as "Pals 4 Lyf." They took a mature approach to the situation, which didn't lead to any heartbreaks or bitter feelings. From what we can tell, Callum and Madeline are on good terms because they still follow each other on Instagram. However it looks like they are currently single and working on themselves and their professional lives.
Read More: Are Stella and Hugh From Love Island Australia Still Together?