Stella Hutcheon and Hugh Wilcox won the hearts of the audience and garnered a lot of fans when they appeared in the fourth season of 'Love Island Australia, the dating reality show that takes the participants through an absolute whirlwind of emotions with weekly couplings, uncoupling, and re-couplings. Though towards the end, Stella and Hugh made a mark as they embarked on a fresh new romance. Naturally, fans are curious to know if the couple made it outside the walls of the villa and whether they are still together. If you have the same questions, you have come to the right place.
Stella and Hugh's Love Island Journey
Fans didn't get a chance to see more of Stella Hutcheon and Hugh Wilcox's romance on the show. Prior to coupling with Hugh, Stella found it quite challenging to maintain a bond and continue it. Throughout the season, she was coupled with other potential suitors, but none of them lasted. She got paired with Andre, Jordan, Ben, Tak, and Hugh. Finding "the one" is definitely not an easy task, and though one might think dating shows make it easier to fall in love, establishing a genuine connection is truly difficult.
Stella faced the same in most parts of the season, where she couldn't make up her mind about who to choose. After her exit, she looked back at her journey and revealed the characteristics of her partners to 9Now. Stella said, "Andre… I'm going to go with stylish and maybe a little bit reserved. Jordan, I'd say he's very Aussie, blokey, maybe a bit indirect and kind. Ben is confident and goofy, Tak is smooth and understanding, while Mitch is alpha and… confused! Hugh… I'd say loud, fun and wild." Things finally looked better for her when Hugh entered paradise, and something sparked between them.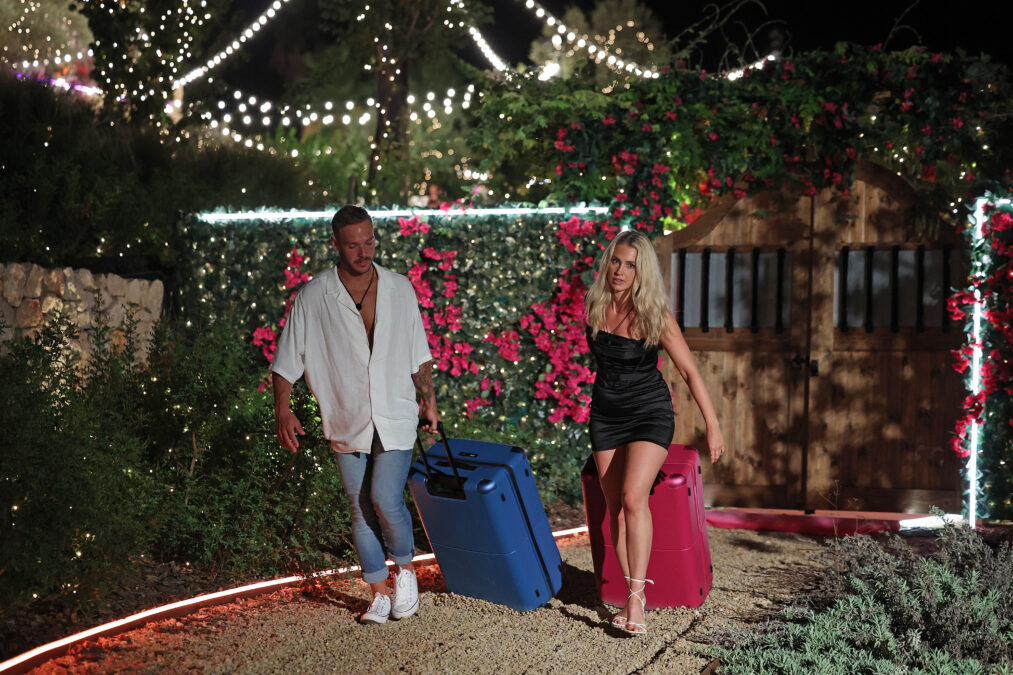 Though their romance and time on the show were shortlived, the duo indefinitely shared fun and goofy moments. They coupled on the last re-coupling and were eventually dumped in episode 26 via Double Dumping. The pair had not sealed their relationship with anything more than a kiss. However, things looked steamy for the pair, who revealed in the finale that they reportedly hooked up after they were dumped from the show. Though the two left the villa hand in hand, a question that pops into everyone's head is — Are they still dating, or has the romantic spark fizzled out? Let's find out.
Are Stella and Hugh Still Together?
Unfortunately, much like their time together on the show, the romance between Stella Hutcheon and Hugh Wilcox was short-lived. In an exclusive interview with 9 Now, the duo revealed the real reason behind their split. It was reported that time management and the long distance between the two caused the real problem. Stella, who currently resides in Queensland, said, "Hugh and I, we kind of decided when we left the villa – just because we live in different states – that we would kind of remain single, and then when we see each other, we would catch up."
She added, "I have gone down to Melbourne because I was visiting family, and I went and saw him, and it was really nice. It was just a great catch-up. We're just kind of remaining single because we didn't get to form such a strong connection in the villa." Hugh agreed to what Stella said and added, "We obviously don't live in the same state, but we've hung out a few times, and it's been fun." Stella further added that she didn't regret her time on the show and that, though she couldn't form a deeper connection with anyone from the show, she made great friends.
The reality TV star also implied that they would probably not get back any time soon. She said that following their exit from the villa, they realized they are different individuals with contrasting interests. However, the two have remained on cordial terms and occasionally hung out when one was in the other's town. As for matters of the heart, Stella and Hugh have decided to stay single and work on themselves and their respective careers. While Stella is busy as a Radio Media Coordinator in Brisbane, Hugh is focusing on his fashion label, Snowbodi, and chilling with friends.
Read More: Are Laurel and Carrington From Love Island Still Together?