'Love Island USA' starts off like any other dating show, with a group of single men and women mixing freely among each other. However, to survive on the show, each participant must remain paired up at all times. Interestingly, pairs can be formed based on friendship, romance, or plain convenience. Furthermore, if a contestant is caught without a partner during the many recoupling ceremonies, they are immediately sent home.
On top of it, the show also features several exciting couple challenges, which can save people from elimination, while the last couple standing is named the winner. Carrington Rodriguez and Laurel Goldman were one of the beloved couples from the show's second iteration, whom the fans followed eagerly even after they exited the reality series. Many of their fans cannot help but wonder if the relationship was able to survive in the real world, and we are here to investigate the same!
Carrington and Laurel's Love Island Journey
It's not often that a newbie from Casa Amor sweeps an islander off their feet. Laurel entered Carrington's heart after he went from Kaitlynn to Kierstan almost immediately after laying eyes on her. Carrington's fickle-minded nature did confuse fans for a while until he showed stability with Laurel towards the end of recoupling. Their journey began after Casa Amor, and it was clearly a rocky one. After his bond with another newbie Lakeyn, Carrington's interests and intentions were doubted again.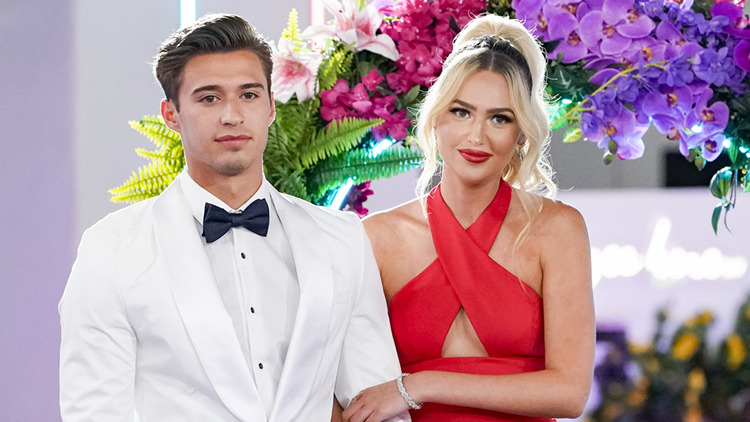 After two weeks of spending close time with Laurel, everyone assumed that he had already moved on with Lakeyn, which made fans question his true intentions and behavior. But during the final recoupling ceremony, Carrington finally made the decision to stay loyal to Laurel. His honesty and emotional maturity won fans' hearts leading him to secure the fourth position. He exited the show with Laurel and professed his true feelings for her.
He said, "I feel as if we are becoming the couple we dreamed of finding when we entered the villa. As we leave our beginning in the past tonight, I can't help but think about our future." He added, "Traveling is a passion we share, and I can't wait to wake up in Fiji, Thailand, or even Paris one day. But I especially can't wait until we miss each other enough to move in together. And if we feel this way after three weeks, I can't imagine how we'll feel in three months." But what happened to the couple in the real world? Did they manage to rise above criticism and work on their relationship? Let's find out.
Are Carrington and Laurel Still Together?
Despite making genuine efforts to continue the relationship off-screen, Carrington and Laurel are no longer together. The pair reportedly broke up in December 2020, shortly after leaving the villa. However, it must be noted that the duo left the show with realistic expectations about their relationship. in a post-show interview with ET Online, Carrington opened up about their relationship approach outside the villa. He said, "We do not want to just end like most couples do when they go on a show like this."
Carrington added, "We're not boyfriend and girlfriend, but we are going to talk to each other, we're going to text, we're going to call all the time because it is going to be very weird being apart." He came under scrutiny when fans blamed him for leaving Laurel. He addressed such allegations in an Instagram Live with co-star Johnny Middlebrooks. Carrington stated, "We were talking, right? We weren't boyfriend and girlfriend. And that's fine; we knew each other for two and a half weeks out of the show. We gave it an honest effort, and it didn't work."
As of writing, both Carrington and Laurel are busy in their individual lives, focusing on their respective careers. Laurel is currently dating entrepreneur Bryce Jordan, while Carrington is reportedly single.
Read More: Are Cely And Johnny From Love Island Still Together?