'Love Island' follows the dramatic couplings, uncouplings, and recouplings of hot singles locked together inside a Las Vegas hotel villa. Season 2 of 'Love Island USA' saw several relationships being developed as the "Islanders" paired up with other individuals to survive elimination each week. Among the strong singletons in pursuit of love, lust, friendship, or just a casual fling, Cely Vazquez and Johnny Middlebrooks emerged as one of the fan-favorite couples.
Cely and Johnny encountered a long, challenging, yet interesting passage of ups and downs throughout their journey. Thus, their connection led them to become the runners-up of season 2. With their increasing popularity, it is natural for their fans to wonder if the beloved couple is still together or if they've gone their separate ways. Here's what we know.
Cely and Johnny's Love Island Journey
Cely Vazquez and Johnny Middlebrooks had a beautiful run on the show. Since the very beginning, the two personalities formed a real connection, and their cute moments on the show were deemed adorable by many. Though their relationship was hit just with a few setbacks, their bond grew throughout the season. They soon became a fan favorite, with millions of fans rooting for the pair. However, problems crept into the lives of Cely and Johnny in the shape of newbies in Casa Amor AKA "the House of Love."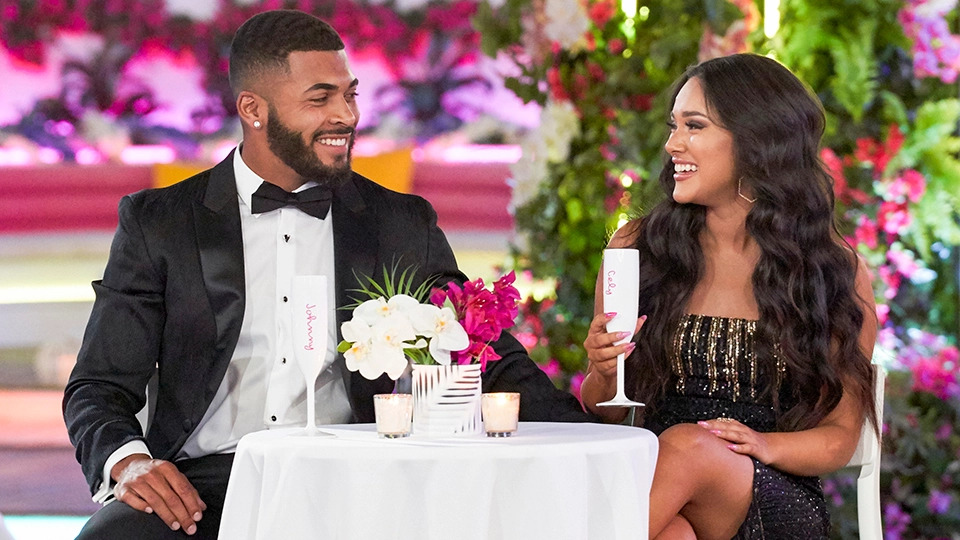 Cely's fears and insecurities regarding her new lover boy came to life when Mercades, a newcomer, set her eyes on Johnny. The latter let attraction and the sin of lust take the better of him, and he ended up almost making out with Mercades. While Cely was back at the main villa, Johnny let Mercades lick whipped cream off his body in a game of Dare. Fans were taken aback and couldn't help but feel bad for Cely. While Johnny was paddling two boats at the same time, with two gorgeous women having real feelings for him, he needed to make a solid decision.
After a night of making out with Mercades, Johnny made his feelings for Cely perfectly clear to her, thereby breaking Mercades' heart. Despite being devastated by the news of Johnny making out with a newbie, Cely forgave him. They remained a pair till the very end, promising to stay together even after the cameras stopped rolling. Cely and Johnny went home hand in hand. But that was a long time ago, and as fans of 'Love Island,' we know what happens in 'Love Island,' mostly stays in 'Love Island.' So, were Cely and Johnny successful in breaking the stereotype, and are they still together? Let's find out.
Are Cely And Johnny Still Together?
Unfortunately, Cely Vazquez and Johnny Middlebrooks split just a few months after the filming of season 2 concluded. Their breakup was as dramatic as their journey on the show. On January 9, 2021, Cely took to Twitter to announce their split. Johnny, too, took to social media to respond to the tweet and said that there was no bad blood between them and that he "will forever cherish" the time they spent together. However, that wasn't the end of their dramatic breakup, and the post-breakup behavior of the personalities continued to stir speculations for a while.
— Cely Vazquez (@Celybird) January 9, 2021
Cely reportedly unfollowed Johnny on social media and deleted all their sweet snaps, and Johnny did the same. He took to YouTube to address the issue and hinted he felt Cely was taking shots at him. As per Johnny, the relationship ended on "mutual agreement," and he believed he was being blamed. He felt bothered by Cely's comments she made on her YouTube video claiming "something negative" happened between them. Johnny reacted to the same video by saying, "She makes a YouTube video less than 24 hours [after mine], and the entire time she's throwing shots at me."
On February 17, 2021, Cely revealed the real reason behind their break up in a YouTube video, claiming that she had presented him with an all-paid couple trip to Hawaii for Christmas. She said they had disagreements and heated arguments during their trip, following which they broke up. As per Cely, Johnny decided to stay back and enjoy the trip for the rest of the days while she left. She added that she's "trying my hardest to not be associated with that relationship anymore. I have honestly moved on, encouraging everybody else to move on with me."
Johnny also made another YouTube video wherein he shared his part of the story. Cely went on to meet up with co-stars Justine Ndiba and Calvin Cobb right after the break up to cope with her feelings. As of writing, both 'Love Island' stars are single and focusing on their respective lives. While Johnny appeared on other shows such as 'Link,' 'The Challenge,' and 'All-Star Shore,' Cely is living her best life as a social media sensation and traveling the world with her besties. She launched her new single, 'Caderita,' and has taken over the internet with her sensation dance moves and beautiful voice.
Read More: Are Moira and Calvin From Love Island Still Together?