Alleviating the impediments that marred their previous relationships, 'The Big D' features a group of divorced individuals who try to give love another chance. The show revolves around contestants attempting to overcome their past issues and establish a newfound romance. While some contestants try to reconcile their fizzled romance, others seek new partners. The reality television show features the drama and jealousy couples overcome on their path to forever. Casey and Ben are one of the couples whose chemistry enthralled viewers. So, if you're also wondering more about the duo, look no further because we've got all the answers right here!
Casey and Ben's The Big D Journey
Having been brought up as a Mormon, Ben tied the knot with Angelique relatively earlier. However, the couple eventually parted ways but still shared the custody of their children. Similarly, Casey and Brooks failed to see their marriage through after work-induced stress drove them apart. Nevertheless, the couple shared a child, ultimately giving him hope for reconciliation. However, things in the tropical paradise of Costa Rica turned out to be very different. While Brooks was hung up on Casey, she felt open to rediscovering a romance and establishing a connection elsewhere.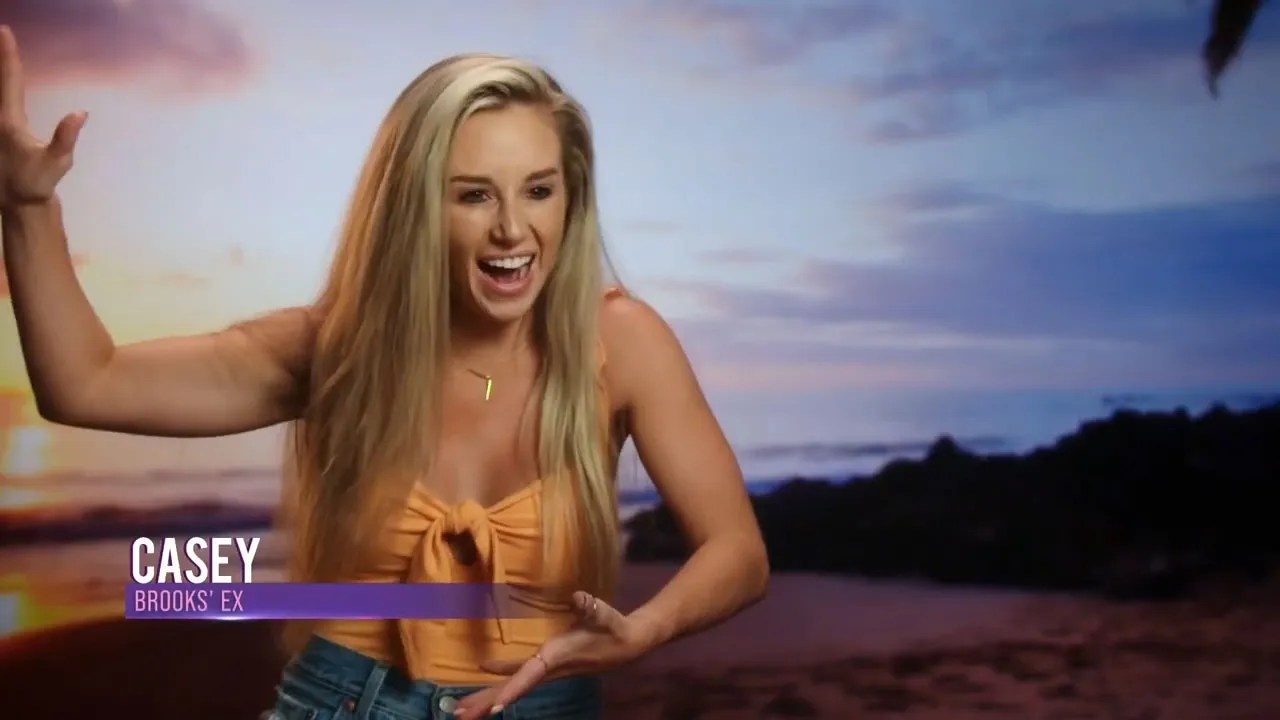 Not just this, Casey encouraged her ex-husband to find the woman of his dreams and find common ground with other singles. However, Brooks was still hung up on her and became the first contestant to be booted off the show. When Angelique and Ben entered the villa, sparks between Casey and him flew. Despite being polar opposites to one another, their opposing personalities eventually gave way to a blossoming romance on the show. Enthralled by each other's demeanor, Ben and Casey decided to give their connection a chance. Not only did the couple find an ever-evolving interest in one another, but they also hoped to establish a relationship.
Throughout their time together, Ben and Casey worked through the issues they had faced in their previous relationships. While complete honesty helped solidify their bond, their relationship was hanging by a thread, given their responsibilities outside the show. As such, even though the duo felt an instant connection with one another, their relationship was weighed against several possibilities. Nevertheless, Ben and Casey remained confident in one another and hoped to overcome the issues that plagued their previous marriages. Naturally, fans have been curious to find out their relationship status after they lost the top spot to Alexis and Devon.
Are Casey and Ben Still Together?
No, Casey and Ben are no longer together. Granted their swift connection and interest in one another, they still realized that their romance hangs on a tilted scale. Given their responsibilities outside the show, it quickly became apparent to the duo that a romance was not on the books. Since the couple shared the custody of their children with their exes, uprooting themselves wasn't an option. As such, the duo parted ways instead of seeking a relationship. Rather than giving their connection a chance, Casey and Ben decided to weigh all the factors before beginning a romance.
Despite their breakup, Casey and Ben are still friends and wish each other the best. So, even though the duo failed to find the person of their dreams, they could still gain a friendship. Almost two years later, the reality stars are creating new milestones in their personal and professional lives. Casey is currently in a relationship but wishes to keep the identity of her boyfriend under wraps. The reality star even took to social media to gush about her relationship.
As for Ben, the star likes to keep his dating life concealed from the public. Readers will be happy to know that things have also turned out spectacularly for Ben and Casey's exes. Angelique is currently in a relationship, and Brooks also found a girlfriend. Not just this, he even moved in with his new girlfriend and her children while she was still married to the father of her children. So, even though Ben and Casey couldn't find the things they had hoped to find on 'The Big D,' it is apparent that they still excel in all aspects of their lives!
Read More: Where is The Big D Filmed?