Determining the power of their love, four couples arrive on 'Temptation Island' to test the strength of their relationship. The dating reality show allows couples to discover a connection with young attractive singles since their relationship hangs by a thread. As secrets unearth and walls break, several dramatic situations naturally arise. Alexius and Christopher are one of the couples who have evoked fans' curiosity. So, if you're also wondering more about the duo, look no further because we've got all the answers right here!
Alexius and Christopher's Temptation Island Journey
In a feat to discern the strength and long-term possibilities of their relationship, Marisela and Christopher trotted onto the secluded island. Having been together for two years, the couple felt their relationship wasn't unfolding as well as they'd like. Naturally, they entered 'Temptation Island' to find out whether or not they were well suited. Things between Marisela and Christopher were tense from the get-go. Moreover, the intensity between the couple doubled after he outed her as bisexual. While problems between Christopher and Marisela were rampant, he found comfort with Alexius.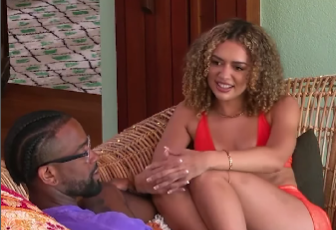 However, despite the connection that drew Alexius and Christopher together, he initially pushed away his feelings and didn't pursue a romance with her. Yet, with time, he realized that her intentions were completely noble. Naturally, the fitness dance instructor decided to give their connection a real chance. Hence, he proclaimed his feelings for Alexius and told her how much he appreciated her for not giving up on him. Initially, she felt that even though Christopher shared strong feelings for her, all that could go away once they walked out of the island.
Nevertheless, Christopher reinstated Alexius' trust by confessing that even though the island facilitated their relationship, he was more than willing to jump into something serious. On the other hand, things between him and Marisela continued to remain twisted as she found herself gravitating towards another single. While the two grew apart, Alexius sent a video message to Marisela to express her feelings. She didn't just detail her growing closeness with Christopher in the video message but even accused Marisela of hurting him by bringing him to the island.
Yet, Alexius also expressed her gratitude in the video for bringing Christopher to the island so she could help him heal. On the final night of the bonfire, he and Marisela officially called it quits and decided to walk separate ways. While she chose to walk away from the island alone and focus on her personal growth, he decided to leave the tropical villa with Alexius. Naturally, fans are now wondering about Christopher and Alexius' relationship status since they exited the show.
Are Alexius and Christopher Still Together?
Despite the initial issues that threatened to pull Alexius and Christopher apart, the duo continued to establish a strong front together. Furthermore, in due time, they were able to create a strong bond unencumbered by other issues. Nonetheless, since their exit from the island, Alexius and Christopher haven't made any public evocations of their feelings for one another. So, even though their connection seemed unthreatened, the couple has remained tight-lipped on the events that have come to pass post the show.
That said, other factors do hint at possible issues between the two. For instance, Alexius and Christopher no longer follow each other on Instagram nor appear on each other's social media feeds. Surprisingly, she and Marisela follow each other on the social media app and are plausibly close to one another. So, despite Alexius and Christopher hoping to explore a long-term relationship after their exit from the show, they are yet to confirm anything.
Besides, there have been speculations about a possible breakup between Alexius and Christopher. However, these assumptions stand on unconfirmed rumors, leaving room for several possibilities. Meanwhile, Christopher and Alexius are making great strides in their careers and personal life. With an ever-evolving Instagram following, the duo looks forward to exploring several opportunities and expanding their professional network. Naturally, we look forward to all the milestones both reality stars will achieve in the future!
Read More: Are Hall and Makayla From Temptation Island Still Together?