Lifetime's 'Married At First Sight' is an entertaining dating reality show where contestants entrust the experts with their love lives and marry complete strangers. Season 12 was undoubtedly dramatic, and the couples kept surprising everyone with the twists and turns in their relationship. Clara Berghaus and Ryan Oubre were no different! The audience could already sense the awkward and problematic energy between the two. As seen on the show, their marriage was turbulent and frisky, so now everyone is eager to know if the couple survived the high and low tides or did they succumb to them.
Clara and Ryan's Married At First Sight Journey
Clara, a 27-year-old flight attendant, was ready to walk down the aisle and put her faith in the experts to find her the perfect groom. A 29-year-old Ryan, who was employed as a project manager, was deemed a suitable match for her and vice versa. The groom wanted to form a "physical connection," so he requested for both of their eyes to be covered during the ceremony.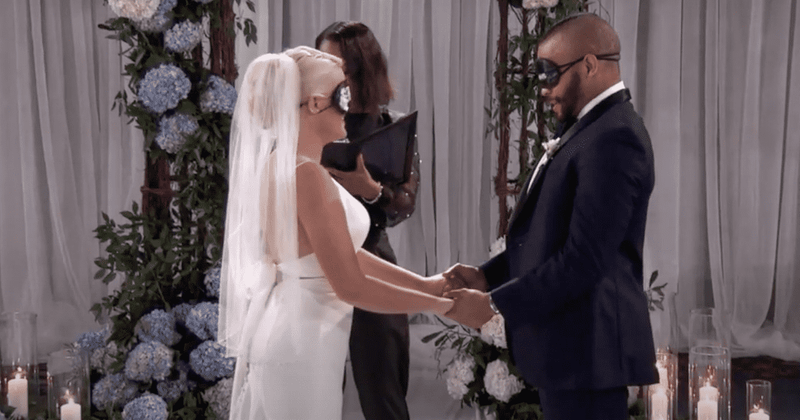 Surprisingly, the two had a lot in common, from their music taste to mutual friends, and they had a lot to talk about, unlike other couples on the show. However, their religious beliefs did not align, which made their dynamics a little problematic. Their personalities were quite the opposite of one another, but the duo did allow any of this to pose a threat to their relationship.
However, Clara was disappointed to learn that Ryan had never used the word "love" while expressing his feelings to a woman, and she started having second thoughts. The couple did not rush to consummate their marriage, and apparently, Clara was dissatisfied with the same. Before Decision Day, Ryan met Dr. Pepper and spoke highly of his wife but also admitted that her not fully committing to catholic values worried him. The lack of intimacy becomes a topic of discussion as both couple separately has a word with two experts.
The couple swapped notes in private, where Ryan mentioned the importance of religion in his life and asked Clara if practicing celibacy in the relationship was a problem for her. She was upfront about being annoyed, and her patience was visibly declining. On Decision Day, they discussed all the issues but eventually decided to stay together and celebrated their moment of joy before leaving.
In the reunion episode, Ryan admitted that he still hasn't said ' I love you' to his wife, but when he was pushed a little by the host, he finally confessed his love. The two did not answer any questions about their sex life and were visibly uncomfortable. On the brighter side, they spoke about wanting to renew their vows and have a small celebration with their loved ones.
But things took a turn when Clara appeared on the Season 14 kick-off special for a Tell-all episode. She revealed many details such as Ryan asking Clara to not talk about their intimate relationship on the show, even when it started during the second half of the show. As seen in the show, Clara vented about the lack of sexual chemistry with the other wives on the show, and when Ryan saw it on-air, he decided to end things with her.
Ryan asked her to not see a future together, after planning many things because he was hurt. She also spoke about the rift in their marriage after Decision Day when they fought and even opted for couple's counseling. So, it's confirmed that the two had parted ways, but is there still any chance of reconciliation?
Are Clara and Ryan Still Together?
No, Clara and Ryan are not together. In July 2021, the two unanimously agreed to a divorce after taking some time off and being away from the public eye. This conclusive step wasn't easy for them, and they decided to remain friends even after their separation. Before Clara's appearance on the Tell-All episode, he released a public statement on Instagram. It was long and addressed many things about the duo's experience together and the reason behind their divorce. He spoke about his representing black people and why he couldn't afford to taint the image of his community through unfair representation.
Ryan made it clear that it was not an accusation of racism. He wrote, "It's an example of not understanding Black America. Something that is all too real in day-to-day life." He added, "It's also not understanding that you, as a nonblack person, will raise black children one day, and you'll have to explain experiences you never went through." He wrote about several other things in the lengthy post, about their sexual and spiritual connection, the financial aspects, and the exploitation of the situation. In response to the same, Clara also shared a post on Instagram before appearing on the show.
In a lengthy caption, she wrote, "I've spent the last six months of therapy reflecting over my @mafslifetime experience, and I've learned more than I could ever imagine. I never thought I would speak publicly about my divorce, but I've realized that while I don't owe anyone any explanations, I also don't owe anyone my silence. I have spent so much time not speaking up for myself because I'm so wildly conflict-adverse, but the only way to heal and grow is to start doing things that make me uncomfortable."
Since then, the ex-couple has not mended their relationship. They have unfollowed each other on Instagram and posted no updates about their current dating lives. Clara had a job shift in July 2022, and now she works in the Inside Sales-Valuation department at BBG Inc. On the contrary, Ryan is still working at his highly lucrative job at Paycom as an Implementation Manager. It was indeed heartbreaking for most fans to see the end of their relationship, but this could be the start of something novel for both of them. We hope that they continue to explore the dating scene and find what's best for them.
Read More: Where Is Married at First Sight Season 12 Filmed?