Since its inception in 2001, CBS' 'The Amazing Race' has introduced several interesting pairs that have raced around the world with limited resources only to win the grand cash prize. One such pair, Christie Lee Woods and Colin Guinn, appeared in seasons 5 and 31. Even though the duo had a rocky start, their growth was tremendous and their journey amassed them a great fan following. After all these years, their chemistry has kept fans on the hook, and everyone is curious about their current relationship status. So, here's an update for all the fans who are eager to know whether the couple won the race of love!
Colin and Christie's The Amazing Race Journey
When Christie Lee Woods joined the show, the biggest achievement of Miss Teen USA 1996 was paying for her college tuition and graduating. Meanwhile, Colin owned a cell phone store and according to him, having Christie fall for him was a top-tier accomplishment. The couple was notorious for their arguments in season 5. Nevertheless, they made bold decisions that led them to the second spot. For example, during the task of transporting a casket, the two went heavy on their research and booked a flight hours before the other contestants.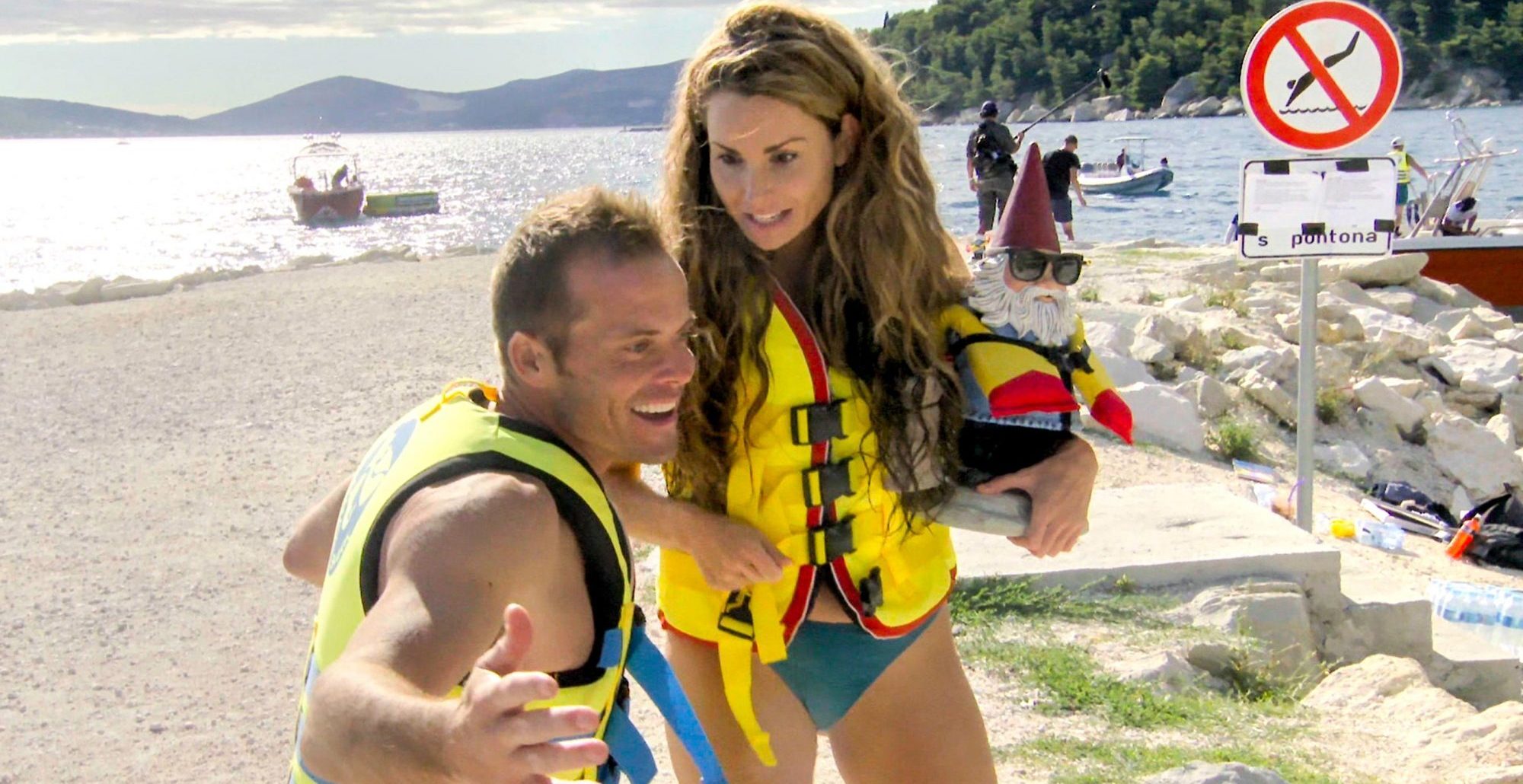 They reached the Great Sphinx before everyone else, which gave them a solid lead. Colin was known for being stubborn. In one instance, he even refused to pay the whole cab fare because the tire went flat. However, it was evident that the couple were daredevils when they chose weltered rafting over dipping in a hot mud tub. Christie and Colin returned to the show 15 years later, in season 31. This time, they finessed everyone, and there was no trace of arguments, bickering, and anger.
Colin encouraged everyone to "feel the love in the universe" during a tense time on the train when everyone was nagging at each other. Christie and Colin's strong teamwork got them through everything on the show. They went to Laos, mastered art forms in Vietnam, and did a free-fall from 400 feet into the Gletschershlucht Glacier George in Switzerland. In the later episodes, they recited tongue-twisting poetry in Croatia, transported eggs in the Netherlands through mere bicycles, and ran from London to Detroit.
Ultimately, they came out victorious and won a cash prize of whooping 1 million dollars! The difference between Christie and Colin in season 5 and season 31 was that of land and sky. Their coordination was unparalleled, and their gameplay was exemplary. After witnessing their amazing synergy, the audience wanted to know if the two have also mastered partnership in their romantic lives.
Are Christie and Colin Still Together?
Yes, Christie and Colin are still together and stronger than ever! They have two sons who love adventures and thrill just as much as their parents. The couple started dating a year before their first appearance on season 5, and they met at the University of Texas. Before the race, when Christie was asked how she would describe their relationship in one phrase, she said, "We were made for each other!"
The two had planned on getting married after they won the first race. However, they did not tie the knot and gave an explanation in an interview with Reality TV Wo. The two got engaged after their first season together, and as per the law in Texas, they are in an "informal marriage" because they are sharing their resources and have been living together for several years. Although, the reason behind not choosing an official wedding is that they do not believe in the institution of marriage and what it denotes.
Christie had some strong views about the same, and she commented, "There's a lot of programming dividing our culture as to what that means, and I don't know, there's a part of me that feels like if my relationship gets bonded in that same type of consciousness, it may not necessarily be serving. Also, I feel like your commitment is in your heart, and, really, a piece of paper doesn't make a whole lot of difference."
They also had a discussion after winning season 31, where they spoke about their growth and relationship dynamics. Christie spoke about going through a rough patch in their partnership but had this newfound understanding of her ego, and she said, "I started deep diving into the practices that go along with that. We were actually in couple's therapy at the time, and it wasn't helping. We would be in a great space. We would go to couple's therapy, and we would leave fighting because we drudged up all the negative things that had happened over the week. I started bringing in those practices to myself individually, which also included practicing meditation. That was also a big part of this shift for me."
These practices seem quite effective for the couple due to how things have fallen perfectly into place for them. As of now, they are content in their relationship and consider their sons Achilles and Cruz to be their greatest achievements. In another interview, Colin described the accomplishments that made him proud. He said, "Co-creating a beautiful life with Christie, our two beautiful boys, Achilles and Cruz, a successful career doing what I love with people that I love, and a daily practice that allows me to maintain high vibrations."
Colin is now a software entrepreneur, while Christie is a spiritual relationship coach. The two have been undoubtedly living their best lives, and they regularly update their fans on Instagram, sharing heartfelt moments. They regularly appear on podcasts to discuss sacred and ethereal topics about relationships and have recently launched a travel company. The couple exemplifies what it means to grow in a relationship, and one can only hope to find a love like theirs in this lifetime.
Read More: Where Are The Amazing Race Winners Now?