From the moment that the news of a possible relationship between Courtney Hope and Mark Grossman started spreading, CBS' 'The Young and the Restless' fans simply could not contain their excitement. After all, their portrayal of Sally Spectra and Adam Newman, respectively, has long been praised by the viewers. But recent developments have made many speculate if the two are still in a relationship or if they have actually separated. If you are also someone who is highly curious about the same, worry not because we have your back!
Courtney Hope and Mark Grossman's Journey Together
Prior to dating Courtney Hope, Mark was in a relationship with Sharon Case, another one of his co-stars from 'The Young and the Restless.' However, the two then broke up, with the Adam Newman actor confirming the development in September 2022. Around this time, fans had also started noticing the growing closeness between him and Courtney, making many speculate that the two just might still be together. The latter seemingly even took Mark as her date to her best friend's wedding.
The speculations regarding Courtney and Mark's dating status only continued to grow until December 2022, when Mark posted several pictures of the two spending time together in Mexico. This all but confirmed to everyone that the two were dating, and while they themselves never officially confirmed this, they also never denied it, making every single one of their fans delighted about a potential relationship between the two.
Additionally, both Courtney and Mark's on-screen characters, Sally Spectra and Adam Newman, were also in a romantic situation, which only made people even more excited about the real-life romance. If nothing else, it was evident that the two were close and seemed to care deeply for each other. With such developments in progress, the fact that the actors did not accompany each other to the golden anniversary celebration of 'The Young and the Restless,' which took place on March 26, 2023, made many wonder if the two were still in a relationship. After all, Courtney was accompanied to the event by her best friend of 20 years, while Mark was seen with his parents.
Are Courtney Hope and Mark Grossman Still Together?
Following Mark and Courtney's separate arrival at the 'The Young and the Restless' celebration, fans soon noticed that Courtney's social media was cleared of any traces of just her and Mark, though group pictures and promotional posts were still present. This led many people to worry that the two had broken up in real life, with some fans also wondering if this might impact their on-screen chemistry. That being said, neither Courtney nor Hope Mark has shared any official updates regarding their romantic lives, especially in regard to each other.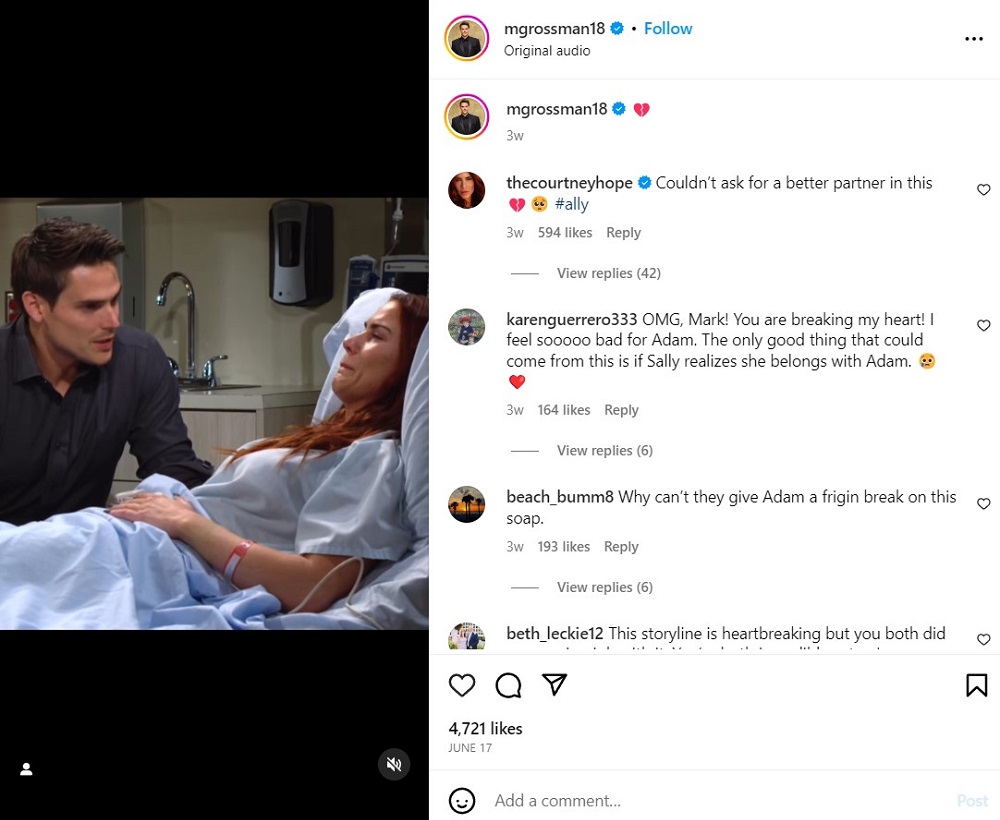 However, from what we can gather, it does seem like Courtney and Mark continue to at least have an amicable relationship. Not only are they still following each other on social media, but it is not uncommon to see them commenting on each other's posts on platforms like Instagram. In June 2023, Mark shared a clip of a monumental scene between the characters of Sally and Adam on Instagram, joining the fans in grieving for the on-screen couple's grief. Courtney, too, commented on the post (as seen above!), stating that she "Couldn't ask for a better partner in this."
Just like the time when they were potentially together, Courtney and Mark have not explicitly shared anything regarding their romantic relationship. No matter whether the two are together or not, it is evident to see that they continue to have a strong bond, at least in a professional capacity. This indicates that if the couple did break up, they, at the very least, reached some form of consensus. We wish both television artists the best in their lives and hope that all of their dreams and aspirations come true soon.
Read More: Are Justin Hartley and Sofia Pernas Still Together?