Just like its original version, Netflix's 'Too Hot to Handle Brazil,' also known as 'Brincando Com Fogo' (translation: Playing With Fire), is a captivating reality series where sexually-driven singles step into a tropical paradise to meet and mingle with like-minded individuals. However, as per custom, Lana, the AI that sees all, soon places a complete sex ban to help them move on from superficial relationships.
In order to win the R$500,000 (roughly $95,000) grand prize, the contestants have to stick to her rules, which, as we know, is easier said than done. However, Davi Kneip and Kethellen Avelina did try to adhere to the rules. Let's find out whether the two managed to sustain their relationship, shall we?
Davi and Kethellen: Too Hot to Handle Brazil Journey
When Davi and Kethellen first came into the retreat, they didn't have eyes for one another. Instead, while he was focused on getting along with Rita, she was merely having fun and feeling everyone out. Even when Davi was politely rejected by the one he desired, he didn't instantly make a move to be with Kethellen. However, that changed after a tantric class where they chose each other by chance under a blindfold and got so lost in emotions that they nearly kissed without realizing it. From that moment on, the duo forged a connection like no other and was inseparable.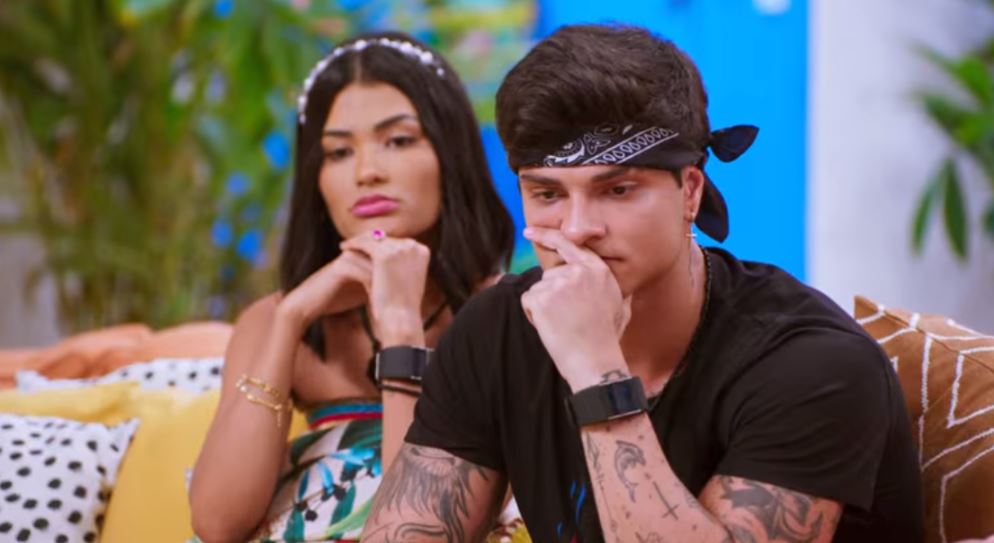 Although Davi and Keth broke a few rules as soon as they got together, because their bond seemed natural, they were the first to be presented with Lana's watches and the green light. The two shared their deepest and darkest fears, pains, and traumas with each other to break free from the walls they had built for themselves to avoid further pain. Hence, when Davi and Kethellen felt as if what they had wasn't romance, rather than dragging along, they respected the other and talked — separating in a way that makes "amicable" look like an understatement. Keth couldn't keep her distance, though.
Are Davi and Kethellen Still Together?
Shortly after Davi and Kethellen parted ways, she approached him on the beach and stated that she needed to be absolutely honest with him since they have already faced so much together. Keth admitted that seeing him talk to another girl made her jealous and re-evaluate her feelings, so if he would have her again, she'd like that. Fortunately, Davi confessed that he was pondering the same and would happily oblige, resulting in a kiss with no repercussions. Despite their acts under the sheets, this pair was one of the few who changed the most, so they not only walked out hand-in-hand but also with a sense of accomplishment (and money).
Yet, it doesn't appear as if Davi and Keth are together anymore. They are mutuals on social media platforms and sometimes post about each other, as seen above, suggesting that they're still on friendly terms. Except, the former also uploads a few cozy clips with other women (for his work and otherwise), which also makes us believe that they're not in a relationship. Though the two haven't confirmed anything, we're hoping for a positive outcome. We should add that while Davi Kneip continues to focus on his career as a DJ and influencer, Kethellen Avelina spends her time between Amazonas and São Paulo to expand her wings.
Read More: Are Brenda and Matheus Still Together?