TLC's '90 Day Fiance' revolves around US citizens who have fallen in love with foreign nationals. However, the series' popularity led to numerous spinoffs, including '90 Day Fiance: Before The 90 Days,' which chronicles the days leading up to when the foreign partner can come to the United States on a K-1 visa.
Still, despite the circumstances, it is interesting to witness how each couple deals with differences in customs, lifestyles, and habits, with a common goal of settling down together. Likewise, season 6 of 90 Day Fiance: Before The 90 Days' introduces us to US native David and his Filipino girlfriend, Sheila. Interestingly, they seemed pretty intent on making their relationship work, but with the couple facing numerous obstacles, let's find out if they are still together, shall we?
David and Sheila's 90 Day Fiance Journey
A native of Omaha, Nebraska, 42-year-old David revealed he was born deaf. However, he refused to give his disability the upper hand and fought against all odds to lead an everyday life. Unfortunately, his happy-go-lucky personality did not equate to a healthy love life, as David's previous girlfriend cheated on him before leaving. Such a massive setback made him stay away from romance and love for quite some time, but he soon realized that he wanted someone who would love him as is and even start a family with him. That was when he signed up for an online dating reality site and came across Sheila's profile.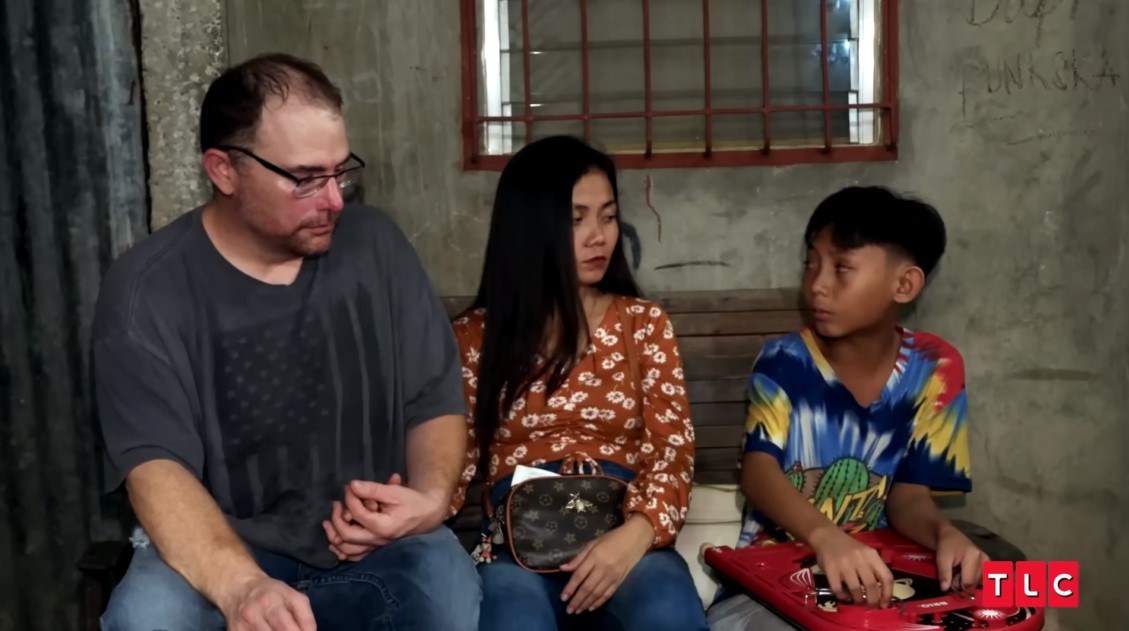 Interestingly, Sheila, a resident of Cebu, Philippines, has also been deaf from birth, although she never could quite master American Sign Language. Moreover, much like David, she had been unlucky in love as her former husband left her alone with their son. Since then, the Filipino native has been trying her best to be an excellent single mother while working hard to put food on the table. Hence, she was overjoyed when she met and fell in love with David, believing he could help her parent her child effectively.
Once David and Sheila met face to face in the Philippines, they were ecstatic with joy and could not wait to consummate their relationship. Yet, a few specks of trouble soon showed up as the show portrayed the couple's communication problems. While David was highly proficient in American Sign Language, Sheila mainly talked with him in English over text.
Nonetheless, now that they were face to face, Sheila was forced to write out her replies on her phone so that David could read them directly. On top of it, the Filipino native was extremely disappointed when she learned that David did not have such communication issues with his ex, who knew ASL. As a matter of fact, not knowing sign language made Sheila develop a deep sense of insecurity, and at one point, she wondered if David would prefer the sign language translator they had hired over her.
Further issues crept up once David visited Sheila's home and was appalled at the living conditions. It was apparent that her family wasn't finally strong, and the US native mentioned the challenges they had to face daily broke him. On the other hand, Sheila's son appeared quite disapproving of the Omaha native, and David mentioned that such a rejection would threaten their future together. Regardless, he still tried his best to win his girlfriend's family over and left the rest to fate.
Are David and Sheila Still Together?
David and Sheila are pretty private regarding their dating life and haven't revealed much about the present status of their relationship. That said, they both appeared highly committed to each other while on the show, and he even claimed he could see a future with the Filipino native.
On the other hand, even though Sheila struggled with insecurity issues, her love for David became apparent when she chose to deal with her problems silently instead of fighting with her partner. Moreover, her actions proved that she viewed him as someone special and would not hesitate to compromise to make their relationship work. Hence, considering their determination to work toward a better future, we believe David and Sheila are still together.
Read More: Are Statler and Dempsey from 90 Day Fiancé Still Together?