Netflix India's 'Class' tells a complex story made up of multiple plot threads. Three working-class transfer students — Dheeraj Kumar Valmiki (Piyush Khati), Saba Manzoor (Madhyama Segal), and Balli Sehrawat (Cwaayal Singh) — come to the prestigious Hampton International School to study and find themselves becoming involved in the lives of their privileged classmates. Balli becomes part of a volatile ménage à trois with Koel Kalra (Naina Bhan) and Sharan Gujral (Moses Koul), while Saba's brother Faruq (Chintan Rachchh) grows close to Dhruv (Chayan Chopra), the son of Hampton International's principal and swimming coach. If you are wondering whether Dhruv, Faruq, Sharan, and Balli are gay or bisexual, we got you covered. SPOILERS AHEAD.
Are Dhruv and Faruq Gay or Bisexual?
It is established quite early in the show through a relationship between Dhruv and Faruq that they are gay. Like his sister, Faruq wants to escape his circumstances, but as he is not as academically gifted as Saba, he is forced to sell weed, which is largely illegal in India. Meanwhile, unable to deal with the pressure his parents put on him, Dhruv seeks solace in cannabis, and Balli introduces him to Faruq. As the series progresses, arguably the healthiest relationship in the show develops between the two.
Almost inevitably, they face opposition from their respective families. Faruq and his family are originally from Srinagar, Kashmir. Before he married Saba and Faruq's mother, their father was in a gay relationship that ended horribly after people around them learned the truth. Faruq believes things aren't that different in Delhi than in Srinagar, but Dhruv vehemently refuses to agree to that. He gets a reality check when he comes out to his parents, who dismiss it as experimentation and put him in therapy. In contrast, the response of Dhruv's best friend, Veer, is much more positive.
The Indian series is based on the Spanish show 'Elite,' which is also a Netflix release. In the latter show, Dhruv and Faruq's counterparts, Ander Muñoz (Arón Piper) and Omar Shanaa (Omar Ayuso), also have a romantic relationship. However, they eventually end up going their separate ways. Ander leaves the school and travels the world with Guzmán Nunier Osuna, Veer's counterpart. As for Omar, he leaves in season 5 but later returns.
Are Sharan and Balli Gay or Bisexual?
Sharan and Balli are modeled after Leopoldo "Polo" Benavent Villada (Álvaro Rico) and Christian Varela Expósito (Miguel Herrán) from 'Elite.' Shortly after he arrives at the school, Balli draws the interest of Koel Kalra (Naina Bhan), the cold and manipulative girlfriend of Sharan. As Koel actively pursues Balli, the naturally submissive Sharan goes along. However, Koel becomes jealous after she sees Sharan masturbating to Balli.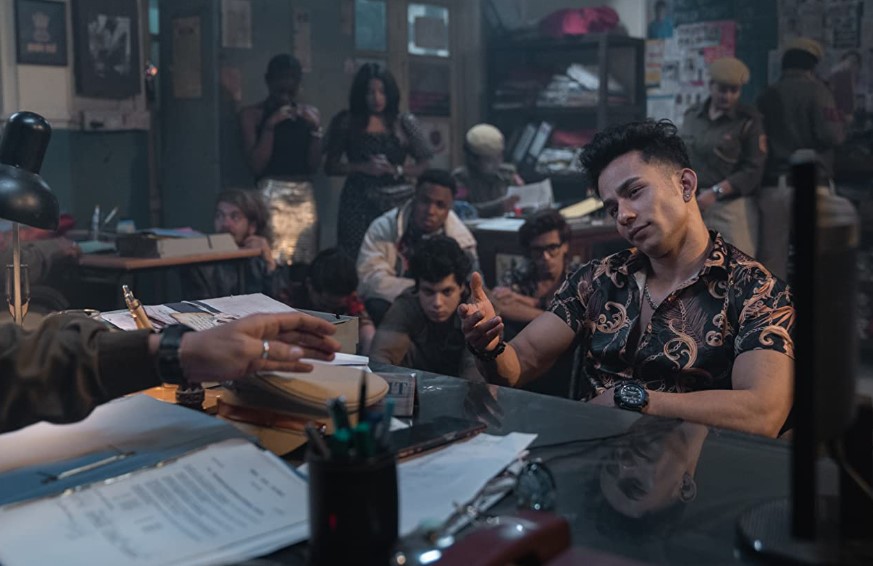 Like his 'Elite' counterpart, Sharan is bisexual. Balli, in contrast, seems like someone open to experimentation. Balli records a sexual encounter between himself and Sharan and posts it online. Along with Koel's comments about his sexuality, this draws considerable ridicule toward Sharan.
However, he is still so blinded by his feelings for Koel that he ends up killing Suhani for her after learning that the other girl has the phone that Koel is looking for. As the first season ends, someone messages Sharan and Koel from an unknown number, telling them that the sender can maintain their silence and asking what they will get in return. It is heavily implied that the sender is Balli, who earlier saw Sharan and Koel together right after Suhani's murder.
Read More: Is Class' Hampton International a Real School in Delhi?