In what can only be described as the perfect blend of 'Dating Around' and 'Love is Blind,' with a hint of 'The Masked Dancer,' Netflix's 'Sexy Beasts' is a dating series wherein a set of singletons hope to find romance based on personality alone. Disguised as insects, animals, monsters, and dinosaurs, the participants go on a few dates in each episode before a picker gets to choose their "sexy beast." From there, the new pair continues to date with no masks or set boundaries. If you are curious to know whether The Demon and The Mandrill from episode 1 ended up together after the show, we've got your back!
Emma and Bennett's Sexy Beasts Journey
When Emma, a 6-foot tall model from New York, introduced herself, she admitted that she was tired of being judged on her looks. So, she decided to enter this show dressed as a Demon to experience dating on a different level. An emotional bond with someone who is not "too perfect-looking" is what she's always wanted. Therefore, when her dates – Archie, Adam, and Bennett – came into the picture, she couldn't be more excited. They didn't ooze the charm Emma desired, but the initial chemistry was still present with two of them, leading her to say goodbye to Adam.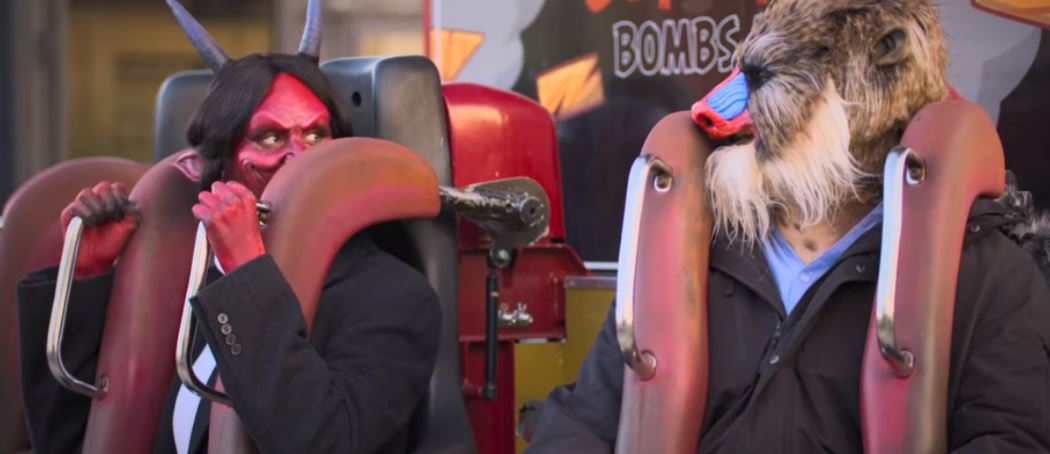 Emma informed both the remaining prospects – Archie and Bennett – that they needed to step up their game on the second date because she wasn't thoroughly impressed, so they did. While Archie brought the model to a spa for a foot massage in a romantic ambiance, Bennett ended up taking her to an amusement park. The latter then proved that he could open up just as quickly as he can get ready to have some fun. From speaking about loyalty, communication, and sex to sharing their first kiss in the rain, Emma and Bennett did it all in just two days. Thus, of course, she chose him as her "beast."
Are Emma and Bennett Still Together?
Even though Emma liked Archie due to his great personality and how their conversations seamlessly flowed, it was the electric and constant pull she felt towards Bennett that she just couldn't ignore. They'd even locked lips and learned a lot about each other without seeing what they genuinely looked like, so she had to give him a shot. "I wanna take that mask off her and run off into the sunset," Bennett, a former professional volleyball player, said after Emma announced her choice.
Luckily, the attraction only grew when the duo met in the flesh, as proved by their long kiss. "I definitely made the right decision, and I'm really excited to see where it goes from here," Emma stated. Bennett, on the other hand, gladly claimed that he "will never forget this experience" because he got exactly what he came for. He also added, "This doesn't end here for me and Emma. I know it doesn't. Like, it's amazing. Fairy-tale ending, really." From what we can tell from their social media platforms, though, it doesn't seem to be true anymore.
After all, the now digital creator and television personality traveled to New York, Emma's base, for the first time around December 2020, where he appeared to have a great time, but she's not present on his feed. We were hopeful for a romance or, at least, a continued friendship between the "gentle giant" and the beautiful model. Yet, Emma made her relationship status clear in a YouTube video about love and heartbreak back in February 2021. She stated that these areas of her life have been "spiraling out of control lately, but…I am happily single and not ready to mingle."
Read More: Are James and Alexis From Sexy Beasts Still Together?