Lifetime's 'Married At First Sight' is a guilty pleasure dating reality show owing to its out-of-the-box concept, which makes it all the more entertaining. Out of the many couples who married each other at first sight on the aisle, Erik Lake and Virginia Coombs of season 12 were one of the most confusing pairs. The that always had an issue but were also capable of sorting them out. Some fans had high hopes for them, while others thought their marriage was doomed. So, let's probe deeper and find out what exactly happened between the two.
Erik and Virginia's Married At First Sight Journey
Erik Lake first appeared on the show as a 34-year-old Air Force Reserve pilot, while Virginia was 26 and a marketing specialist. Both of them had some past baggage, but together they were like a match made in heaven. Erik found her to be stunning, while Virginia felt they had an "instant connection."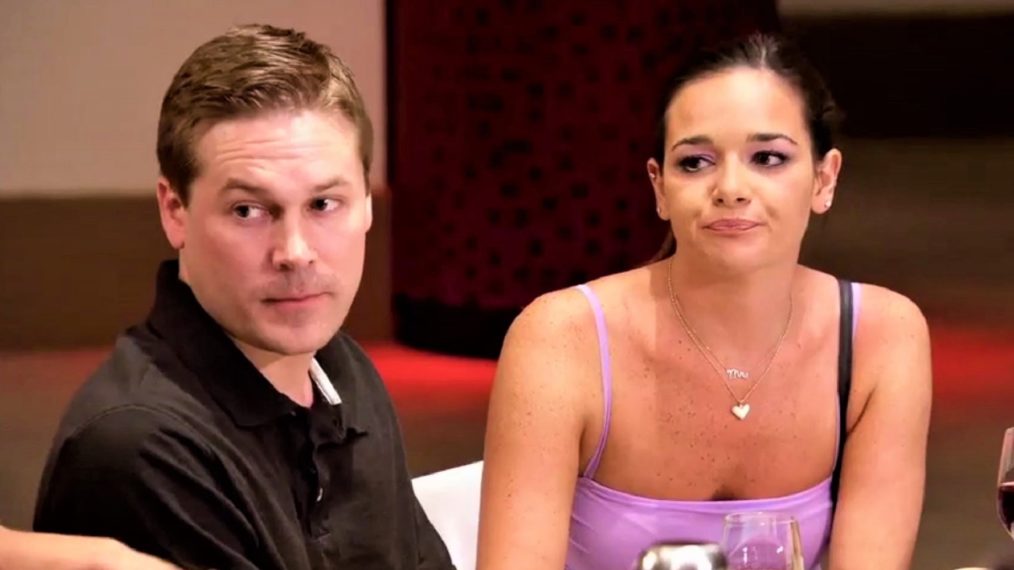 However, there wasn't just a big difference in their age and ideologies. Erik leaned more toward being conservative, while Virginia identified as a liberal. Their issues started to surface during the honeymoon when Erik expressed that he cannot keep up with her lifestyle of partying late and going out on most days. He also disapproved of Virginia staying late at a male friend's house. Even though she tried to reassure him, she found the behavior to be controlling.
The couple was bickering and arguing for weeks, but too much of everyone's surprise, they announced their decision to stay married on Decision Day. Erik also went down on one knee to propose to Virginia since he had never had the chance to do so before. In the reunion episode, the couple revealed they were staying at Erik's condo. His mother was also a part of the reunion and praised her daughter-in-law. But in less than a year, things turned upside down, as seen on 'Married At First Sight: Couples Cam.' where the duo sat down to have an honest conversation.
Erik confronted Virginia about wanting a divorce because their relationship wasn't progressing in a "healthy manner." She was heartbroken and "didn't think it would come so quickly." However, she had to face the fact that the two were completely different. He said, "I feel like I've exhausted every option to make this work, there are just so many important things that I want in my life and she wants in her life and it just doesn't seem like we're ever going to get there." Splitting up was hard for both of them, but being unhappy by staying together is not exactly the sign of a good couple. However, fans are still curious to know if they've gotten back together after publicizing their divorce.
Are Erik and Virginia Still Together?
Erik and Virginia are not together, and they do not reconcile after separating. Fans were hopeful about the duo getting back together after Virginia stated that they did not close the door on getting back together during 'Married At First Sight: Couples Cam.' During the separation process, they demanded privacy and support from their fans and were open about the procedure being difficult because major parts of their relationship were in the public eye. However, the door has remained closed since then, and they've both moved on in their lives.
Erik is currently in a long-term relationship with Lola, a nurse he met on a dating app. She approached him first by texting, "If you're bored, text me," to which he replied, "I'm bored." The couple loves to travel and go on adventures together and seems visibly happy and grateful to be with each other.
On the other hand, Virginia is enjoying the single life, partying, going out with friends, and having a good time. She hasn't posted anything about her dating life on Instagram, but she's enjoying her time being a fur mom to a sweet dog named Rockie. They are both in the same profession as before, but Virginia has also managed to bag several brand deals while Erik is enjoying creating funny reels on Instagram. He also underwent military training and is now eligible to fly planes for the Airforce.
From what we can tell, it is certain that Erik Lake and Virginia Coombs have no intention of getting back together, and they no longer follow each other on Instagram either. They seem content in their individual lives, so there's no point in looking back. However, we will undoubtedly miss their time on the show, and we wish nothing but the best for the two in their respective lives.
Read More: Where Is Married at First Sight Season 12 Filmed?