To place the focus of young singles on emotional attachments rather than physical ones, Netflix's 'Love is Blind' brings together 30 men and women who try to find their perfect match, fall in love, and get engaged without even seeing each other. For ten days, they follow a typical speed-dating format before those who've coupled up get to enjoy some time together as they prepare to walk down the aisle. While the connections of some pairs crash and burn during this short period, others manage to showcase that love can indeed be blind. So, let's find out how Giannina Gibelli and Damian Powers are faring today, shall we?
Giannina and Damian's Love is Blind Journey
From the very beginning, Giannina "Gigi" Gibelli and Damian Powers made an impression that kept us, the audience, at the edge of our seats. In their pods, their chemistry was indisputable, but things shifted as soon as they stepped into the real world. From talking about insecurities and bullying to covering matters like future dreams and aspirations, the two fell in love in the rarest way possible. Thus, of course, their proposal, with Giannina turning the tables to get down on one knee, was no different. Damian yearned for an equal partner by his side, and she gave him precisely that.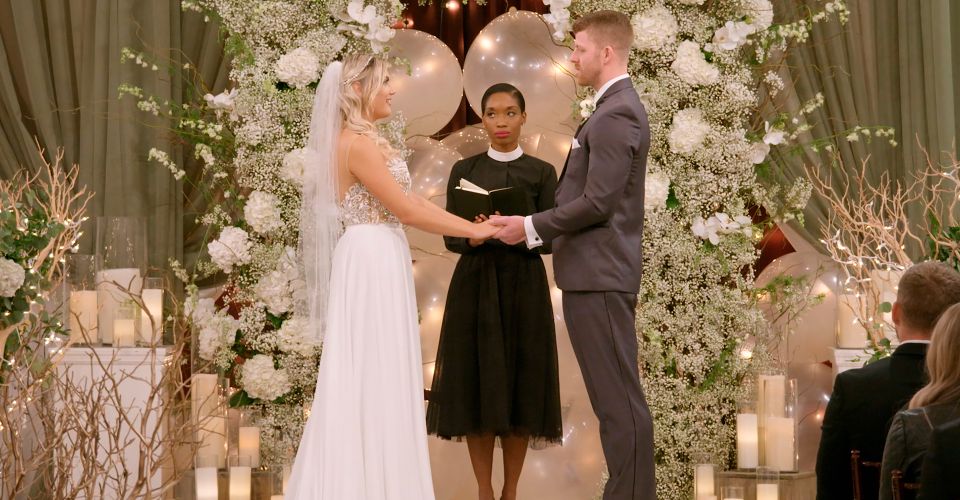 The couple subsequently attempted to embrace their physical connection on a romantic vacation in Mexico and had an awkward conversation about the same. However, Gigi's self-proclaimed self-sabotaging nature came to light soon after. While it was evident that she adored her partner, she also picked fights with him and made her marriage jitters a bit obvious. Damian always calmed her down whenever this occurred, but he was the one who shocked everyone on their Big Day. Instead of reciprocating Gigi's "I do," Damian said, "I do not," and blamed her hot and cold actions.
Are Giannina and Damian Still Together?
In March 2020, during the reunion special, Giannina and Damian revealed that they got back together hours after their wedding disaster as they felt they weren't truly over. The two also added that they have since continued to learn more about one another and were gradually improving as individuals and as a couple. From what we can tell, they gladly remained together for at least two years after the show, yet their relationship status right now is up in the air. Damian's association with Francesca Farago from another Netflix original, 'Too Hot To Handle' season 1, is possibly the main reason for this.
In August 2020, Damian and Francesca were spotted together after dinner, but he made it evident that he was still with Gigi afterward. Although this shifted when he invited Francesca to be his plus one at the Barnetts' and the Hamiltons' second wedding anniversary party — the same one that could have been Damian and Giannina's if he had said, "I do." As seen on 'Love is Blind: After the Altar,' this shattered Gigi's heart, and even Francesca stated that she should have been informed beforehand that he was officially still with Gigi. After Francesca walked away, Damian decided to leave as well.
Fed up by his actions, Gigi confronted her then-partner Damian and asked why he believed doing this was appropriate or why he hadn't bothered to spend a single moment with her even though he hadn't seen her for a week. In the ensuing discussion, they seemed to go their separate ways. Moreover, the last post on their Instagram profiles that references their romance was uploaded by Damian in October 2020. With them not mentioning each other on Valentine's Day or leaving comments on posts since March 23, 2021, it's possible that they are no longer an item. Damian also didn't accompany Gigi for her birthday trip to Mexico in April.
Read More: Are Lauren "LC" and Mark Still Together?