Deemed to be the perfect blend of 'Married at First Sight,' 'Dating Around,' and 'The Bachelor,' Netflix's 'Love is Blind' is a dating series that follows a set of singles as they look for love based on emotional connections alone. They follow a speed-dating set up for about ten days before zeroing down on the one person they wish to spend the rest of their lives with.
However, the catch is that the individuals can not see what their possible partners look like — all they have is a pod and their date's voice echoing through it. As we've come to learn, Lauren "LC" Chamblin and Mark Cuevas paired up after the dating experiment. Now, let's find out whether their relationship stood the test of time, shall we?
Lauren "LC" and Mark's Love is Blind Journey
When we initially met Lauren "LC" Chamblin, she was hooked on Matthew Barnett and involved in quite a messy situation with fellow players Jessica Batten and Amber Pike. Jessica soon got out of the matter as she found a partner in Mark Cuevas, but LC had her heart completely broken because Matthew chose Amber to be his fiancée. LC left without a partner by her side. At the same time, Mark had to walk away without a wife. After all, following a train of issues regarding their age difference and Jessica's attraction towards Matthew, she said no to the fitness trainer at the altar.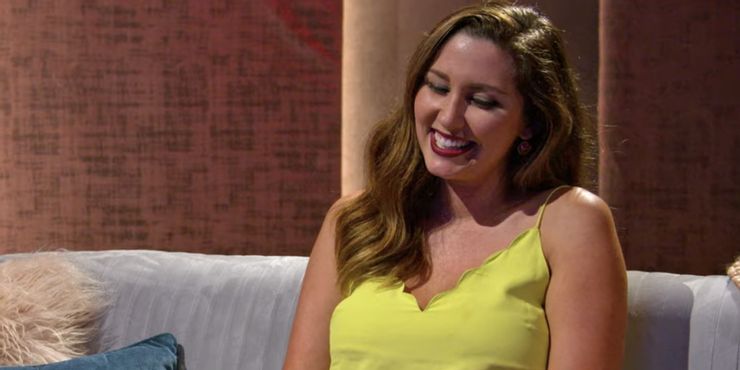 As per LC on 'Love is Blind: After the Alter,' Mark slid into her DM's around the summer of 2020, and they dated for six weeks between May and June. However, their romance came to a sudden end before it had even begun as LC allegedly caught Mark two-timing her through a (now-deleted) Reddit post made by an anonymous user. The post read, "My close friend's co-worker is dating Mark!!" To which, LC immediately replied, penning, in part, "This is awkward because I live in Atlanta and I've been dating mark since the beginning of May…🤔😤. Oh and btw, this is LC from Love is Blind."

Are Lauren "LC" and Mark Still Together?
No, Lauren "LC" Chamblin and Mark Cuevas are not together. As soon as LC saw the claim of Mark Cuevas dating another girl, she broke up with him, as she made evident in her Reddit comment. LC said, "I definitely just broke it off with Mark so I really do appreciate you posting this and saving me the energy on dating another liar." In a statement to People, LC then shared, "Mark and I were casually dating, but talked about remaining exclusive, especially because of COVID-19, but that's over now…I deserve to be treated like a priority, and not an option."
Never trust a guy that talks shit about his ex girlfriend and says she's "crazy" because he was without a doubt the one that made her "crazy."

— Lauren Chamblin (LC) (@123LaurenMarie) June 23, 2020
According to reports, Mark may also have cheated on Jessica. In an E! News Instagram post on Mark's connection with LC, a user stated that he has a long history of cheating as he got with multiple women while engaged to Jessica on 'Love is Blind.' To this, his ex-fiancée merely replied, "Wow. News to me. I only knew about one." Mark's rep has denied this particular allegation on his behalf. As for what they're up to now, LC is still single yet living her best possible life. She is the co-host of the 'Permission To Enter' podcast with Tiffany Haynes and a public figure who doesn't mind being a cat lady at all.
Mark, on the other hand, has moved on to have a family of his own. In April 2021, Mark and his now-fiancée, Aubrey Rainey, welcomed their son, Ace Anthony Cuevas. The couple also celebrated their anniversary in early July. Not only is Mark the CEO and Founder of M.E.T.A Training Athletics, a fitness firm, but he and his partner also run a YouTube channel together. It's called Catching up with The Cuevas', in case you want to learn more about their life and familial journey.
Read More: Are Lauren and Cameron Still Together?