VH1's 'Basketball Wives' is a reality show that revolves around the wives of basketball players. Jackie and Doug Christie have been a consistent part of 'Basketball Wives LA' and 'Basketball Wives.' Throughout their journey, the duo showcased their fondness for celebrations and cherished their marriage, which the fans considered unique in the world of reality TV, where several couples fight on a daily basis.
Jackie and Doug won everyone over by taking the initiative in their relationship and fixing their problems. It is natural for their fans to wonder about the current standing of their relationship. If you're wondering the same, we've got your back!
Jackie and Doug's Basketball Wives Journey
Doug is a former NBA player and is currently an Assistant Coach to Sacrament Kings. In contrast, his wife is a reality star, the author of multiple books, and the owner of an entertainment company. In season 1 of 'Basketball Wives LA,' Jackie prepared for their yearly custom of renewing her vows every year since their marriage. The two had a wedding in Vegas and got married for the 16th time. By the next season, Jackie already had new plans for their annual wedding.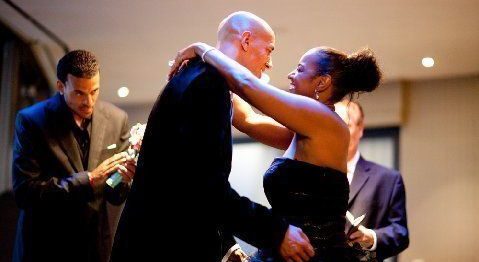 However, due to the rift between her friends on the show, they considered not attending the function. The couple had a gay-themed wedding, but the attire worn by one of the wives stole all the thunder. Shortly after that, Jackie and Doug went on a trip to Seattle, but it didn't start well due to the mother-daughter duo going for a family therapy session right before the mini vacation!
In season 5, Doug was offered a high-end job, and the duo had to make a decision. For the first time in her life, Jackie had to make a choice of whether she wanted to be alone or not. After a few days, her world turned upside down after Doug told her about accepting the coaching position, which would eventually lead to them being physically apart.
Jackie had some emotional outbursts during this period, and she visited an energy healer to understand the root of her suffering. She also went through a phase of insecurity where she tried to lose weight to keep Doug interested and feared the worst when the two weren't connected.
Are Jackie and Doug Still Together?
Yes, Jackie and Doug are still together and have been married since 1996. The parent of beautiful children, Chantel and Douglas Jr. The couple got married three days after the proposal, and everything was a mess during their wedding. In an interview with Huffington Post, she revealed, "We lost the ring. Doug's tux ripped because it was too tight on the inside. It was rented because he was in Toronto. So he had to put on a nice black suit at the last minute. "
During a game in Toronto, the couple shared a "love-ya" hand signal while Doug was on the court. They were heavily criticized for the same, but their only aim was to make a statement to exactly such claims and criticism. Most people presume that Jackie is controlling Doug and twisting the narrative out of proportion, so this was simply done as a joke with other elements to shut down their haters. In 2014, Doug almost left Jackie because she leaked a topless picture of herself. In an interview, she was transparent about how her marriage almost ended due to the incident.
However, the couple sorted it out and decided to continue their relationship. For now, she is set for another season of 'Basketball Wives.' The couple has married each other 26 times now, in their wedding and vow renewal ceremony. While having a word with E! News, Jackie said, "I still get butterflies when I know I'm about to see my husband. It's the best thing ever, and I just wish that for everybody." We wish them 100 more years of marriage and hope they never stop having butterflies before seeing each other.
Read More: Is Basketball Wives Real or Scripted?