A spin-off of Bravo's 'The Real Housewives of Beverly Hills,' 'Vanderpump Rules' is a reality show that revolves around the affluent life of Lisa Vanderpump and the staff at her opulent restaurants. Season 10 featured a lot of ups and downs, including the relationship drama between James Kennedy, who was previously a busboy, and his new love interest, Ally Lewbar.
Even though it was heartwarming to see the couple's journey, some aspects weren't pleasant at all. Naturally, viewers are curious to know where the drama led their relationship. So, here's all you need to know about the current standing of James and Ally's bond!
James and Ally's Vanderpump Rules Journey
James, 31, is one of the biggest music producers and DJs in the industry who's worked alongside famous popstars. Ally is a 27-year-old aspiring astrologist and former entertainment journalist. The duo reportedly started dating three months after his engagement was called off with Raquel Leviss. He also started living with her, which rubbed some people the wrong way. James first introduced his girlfriend during the premiere episode of season 10. However, Lisa Vanderpump was concerned to see how quickly he was over his ex-fiance.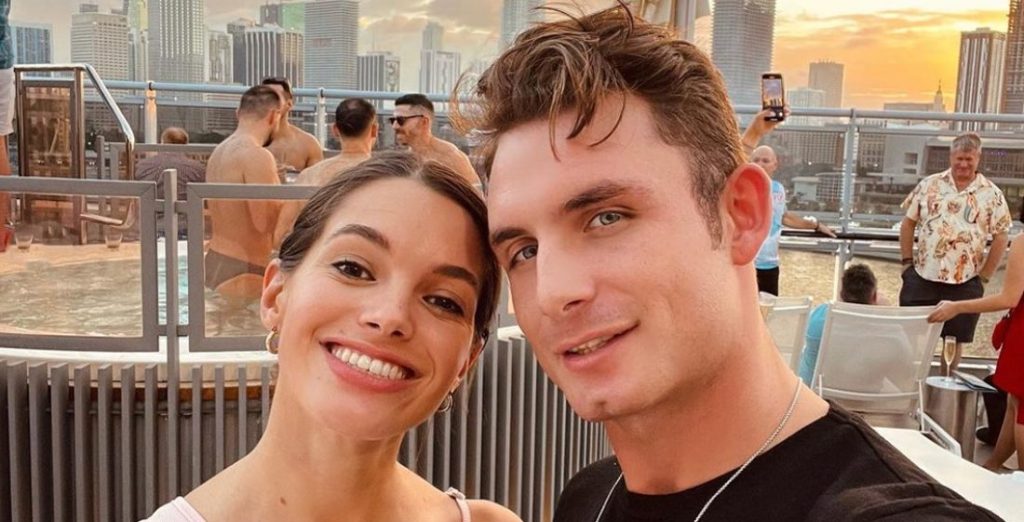 Moreover, he also told Raquel how he felt about Ally and titled his new partner the love of his life. James' ex was taken aback by his behavior, and even she questioned how he could form a romantic attachment so quickly after their separation. In episode 4, Raquel confronted Ally about the time James' cheated. The two were still in a relationship back when he got drunk and hooked up with Lala Kent, and he also acknowledged the same. To much of everyone's surprise, Ally revealed that her beau had already told her about these past mistakes, and she was upset when she learned about them.
During her confessional, Ally said that she understood Raque's intentions of wanting to warn her. She also expressed her concerns about James' drinking problem. In episode 5, James invited Ally to have lunch with his mom. A lot of conversations unfolded while they had lunch, from James' sobriety to his mother slamming Raquel. Later, the couple went for a foot massage date, and Ally told him upfront that she preferred her beau sober.
According to James, his alcohol intake was no longer a matter of concern. A small argument broke out between the two during his confessional. James said the next time he got sober, it would be for himself and not his girlfriend. So, what is the final verdict after all this drama? Was the couple able to withstand everything that came their way, or did they end up falling apart?
Are James and Ally Still Together?
Yes, James and Ally are still together and head over heels for each other. In a podcast, James spoke about Ally for the first time without giving away her name. He said, "I'm kind of seeing someone. Look, it's too early to say, honestly. I do like this girl; I really do. I don't know. We'll see what happens. I can't ask any girl to do that."
He briefly addressed his ex-fiance with whom he was engaged for seven months until they called it off in December 2021. He said, "She gets to choose what she wants to do with that whole situation, and then for me, it's like, I have to decide as well. What I do know is I'm going to be doing me, and I'm going to be enjoying myself. Truly, because honestly, after Raquel left, now it's like I don't have anyone to impress or please except for myself. My heart cannot break anymore. I don't care what anyone thinks or what everyone wants."
Rumors about James and Ally started surfacing in January 2022 from different sources, and they were confirmed on March 24, 2022, when he posted their first picture, attending an award show together. Since then, their Instagram has been flooded with adorable couple pictures of them having the best time of their lives in Mexico, Jamaica, and other beautiful sites.
Whatever happened on the show doesn't represent their entire relationship. There are several elements that can pose a threat to the couple, but they seem mature and determined to resolve these issues. We truly want James and Ally to make the long haul and leave their problems behind, moving forward in a healthy relationship without any past baggage.
Read More: Are Katie and Tom From Vanderpump Rules Still Together?