Bravo's 'Million Dollar Listing Los Angeles' is a reality show that features experience realtors who sell high-end properties. Along with their professional lives, we also get a glimpse of drama, their relationships, and inner politics. One of the highlights of season 14 was Josh Flagg and Andrew Beyer's relationship. Most agents on the show were doubtful about the duration of their brewing romance and made several comments about the same. So, was there any grain of truth in what they said, or were they simply misjudging the situation? Let's find out!
Josh and Andrew's Million Dollar Listing Los Angeles Journey
Much like Josh, Andrew is also a real estate agent who deals in luxurious properties with the most affluent people. 37-year-old Josh was head over heels for Andrew, 24 when the two met for the first time. Their brief appearance on the show together was quite interesting to most viewers. In season 14, Josh enthusiastically introduced his new boyfriend, Andrew. The established realtor had endless good things to say about his new beau and described the experience of living with him as "on an endless sleepover with (his) best friend."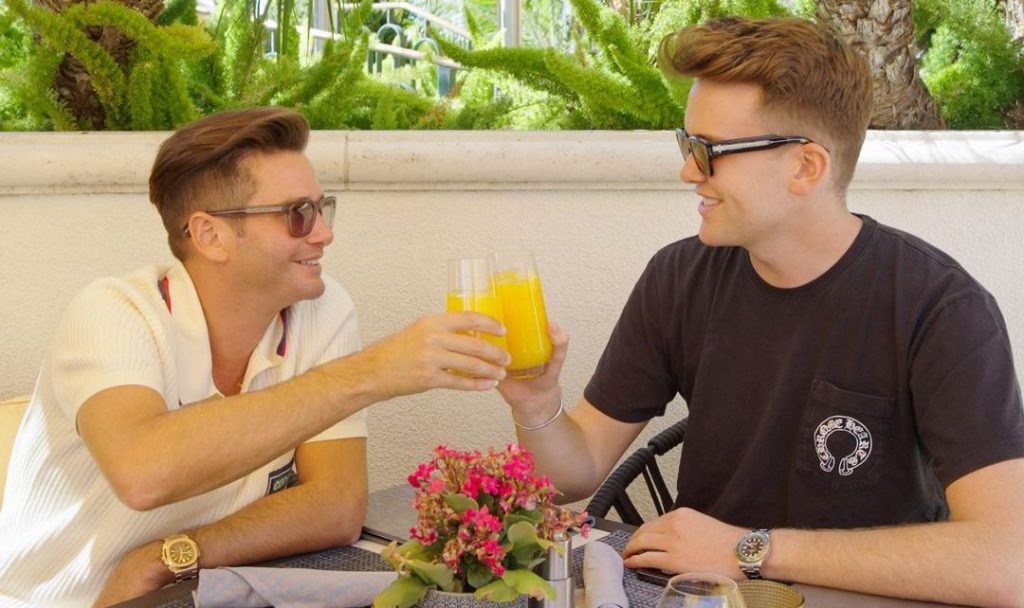 However, the other agents seemed unimpressed and quite doubtful of the new relationship. Josh wholeheartedly believed that Andrew was his one true soulmate. Even before his debut on the show, Josh was singing praises of his boyfriend, and the agents revealed spotting the duo together while co-listing some properties. When Altman and Tracy questioned the pace of their partnership, Josh was quick to point out how the duo had taken another major step.
The two were now working as a team at the same brokerage, and everyone was shocked to hear the news. Tracy called him "crazy" for doing so, and Flag said, " We have so much fun together every day, and all we do is talk about real estate, so why not?" His co-stars unanimously agreed that it was a bad idea because it seemed like history was repeating itself. But Josh was confident that "it won't go south," and he was undoubtedly optimistic about his novel relationship. So, were Josh's friends right about the duo all along, or has the couple managed to disprove them?
Are Josh Flagg and Andrew Beyer Still Together?
Yes, Josh and Andrew are still together and truly in love. Josh was previously married to Bobby Boyd; the ex-couple announced their divorce and ended their five-year-long marriage. As per reports, Josh had started seeing Andrew shortly after the separation. The two had apparently known each other for several years but only remained acquaintances, and things never culminated in a romance. However, once they were both single, they started as friends and turned into lovers due to their strong and mutual attraction toward each other.
Josh was the one who reportedly made the first move on Andrew at The Beverly Hills Hotel. The couple wasted no time moving in together, and it was only a matter of a few dates until they became exclusive. Soon, they started posting wholesome pictures with each other on Instagram. Moreover, they've also discussed their wedding plans, searched for exotic venues, spoken to planners, and even discussed kids. Surely, they are no speed-breakers or bumps in their newfound relationship.
As seen on the show, it is clear that Josh adores his partner, and the people around him are concerned by the pace of things. Yes, it is all seems a bit too rushed, but as outsiders, we definitely do not know the dynamics of their relationship better than the people involved.
In a promotional interview for his book 'The Deal: Secrets of Mastering the Art of Negotiation,' Josh spoke about how he had no intention of dating anyone with that he did not picture his life. Otherwise, he's just wasting his time. He also described the distinction between his past and current relationship. Josh revealed how he was only fighting with his former partner, and everything seemed like a competition.
On the contrary, Andrew exuberates the aura of someone who truly wants the best for his partner and wishes to see them succeed in life. The author also mentioned his new lover at the beginning of his book, which he penned, "To Andrew. You put the biggest smile on my face every day. I love you more than words." The couple is hopeful about their relationship, which is heartwarming because no matter what, hope is a wonderful thing to have. We truly want the best for both of them, and like any other well-wisher, we'd love to see them flourish and spend a beautiful life together.