Openly touted as the strangest dating show, Netflix's 'Sexy Beasts' takes physical and facial features out of the equation to see if attraction can still exist between the young and the single without looks. In other words, this series is a mix of the notions from 'Love is Blind,' 'Dating Around,' and 'The Masked Dancer.' From animals to mythical beings, the willing contestants disguise their appearance and participate in dates like never before to try and find their forever partner. So now, let's find out if Kariselle and Tyler, who appeared in episode 3, managed to stay together or not, shall we?
Kariselle and Tyler's Sexy Beasts Journey
A native of New Jersey, Kariselle is a Pageant Girl and Professional Party Motivator (we're not kidding, that is her actual job) who is desperate to find love and start a new chapter of her life. Admitting that she goes for looks first and does the dating thing wrong, the mid-20-year-old appeared on the series as a Panda in the hopes of bonding with someone's personality and sense of humor to find a connection that'll stick. Her dream man, Kariselle said, is fun, goofy, and ready to be a husband. Hence, when she met her dates, the pressure she'd placed on herself was unparalleled.
Thankfully, Tyler The Alien came swooping in and made a "Dad joke" very early on to break the ice and make Kariselle laugh, which she adored. But soon, they began to discuss background and upbringing, where Tyler was surprisingly sincere. Thus, of course, when the time came, she refused to dismiss him. Kariselle booted Ethan instead, who was more than happy to say goodbye, and she subsequently went on another date with both Josh and Tyler. While Kariselle and Josh went to the zoo, she and Tyler took up ax throwing and engaged in more amazing conversations.
Are Kariselle and Tyler Still Together?
On the Netflix original, Kariselle and Tyler conceded that their connection not only existed but was also very natural. When the former openly asked if he thought she was crazy, Tyler replied that she better be because he'd rather "have a crazy person than a boring person who's gonna never take risks, never put themselves out there…Girl, you better be a lot. Shit, cause I want a lot!" So, to no one's surprise, Kariselle picked him to be her "sexy beast." Yet, she was a bit heartbroken as well because Josh was excellent to her too. It was bittersweet, but Kariselle ultimately seemed happy.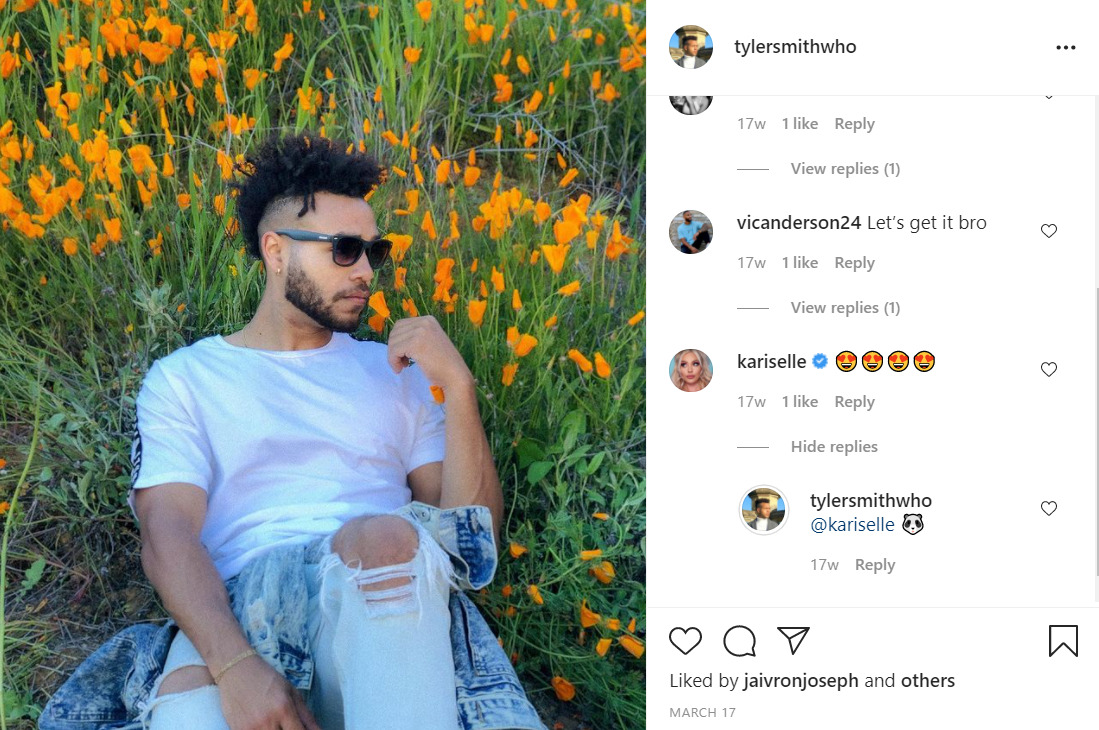 When Kariselle and Tyler met in the flesh, the attraction was still there, as made apparent by their ongoing Dad jokes, long embrace, and a sweet kiss. As for where they are today, from what we can tell, it appears as if they are, in fact, still together. Kariselle's Instagram account is set on private, but Tyler's social media profile reveals a lot. Not only do they follow each other, but their interactions within the comment section of his posts seem to be proof enough of their continued involvement. Kariselle often leaves heart-eye or side-eye emojis on his pictures, to which he only replies with a panda emoji. Though, when Tyler posted about London in November 2020, she did write, "What happens in London 🙃🙃🙃."
Read More: Are Ibrahim and Gabi From Sexy Beasts Still Together?