Netflix's 'Queen Charlotte: A Bridgerton Story' transports the audience before the Regency era and gives an insight into the origins of the girl who would become Queen Charlotte. It begins with the 17-year-old Charlotte arriving in England from Germany to wed King George III. At first, she has doubts about the marriage and what George would be like, but then, as she gets to know him, they fall in love. But their romance is not without complications.
In addition to this, we also get familiar with the backstory of Lady Danbury and Violet Bridgerton. As we discover things about Lady Danbury's marriage and curious teenage years of Violet, a shocking connection appears between them. What is that connection, and what does it mean for their future? Let's find out. SPOILERS AHEAD
Is Violet Bridgerton Related to Agatha Danbury?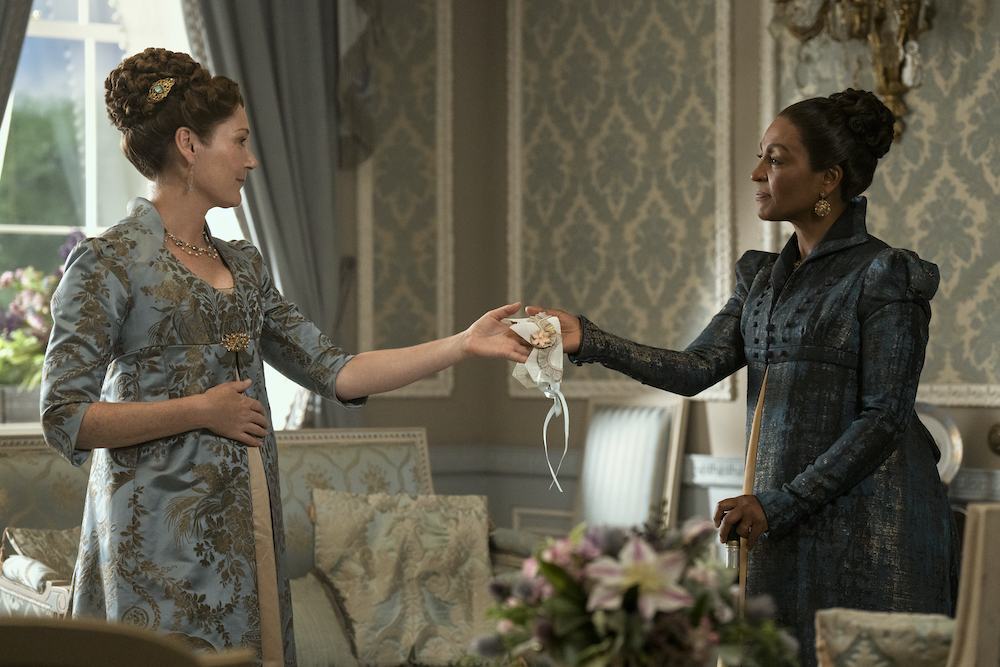 No, Violet and Lady Danbury are not related to each other, not in the conventional sense, at least. They come from completely different families with their own struggles, challenges, and social standing in society. Violet, neé Ledger, is the daughter of Lord and Lady Ledger, a modest and upstanding family. Agatha Danbury is married to Lord Danbury, who is from the royal bloodline of Sierra Leone and one of the wealthiest people in London. However, the title of Lord and Lady aren't bestowed on them until the arrival of Queen Charlotte.
When titles are bestowed on black families, not everyone is happy with the move. It is done to bring some semblance of equality in the society. However, just giving the titles doesn't do the trick. There are people like Lady Ledger who believe that people of color shouldn't be mingled with in high society. Her husband and daughter, however, differ on the matter. They believe that equality among people and giving them the titles they deserve is a great step forward.
When she becomes Lady Danbury, young Agatha knows that she and people like her must work hard to hold on to these titles. Otherwise, they can be easily taken away from them. Her worries become real with Lord Danbury's death when the question of inheritance is posed. Agatha tries to secure the title for her son. However, she also knows that if they lose the title, the assets that came with it will be taken away too. In the meantime, she also deals with the grief of losing her husband, even if she didn't love him.
During this volatile time in her life, people tend to keep a distance from her or approach her only if they need something from her. She finds herself devoid of friends, which is when Lord Ledger shows up. They meet each other during their daily walks, and their friendship develops into mutual attraction. They end up sleeping with each other, but Lord Ledger soon comes to his senses, realizing how scandalous the affair can be for both of them and ends things between them.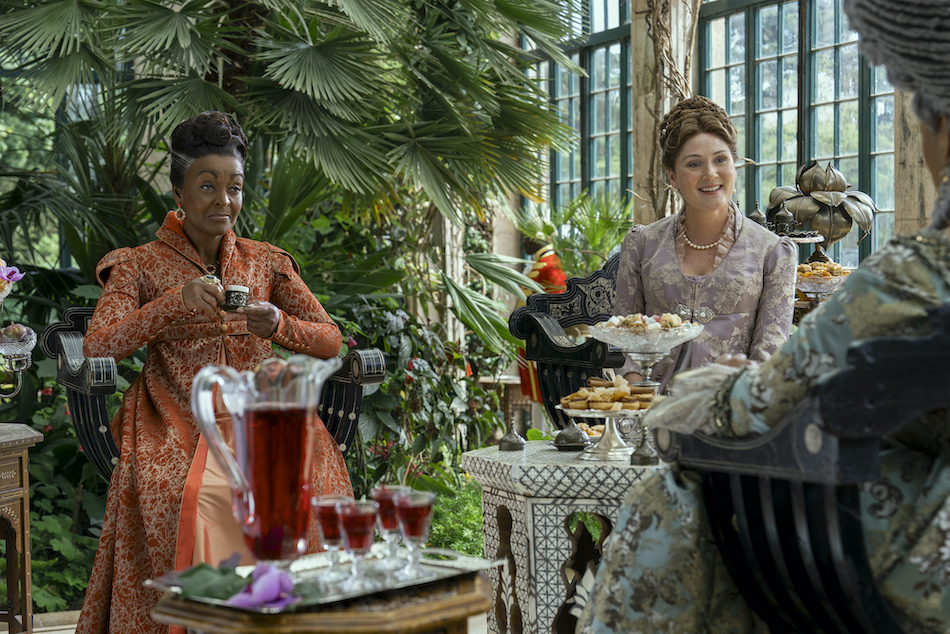 Lady Danbury, too, acknowledges that even if they continued their affair, it wouldn't have gone anywhere, despite their feelings for each other. She focuses on securing her family's future and briefly considers marrying Adolphus and going to Germany to spend the rest of their days in comfort. However, she cannot shake her feelings for Lord Ledger, and the prospect of returning to a life similar to what she lived with Lord Danbury makes her refuse the Queen's brother's offer. She decides to stay in London and figure out a way.
When Queen Charlotte discovers Lady Danbury's concerns, she facilitates the inheritance law in newly bestowed titles. Over the years, Lady Danbury establishes herself as a revered member of society whose favor everyone seeks. By now, Violet Ledger has married Edmund Bridgerton. Their paths cross, but they don't become close friends and confidants until Violet seeks a match for her eldest sister, Daphne. When they see Daphne with Simon Basset, the Duke of Hastings, Violet and Lady Danbury realize they'd make a great match.
Lady Danbury knows the Duke intimately as she was great friends with Sarah Basset, his mother. Lady Danbury was there when Simon was born, and when he was rebuked and almost disowned by his father at a very young age, Lady Danbury took him under her wing and helped him become the man he is now. While there is no blood relation between Simon and Lady Danbury, she is his self-proclaimed godmother and cares for him like her own son. Simon loves her like his mother, which makes her family. When Daphne marries Simon, Lady Danbury, though Simon, gets connected to the Bridgerton family.
Read More: Is Simon Basset Related to Queen Charlotte?